There's more to naps than an energy boost. Read this to discover the benefits of napping. Plus, how to take the perfect nap to unlock your full potential.
Life keeps us busy. So much so that we sometimes neglect what fuels our productivity: sleep. Sure, we do it to get by. But the truth is you can't overstate the importance of sleep.
Besides energizing you, sleep is essential for your physical and mental well-being. It's what keeps your body in working order. Without it, you can't be at your best, whether that's at work or home.
And we don't only mean going to bed and waking up the next day. We're talking about the often-overlooked nap. Considering all the benefits of napping, it should be part of anyone's daily routine.
In this article, we'll explore the benefits of napping. And give you tips on how to maximize quick yet restorative snooze sessions.
Introduction to the Benefits of Napping
A nap is a short period of sleep, usually lasting no more than 30 minutes. You can take one any time of the day. But the best time is in the afternoon.
In most cases, napping for too long can make you feel groggy when you wake up. It's called sleep inertia. And if you nap too late in the day, you may have a hard time falling asleep at night.
Napping isn't only for kids or the elderly. It's beneficial for people of all ages. And one of its key benefits is it helps you feel more alert and refreshed. This is especially true if you're feeling tired or sluggish during the day.
A quick nap can help recharge your batteries and give you the energy you need to finish the day strong.
When you sleep, your brain goes through different stages. These are light sleep, deep sleep and REM sleep.
But with napping, you usually only go through the first two stages. Sure you may not get the full benefits of a complete sleep cycle. But you'll still enjoy other sleep perks.
Physical Benefits of Napping
Napping has several physical benefits, especially after a night of poor sleep. In fact, a study in Science Daily revealed that it may support our immune system. And it reduces stress when sleep deprived(1).
When we sleep, our body produces proteins that help fight off infections and illness. Sleep deprivation lowers the levels of these proteins, which napping may normalize. Think of a nap as an immune system boost.
Meanwhile, lack of sleep increases stress hormone levels. This leads to an increased heart rate, sugar and blood pressure. A snooze may keep them normal.
Mental Benefits of Napping
Napping also has mental perks.
For example, it may help improve your cognitive function and memory. In this case, the longer your nap, the better. Naps activate the part of your brain that plays a role in learning and remembering.
You may have noticed you're in a better mood after a nap. You'll feel less anxious, too.
Napping can also help to improve your mood, reducing feelings of stress and anxiety. This is because when you sleep, your body produces hormones that help regulate mood.
Productivity Benefits of Napping
Napping also does wonders for your productivity.
For example, it helps improve your focus and concentration. When you sleep, your brain goes into recovery mode. It's able to recharge, making you feel more alert and focused when you wake up.
Napping also helps boost your creativity. It's because when you sleep, your brain is able to make new connections. It's also able to process information in different ways.
So, if you're faced with a tough task at work, take a nap. It'll help you get it done well. And it'll help you think outside the box for fresh ideas.
Napping vs. Caffeine: Which is Better?
Caffeine may help you stay awake and alert during the day. But even if it's effective, it is not always the best option. In fact, napping is a better choice for the most part.
Napping helps improve your cognitive function and memory. But caffeine can actually impair them.
Taking a nap may lift your mood and reduce stress. Meanwhile, caffeine can make you jittery. It may increase anxiety and nervousness.
If you're new to napping, it can be tricky to make the most out of your snooze. Here are tips for the perfect nap:
Don't feel guilty about taking a nap.
Taking naps doesn't mean you're lazy. In fact, it shows you're committed to doing more.
Everybody deserves to live life to their full potential. And that's exactly what napping can give you.
Use a comfortable pillow and blanket.
If you have a designated nap room at work, bring your own pillow and blanket. Comfort is key when it comes to a good snooze. Of course, this won't be a problem at home, where a bed is at your disposal.
Napping on your desk — we know it can be a struggle. If this is your situation, then invest in a nap pillow. Combined with a sleep mask and earplugs, you can now think of your desk as nap heaven.
Why not try Manta NAP Arc? It's ideal for napping on your work desk. Or anywhere you can safely grab a power snooze when a bed is unavailable.
Set a timer for 20 to 30 minutes.
Before snoozing, set your alarm for 20 minutes to half an hour. In most cases, napping longer leaves you feeling groggy once you wake up. So much for feeling energized and focused for the rest of the day.
Also, avoid napping too late in the afternoon. This may make it hard to fall asleep later on. It becomes next to impossible if you suffer from insomnia, by the way.
Find a quiet, dark place to nap.
It's no secret that the key to good sleep is a dark environment. Light tells your brain to be up and alert. The reverse is true for darkness. Plus, it also triggers the release of melatonin, the sleep hormone.
Taking a nap may prove challenging, especially if you're at work. Here's hoping that your workplace encourages naps. (And if they don't, you might want to send this article to your boss: Napping in the Office? (Google's CEO Approves!).)
If you're somewhere that noise is a problem, use a pair of noise-canceling headphones. Better yet, a pair of good earplugs.
But seriously, it can be close to impossible to nap in the brightness that is the office. And that's where sleep masks come in. Make sure to choose one with a superior light-blocking feature.
(Don't worry we'll let you in on amazing sleep mask options later.)
Keep the don'ts in mind when you nap at work.
Napping at work is an easy way to recharge and step up your productivity. But you need to keep these don'ts in mind:
Don't nap at your desk or in a public area

Don't nap for too long

Don't let napping interfere with your work responsibilities
Don't let napping myths dissuade you.
By now we hope you're convinced of the benefits of napping. If not, this section addresses the common misconceptions people have about naps:
Myth 1: Napping is only for lazy people.
Reality: Napping is for people who want to improve their health and productivity.
Myth 2: Napping will make it harder to fall asleep at night.
Reality: If you nap for 20 to 30 minutes, it shouldn't interfere with your nighttime sleep.
Myth 3: Napping is a waste of time.
Reality: Napping actually improves your productivity. You'll get more done during the day. And you'll do it well.
The Sleep Mask: Your Ultimate Nap Tool
If you want to maximize the benefits of napping, understand that light isn't your friend. As we mentioned earlier, darkness is best for good sleep — no matter how short it is.
A sleep mask's main function is to block out light. But there are certain sleep masks that go over and beyond. We're talking about masks that serve a dual purpose.
For example, steam eye masks block out light while giving the wearer warm therapy. A cooling eye mask provides cold therapy.
Meanwhile, weighted eye masks give sensory relief. Plus, a gentle massage on facial pressure points.
Do either of the masks mentioned above appeal to you? If so, consider our versions. We're confident you won't regret it.
Manta STEAM Mask offers a near-blackout experience while delivering warm compression therapy. It soothes and moisturizes tired and dry eyes. And it also eases symptoms of styes, migraines, sinusitis and headaches.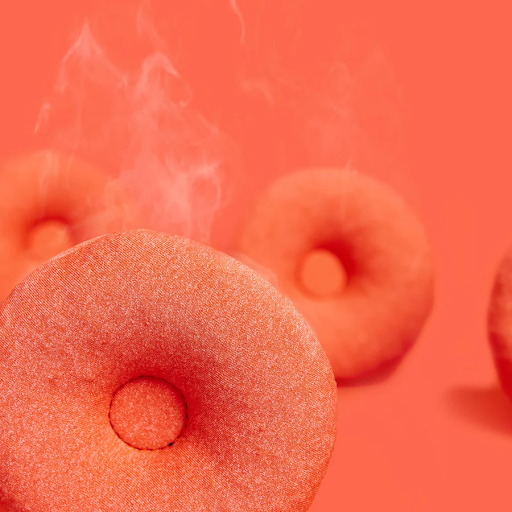 You may be curious about the source of the mask's steamy warmth. The mask comes with two eye cups that warm up in the microwave.
Just pop them in for 20 seconds on medium-high heat, and they'll be ready to go. They stay warm and steamy for more than 10 minutes.
The combined weight of the eye cups is 0.38 lbs. Each cup has a circular indentation in the center. This distributes the weight around your eye area. It prevents direct pressure on your eyeballs.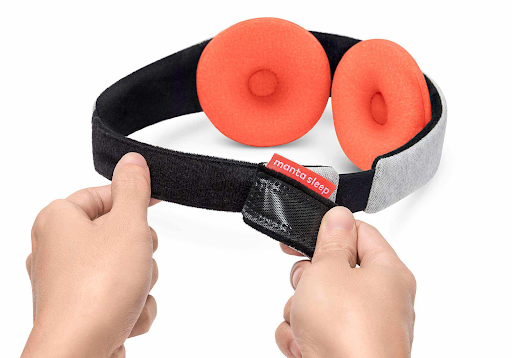 The head strap is infinitely adjustable. It has a micro hook and loop closure that won't snag your hair.
We made the strap from modal fabric that's soft and breathable. The elastic used in the strap is triple-reinforced, making it extra durable.
You can buy the STEAM eye cups separately to use with most of our head straps. We do not recommend pairing them with the Manta WEIGHTED head strap. The combined weight may prove too heavy.
What Manta STEAM Mask Users Have to Say:
Headache Remover!
"I warmed up my new Manta eye cups and settled down for a brief nap. When I awoke, no more headache!"
Obsessed
"I love this mask. I use it almost every night before bed and it not only helps me fall asleep instantly but I have see[n] a noticeable difference in my dry eyes."
Perfect!
"I recently had a stye and needed to do warm compresses. This is the first brand I have found that has heated masks and the open area around the eye itself is perfect. The ice mask is great as well. I definitely recommend and bought a set for my sister. She loves as well! My husband wants one now too! Also, definite blackout for sleeping and very comfortable!"
— Danielle B.
If you suffer from itchy eyes from seasonal allergies, Manta COOL Mask is one way to find relief. It also helps reduce inflammation for puffy, tired eyes. And eases symptoms of headaches and migraines.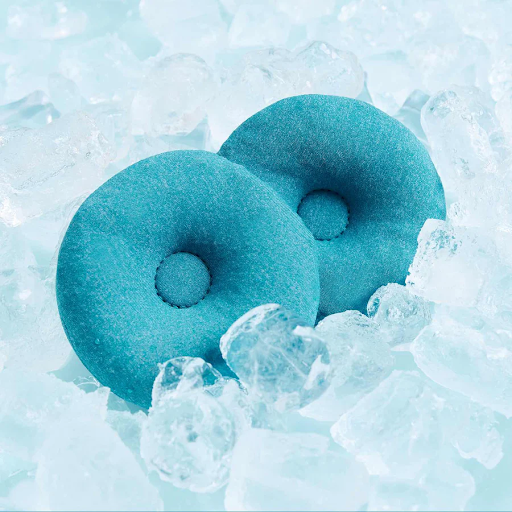 The mask's cooling power lies within its eye cups. These cups contain beads that provide gentle compression and cold therapy. Place them in the freezer for an hour before use.
They're detachable. Position them anywhere on the head strap's interior for a custom fit.
Like the STEAM eye cups, pair the COOL eye cups with any of our head straps. All but the Manta WEIGHTED head strap. The cooling eye cups have a combined weight of 0.67 lbs.
Feedback from Manta COOL Mask users:
Purchased to help with migraines
"Very useful in helping decrease migraine symptoms (if you suffer from migraines, you know your mileage may vary). Snug, secure, cooling (obviously) and with a comforting weight, but not overly heavy. I only wish it stayed cooler longer somehow. If purchasing for migraine, I'd suggest getting 2 sets of cups so you can switch them out."
Cooool soothing mask
"I purchased this mask for my daughter to help her with her sleep and to sooth her eyes. She absolutely loves it and says "thank you" to you at Manta. Now I need one. Speedy delivery also. Recommend to anyone, definitely the best brand of mask sleep and relaxation."
"My husband bought me the cooling eyes manta mask for Christmas! On Christmas Day our 5 year old autistic son got so sick and ended up in the ER from vomiting blood and being dehydrated. Later that night at home he spiked a 105 fever and had a horrible migraine where he was crying and grabbing his eyes. I grabbed the mask and put it on him and it instantly calmed him down. The weight of the mask and the cooling soothed his migraine and sensory issues right away and also helped bring the fever down from that dangerous level. I've never been so thankful for a Christmas gift that came in handy so quickly. Thank you for such a great product and for helping me care for our son when he was miserable. I guess I'll have to get him his own mask since he will probably continue to steal mine 😉"
— Natalie W.
As you can see, sleep masks are essential for truly restorative naps. Consider them adding them to your sleep arsenal for better nap quality.
When it all boils down to it, you can't ignore the benefits of napping whether at work or home. Naps are win-win situations. They're an essential aspect of leading a healthy lifestyle.
Napping helps improve our physical and mental health. It boosts productivity and enhances well-being. It gives us the energy we need to make every day count.
So, the next time you're feeling tired or sluggish, go ahead and take that nap. Let us know how napping works for you by leaving a comment below.
Sources:
(1) "Napping reverses health effects of poor sleep, study finds." Science Daily, www.sciencedaily.com/releases/2015/02/150210141734.htm. Accessed 23 March 2023.
Disclaimer:  The information contained in this website or provided through our blog, e-mails, or programs is for informational purposes only. It is not intended to be a substitute for medical advice, diagnosis or treatment that can be provided by your healthcare professionals.