TRY RISK FREE FOR 60 DAYS
You're 100% covered — if it's not for you, send it back within 60 days for a quick, no-hassle refund.

USA SHIPPING (Free)
Regardless of order size or value, all shipping within the USA is 100% free. Delivery takes 2-3 business days once shipped.

INTERNATIONAL SHIPPING
Starts at $4.99, and may increase depending on the weight of your order. Delivery takes 7-21 business days once shipped.

your most versatile travel pillow

Getting even a little bit of sleep on a plane or train can help you feel more rested or beat jet lag - but a comfortable travel pillow is key to making this happen.
Most neck pillows push your head forward or don't stay in place.
The inflatable Manta Sleep Travel Pillow is different - you can use it in 4 different positions so you can pick what's most comfortable for you.
4 RELAXING POSITIONS
2-BREATH, FAST-INFLATE
LUXURIOUS FEEL
EASILY PORTABLE
gid://shopify/MediaImage/27191478747289
gid://shopify/MediaImage/27191478714521
gid://shopify/MediaImage/27191478648985
gid://shopify/MediaImage/27191478616217
four relaxing positions

Unlike most options, you can use this travel pillow in several different ways, providing maximum comfort on your trip.
The Lock: Fits behind your neck and attaches in the front, so you can comfortably rest your head.
The Hug: Securely hugs around the front of your neck providing support as your head leans slightly forward.
The Nod: Fits in front of you, so you can comfortably rest your chin on the pillow without the dreaded head bob.
The Cradle: The ends of the pillow rest on your shoulder and cradle your head as you lean back.
"Both me and my cousin slept for +8 hours straight on a flight. Unbelievable!!!"
FEEL
luxurious

A soft microfleece cover fits around the pillow so it's extra comfortable while you sleep and won't irritate your skin.
The microfleece cover is removable and machine washable so it stays clean trip after trip.
There is also a convenient side pocket that stashes your earplugs, phone or headphones for quick access.
"This pillow + manta sleep mask + ear plugs = the best plane sleep ever. It's nice how you can deflate it to your comfort level unlike regular neck pillows that are not customizable at all."
EASILY
portable

The pillow folds up neatly inside a convenient travel pouch so it fits in your carry on or luggage.
"I've never been able to sleep on a plane, but this pillow is a game changer. It's so comfortable and made my 24 hour flight a lot more bearable. Highly recommended for anyone who can't sleep upright due to flopping forward!"
Empower light sleepers to sleep better so they can do more.
We believe great sleep is the non-negotiable foundation you need to create your best life.
That it's impossible to unlock your full potential if you're not getting an afternoon nap every day.
And that naps beat coffee hands down.
Everything we create is fueled by our drive to enable better lives through better sleep and regular naps.
Customer Reviews
Write a Review
Ask a Question
06/02/2022
Shannon O.

United States
Travel Pillow for the Win!
If you fly more than once per year - this is a MUST BUY. This pillow is extremely versatile and easy to use. I love that you can inflate and collapse it easily on board. The pillow is velvety soft and stays inflated for the entire flight. Pair this with a Manta Sleep Mask and it's lights out! I have rarely been able to sleep on a flight and if I use this pillow and my mask - I will instantly fall asleep. I wake up with no soreness in my neck - which is amazing. We own two and the only reason we don't own three is because they sold out! Cannot recommend this pillow enough. If you are on the fence, just buy it. You will not regret it!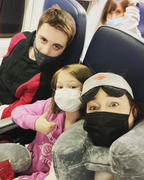 04/03/2022
Tracey W.

United States
Sleep Glorious Sleep
I originally purchased and used this pillow a couple of years ago for it's intented purpose as a travel pillow. I have spinal issues which affect my back and neck. I also sit at work at least 10 hours a day. My neck issues flared up last year. My only cc comfort is my Manta travel pillow. I can position my neck and get a good night's sleep. This order is for a second pillow for every day use. I recommend this to all of my family and friends. Ordering another one for my weekend trips to keep in my travel bag.
03/03/2022
Ricci F.

United States
Great pillow!
Glad to have found this pillow!
faq

What are the dimensions of the Manta Travel Pillow when deflated?
The dimension of the Manta Travel Pillow when deflated is roughly 7.87 inches x 3.54 inches so they're very easy to carry when traveling.
What is your shipping policy?
• ORDER PROCESSING - Our fulfillment team tries to process orders as quickly as they can. On average, they process/ship orders within 1 to 2 business days.
• US SHIPPING - We offer free standard shipping to customers within the USA. For contiguous USA, once shipped, your order should arrive within 2 to 3 business days. However, for PO boxes and military addresses, delivery could take 4 to 45 business days.
• INTERNATIONAL SHIPPING - Standard international shipping starts at $4.99 and may increase depending on the weight of your order. Please be advised that for the standard shipping option, your local post would usually be in charge of the actual delivery. Delivery will take 7 to 21 business days after an order has shipped. For customers from UAE, please use your P.O. box address when choosing our standard shipping method.
• EXPRESS SHIPPING - We offer a 2-day express delivery service for domestic customers within the contiguous states (does not apply to P.O. boxes). Orders are to be delivered to your doorstep within 2 business days after they have shipped. Flat price of $14.99 for orders below 10lbs. Weight limit for express shipping is up to 10lbs; not available for our body pillow and weighted blanket.
We also offer express shipping for international customers. Rates depend on the actual weight of the entire order so please select "Express Shipping" at checkout to get an estimate. For international express shipping, your order would usually arrive within 2 to 6 business days after it has shipped.
• TAXES/CUSTOMS FEES - Manta Sleep will not be able to cover or refund any duty fees incurred by your local laws. In most cases, customs fees will not apply due to the relatively low value of the shipment. However, we still encourage checking the customs laws of your local region before making a purchase.
What is your guarantee, warranty & returns policy?
• RETURN POLICY - Every Manta (except those purchased during limited-time sales events) comes with a 60-day money-back guarantee. If your Manta doesn't work for you for any reason, you're 100% covered — simply reach out to our customer success team via our contact page and let them know why the product didn't work for you. They will provide you with a prepaid return label via email and once we've received the item back in good condition and its original packaging, we'll provide you with a full refund for the item you purchased.
If you've paid for shipping, please be advised that we won't be able to refund the shipping fee as the payment goes directly to our shipping partners. Please also note that all products purchased via limited-time sales events (Black Friday, clearance, etc.) are considered final and are not eligible for returns or exchanges.
• WARRANTY POLICY - At Manta Sleep, we stand behind the quality of our products 100%. In the unlikely event that you aren't blown away by the quality of your Manta or you happen to encounter a manufacturing defect, let us know within 6 months from purchase and we'll exchange your Manta for a new one, free of charge. Please note that we can only offer replacements of the same product that you originally purchased.
• PRODUCT EXCHANGES - As a Manta Sleep customer, you have the option of requesting for a product exchange in lieu of a refund if your order was placed 60 days (or less) ago. Product exchange is possible as long as the price of the item you wish to exchange for is the same as (or lower than) your original purchase. Please note though that you could only exchange for another product once and if you request for a product exchange, your order would no longer be eligible for a refund. Also, items purchased during limited-time sales events (i.e. Black Friday, Holiday Sales) aren't eligible for a product exchange.
Please also be advised that the shipping fee would have to be paid for by the customer. Simply reach out to our customer success team via our contact page so they could walk you through the exchange process.