Discover the benefits of a girls' sleeping mask for school-age children. Read this blog post to learn what factors to consider when choosing one.
Sleep is an important factor in the development and growth of school-age female kids. But, many girls suffer from sleep issues. Insomnia or difficulty sleeping through the night, just to name a few.
Wearing a girls' sleeping mask can help improve sleep quality. It blocks out light to create an ideal environment for restful zzzs.
In this blog post, we'll discuss the common sleep issues faced by young girls. You'll also learn the benefits of wearing a girls' sleeping mask. Plus, the important factors to consider when choosing one that best suits their needs.
Common Sleep Issues Girls Face
Sleep issues are common in many school-age female children. They may struggle to fall and stay asleep due to a number of factors discussed here.
The Causes of Poor Sleep Quality
Lack of exercise can lead to poor sleep quality. Physical activity helps the body wind down for restful zzzs.
Another common cause is stress. Worrying about schoolwork or social situations can make it hard for kids to drift off at night. (Adults aren't the only ones who experience anxiety.)
Kids nowadays are glued to their screens, which can spell trouble for their sleep patterns. Blue light from their gadgets stimulates the brain and makes it harder for them to drift off. Plus, light in general tells the brain that it's time to be awake and alert.
That's why darkness is necessary for sleep. And it also cues the brain to start making melatonin, the sleep hormone.
Effects of Poor Sleep Quality
When children don't get enough restful sleep, it affects their physical and mental health in multiple ways. One of these is daytime fatigue.
According to Sleep Foundation, poor sleep as a kid has been associated with immune system issues, mood disorders, and even allergic rhinitis. Some evidence suggests that it can carry over to adulthood with increased risks of diabetes, obesity and high blood pressure(1).
Poor sleeping habits are also linked with decreased alertness and memory retention. Ultimately, these lead to poor performance in school.
How to Improve Sleep Quality
But wait a minute. All is not lost because there are solutions.
One is to make sure they get regular exercise. It could be encouraging them to do sports. Not their thing? Then the playground or taking them along your daily walk works, too.
Another is to create a good sleeping environment for your kids. Make sure their bedrooms are quiet and dark. Unplugging from their gadgets should be a must.
Remember when we said blue light can disrupt their sleep patterns? A consistent bedtime routine is essential, too. Make sure they have a set sleep and wake schedule. Pre-bedtime activities could consist of some quiet time followed by a bath and then bed. Oh and throw in their favorite story for good measure.
Finally, wearing a girls sleep mask is a solution that has many benefits for your child. We'll explore these in the next section.
💡 Key Takeaway: Poor sleep quality can have negative effects on the physical and mental health of kids. Solutions include regular exercise and setting a good sleeping environment. Don't forget a consistent bedtime routine and wearing a sleep mask do wonders.
Benefits of Wearing a Sleep Mask for School-age Female Kids
Wearing a girls' sleeping mask has a number of benefits.
Comfort and relaxation to start. A girl's sleep mask should be made from breathable fabric to avoid overheating. One that's made from soft hypoallergenic materials is a plus, so it's gentle and feels good on sensitive skin.
Reduced light sensitivity and distractions are other benefits of wearing a sleep mask. Their light-blocking feature helps your child wind down and drift off faster. Plus, it means fewer sleep awakenings, which improves sleep quality, too.
Ultimately, restful sleep is what school-age girls need to develop and perform in school. It gives them the energy to fully enjoy what each day brings.
This, in turn, leads to a better quality of life. And really, there's nothing else a parent wants more for their child than that.
However, it's important to determine if it's appropriate for your child to wear a sleep mask. Read this article that answers the question: "Is it safe for a child to sleep with an eye mask?"
Next, let's look at the factors to consider when choosing a sleep mask for this age group.
Factors to Consider When Choosing a Girls' sleeping mask
When it comes to choosing a girl's sleep mask, there are several factors to consider. It goes without saying that it should have superior light blocking.
A sleep mask should provide proper coverage while still being comfy for your child. It should cover the eye area completely without pressing too hard against the eyes.
Direct pressure for too long can reduce blood circulation and cause blurry vision. Fortunately, there are sleep masks that come with eye cups for breathing room. These make it possible for your child to sleep safely with the mask all night long.
A girl's sleep mask should fit properly. It shouldn't feel too tight around the head yet stay put. Apart from this, it should be easy to remove.
Choose an adjustable sleep mask that has a micro hook and loop closure. This ensures that it stays put. But easier to remove by hand than a flimsy elastic strap.
It should be comfy and hypoallergenic.
Fabric is an important factor when choosing a sleep mask for school-age female children. Breathable materials prevent overheating, especially if you live in a warm climate.
Pick a girl's sleep mask that is made from hypoallergenic materials. At the very least it should have undergone some form of allergen test.
Take note that allergens don't just come from the mask's materials. Sleep masks, like any article of clothing, pick up dirt and bacteria. That's why it's important to choose a sleep mask that's machine-washable.
Keep an eye out for durability.
While it's tempting (and easier) to choose a girls' sleeping mask based on its looks alone, don't. If you've already nailed down an adjustable option, check for durability.
Most sleep masks on the market have a single elastic strap. Over time, this isn't going to hold up. Chances are, it'll fall apart before the year is up. Invest in a quality adjustable sleep mask that'll fit your child as she grows.
Look for a fun and safe design.
To keep things fun, choose a sleep mask with a fun design and colors that even you will like.
Why? Your school-age child won't be one for too long. And if you've chosen a durable and adjustable sleep mask, that's a couple of years of use.
Another thing to consider is embellishments like beads, sequins or buttons. If your kid is on the younger side, there's a risk of swallowing these small parts. The last thing you want in a sleep mask is a choking hazard.
Now that you know what to look for in a girls' sleeping mask, why not consider our sleep mask for kids? We'll discuss its features in the next section.
Our version of a sleep mask for kids was designed for children 6 years old and up. And because it's adjustable, it fits teens and smaller adult head sizes. We designed it to block out light 100%.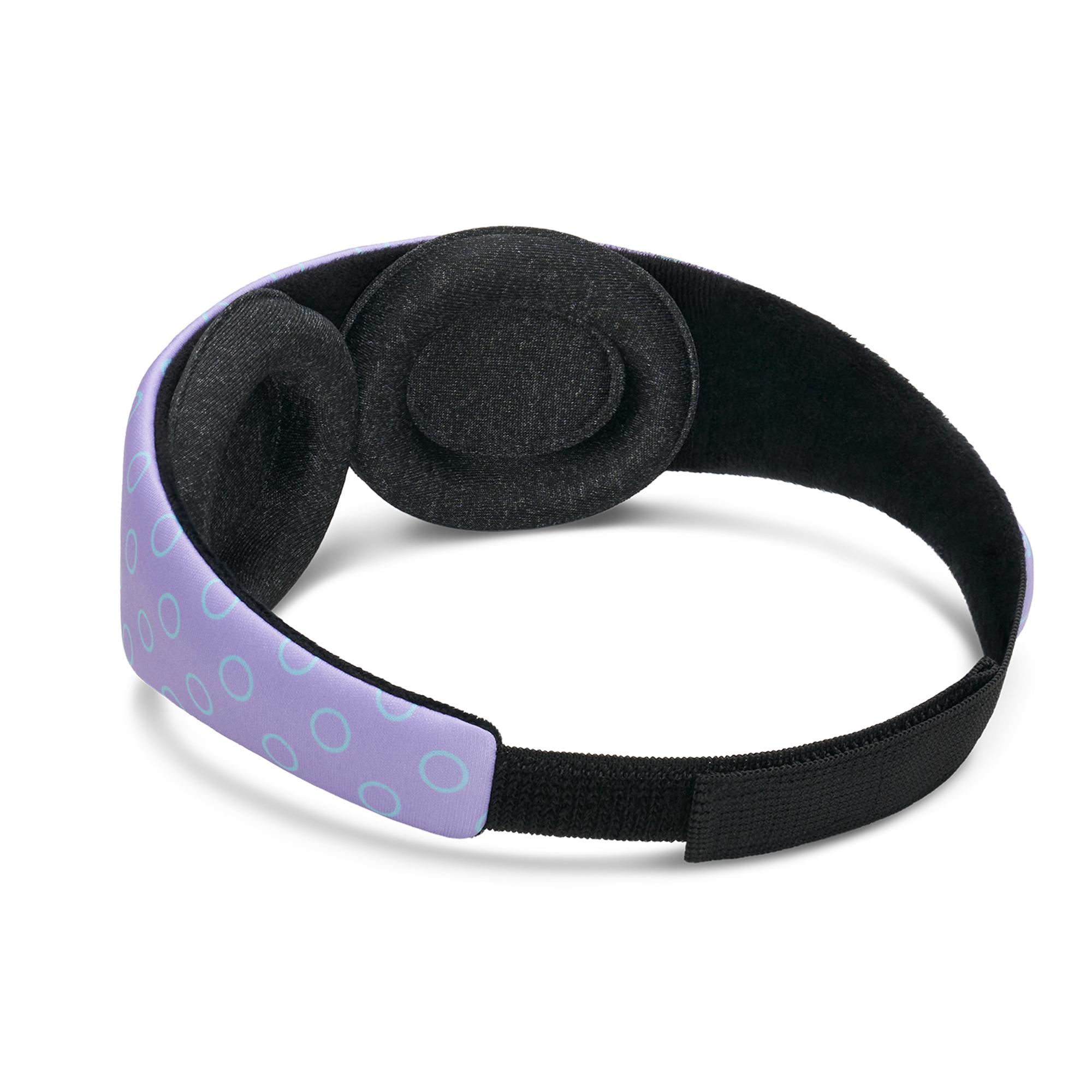 This mask has an adjustable head strap that secures around your child's head with a micro hook and loop closure.
We also designed it to last. The head strap is made from triple-reinforced elastic.
It comes with a pair of tapered eye cups that can be positioned anywhere within the interior of the strap. It delivers zero eye pressure, so there's no risk of blurred vision.
We made it fully adjustable, considering how fast children grow.
This girls' sleeping mask comes in 2 fun designs minus any small parts. They're so cute, you might end up borrowing them every now and then.
(If that's the case, you might want to check out our selection of adult sleep masks.)
Now that you know the benefits and how to choose one, it's time you get cracking on getting your kid an excellent girls' sleeping mask.
Again, the main benefit is better sleep quality for your child. A sleep mask may help them fall asleep faster and lessen sleep pattern disruptions. And good sleep will equip them with the energy they need to take on every day.
In summary, choosing a girl's sleeping mask boils down to these factors:
Superior light-blocking feature

Adjustable so it provides the proper fit

Made from comfy and hypoallergenic materials

Designed to last

Comes with eye cups for zero eye pressure

Fun and safe design
With these considerations in mind, you can choose a girls' sleeping mask that will give your child deep and restful zzzs.
Sources:
(1) "Children and Sleep." Sleep Foundation, www.sleepfoundation.org/children-and-sleepy. Accessed 27 January 2023
Disclaimer:  The information contained in this website or provided through our blog, e-mails, or programs is for informational purposes only. It is not intended to be a substitute for medical advice, diagnosis or treatment that can be provided by your healthcare professionals.