Here's How to Pick the Best Semi Truck Sleeper Accessories

You're reading this because you drive a semi-truck with a sleeper tractor (or trailer) or are considering it. If your OTR driving is pretty much non-stop, a semi-truck with a comfortable sleeper cab sure beats spending the night on a cringe-worthy motel bed. 
Imagine this…
You're on a mission with Deep Purple's "Space Trucking" blaring with your partners-in-crime (Human or your gauges?). And because your semi-truck has a sleeper, one neon "No Vacancy" sign after another isn't going kill the mood. Or isn't it? Could your sleeper be creepier than the Khaki Palms Motel in The Devil's Rejects? 
Before your anxiety kicks into overdrive, relax. All it takes is picking the best semi-truck sleeper accessories to make it feel as close to sleeping at home as possible. (And the same goes for car sleeping accessories.)
Why sleeping in a semi-truck sleeper is a better option than checking in

It makes your investment worth it

Call us cheap, but we'd rather you say practical. We understand those good semi-truck sleepers can cost up to hundreds of thousands of dollars, especially ones with a bathroom and kitchen. So really, why fork out $100 - 150 for sub-standard hotels when you can get a good night's rest in your sleeper. Own it!
Considering how much time (and how many miles) you spend in it, get the best semi-truck sleeper accessories so you rest as well as you do at home. (When we say accessories, we mean relatively small things that help you get better sleep on the road.)
Once you're parked, you're good.

Here's a friendly piece of advice: many truck stops offer semi-truck parking. Major truck stop players even have mobile apps that let you reserve ahead. This beats squinting into the horizon for motels with vacancies. 
Are you in no man's land? "What about pitching camp?" you may ask. We don't know about you, but unless we signed up for an outdoor adventure, we'd rather sleep on a comfy (and clean) mattress over a tent, thank you very much.
You've got places to be and a full schedule. Waiting eons for a cup of coffee (Was that dishwater?), then checking out from your motel room is gonna eat away a chunk of your day. Plus, if your sleeper comes equipped with extras, you can: make your coffee; rustle up a quick meal; use a clean toilet, then hit the road.
But, hey, we know sleeping in your semi-truck can get rough. 
Depending on the tractor or trailer you have, sometimes there isn't much room for you to stretch out. Sleeping in cramped quarters can be a pain the next day. 
And the best semi-truck sleeper accessories are the ones that help you well… sleep.
Saboteurs for Semi Truck Sleepers

An ideal sleeping situation would be arriving in the Sandman's lair once your head hits the mattress. Unfortunately, this isn't always the case. 
Here are 3 saboteurs sneaking around your truck, and it's time to switch to high beam and call 'em out.
Semi Truck Sleep Saboteur #1: Light

Let there be light! Your answer: "Nooooooooooooooooooooo!" Here's the science: To get good sleep, you need to transition between sleep cycles, and light can well… screw that up. 
It's not just light in your semi-truck that hinders it, either. Even the night light in your bedroom can make it hard for your body to call it a day.
Semi Truck Sleep Saboteur #2: Sound

The difficult thing about sleeping in truck stops is other trucks. Things can get a little loud to say the least and whether you're catching up with a quick nap or a full night's sleep, this could be your undoing. 
It's a good idea to park some distance away from other trucks, if possible. Also, try picking a truck stop that isn't in a high-traffic area.
Semi Truck Sleep Saboteur #3: Comfort

Like we said earlier, we know things can get a bit cramped. Plus, what if your mattress sucks. If you have problems finding a comfy sleeping position in your bed at home, it's likely a bigger problem in your semi-truck. 
We hate to break it to you, but your sleeping position can lead to body pains everywhere, including your neck, back, head, and joints. (1)
And you deserve only the best (or at least close to it)!
While on the road, (to quote The Doors' Jim Morrison) "Keep your eyes on the road, your hand upon the wheel!" But when it's time to get some mandatory shut-eye in your sleeper berth, comfort is king (No, not the Lizard King).
Maybe the lights of your dashboard are still on in your head. Or the headlights of another truck coming into the stop are keeping you from drifting off. Could the full moon be out? Oh boy, you're in for trouble. You can kiss those 8 hours goodbye.  
Now that you know the three sleep saboteurs, let's check out the best semi-truck sleeper accessories to help you hit the brakes on their dastardly plans!
The Best Accessories For Semi Truck Sleepers

Great for:

Light sleepers
Those who often park at truck stops
Blocks out the howling of coyotes (when parked in the middle of nowhere)
Just in case you brought your pet along for the ride

Imagine this. You're in dreamland (a particularly satisfying scene playing out in your sleep conscious) when the blaring horn of a  truck entering the stop rudely awakens you.
You start weighing the pros and cons of going out there and wielding a sledgehammer (Bye-bye, headlights!). But wait. First of all, you don't have a sledgehammer. Second, it dawns on you that it just isn't worth it. 
Because you know deep down inside that it's the first of many truck horns that are going to jolt you awake tonight. 
Faced with that unbearable inevitability, you ask yourself, "What now?"
Luckily, there's a secret weapon hiding in your glove compartment (No, it's not the hammer). You remembered to bring your foam earplugs and not just a pair, but 10 that you got for below $10.  
They're cheaper than a lawsuit. Plus, with Manta Earplugs you know you're going to win.
All it takes is a pair in your ears to block out that infernal racket. Here's hoping you land back in that awesome dream before it was cut short. 
In fact, here's what Beerdrinker25 has to say about them: 
"Unlike the majority of earplugs in the market that are too small/large for the ears and made of uncomfortably hard material, these are pleasantly soft and just the right size to fill my ears perfectly. These are very good at blocking out sound and having 10 pairs makes it very convenient for travel. Sometimes, I even wear them inside my headphones for extra soundproofing and yet they're still comfortable. Very impressed!"  - Beerdrinker25
So, you have your earplugs. They'll need something to keep them company to give you the kind of sleep you've been dreaming of since you left home. Check it out.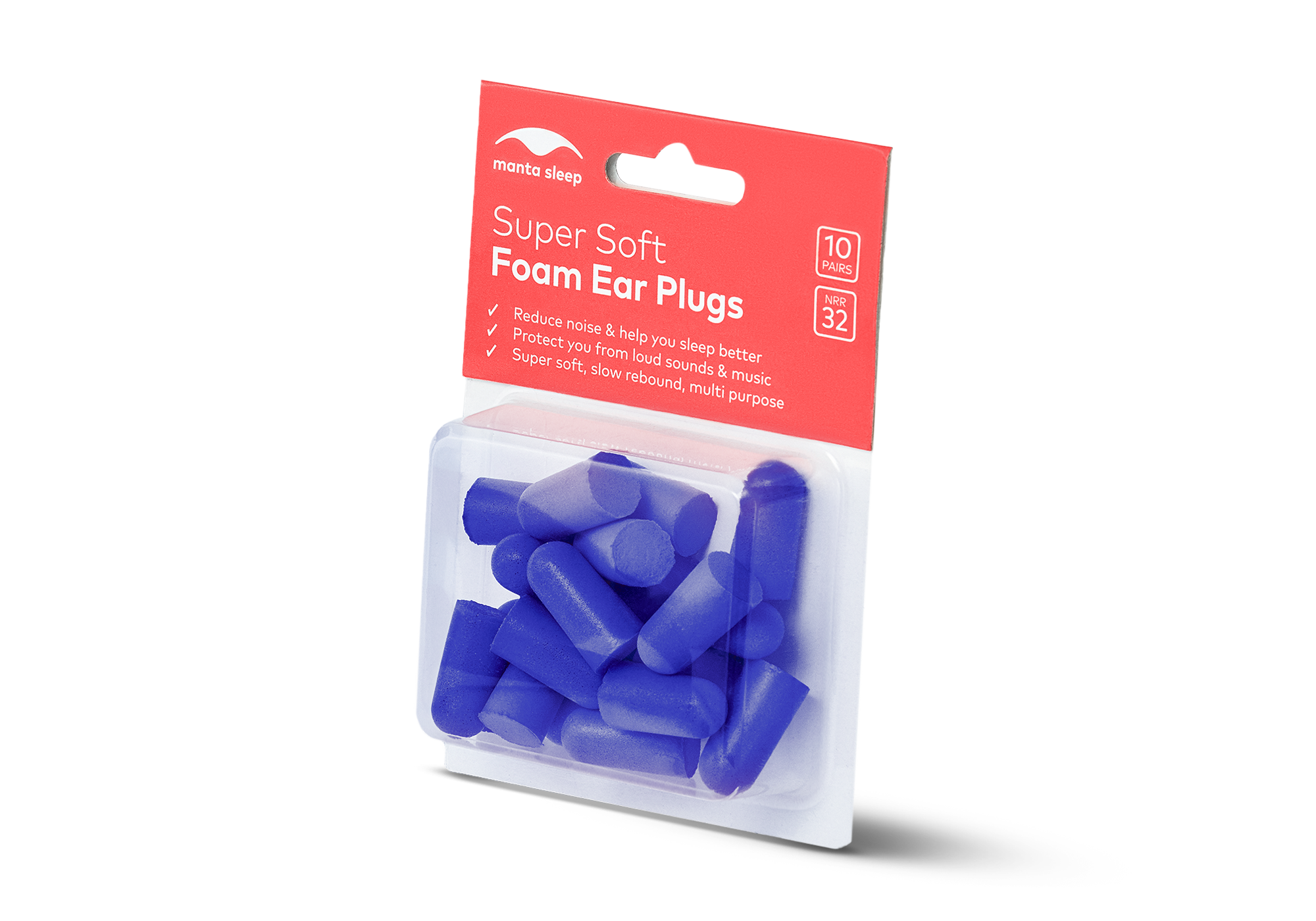 A Super Sleep Mask for Those Who Sleep in Their Semi Truck

Great for:
Side sleepers

Extra light-sensitive folks

Hot sleeper cabs

Sensory deprivation
There are sleep heroes, and then there are super sleep heroes.
If the tiniest pinprick of light keeps you up at night, what more when you're on the road? It's hard enough to get to sleep with all the noise.
That's where a sleep mask comes in. The problem with a lot of them is they don't block out all light. Even worse, those cheap elastic straps will have them on the floor if you're a side sleeper who shifts from left to right. 
Did we mention cheap material that feels like an extra layer of clothing on a hot night?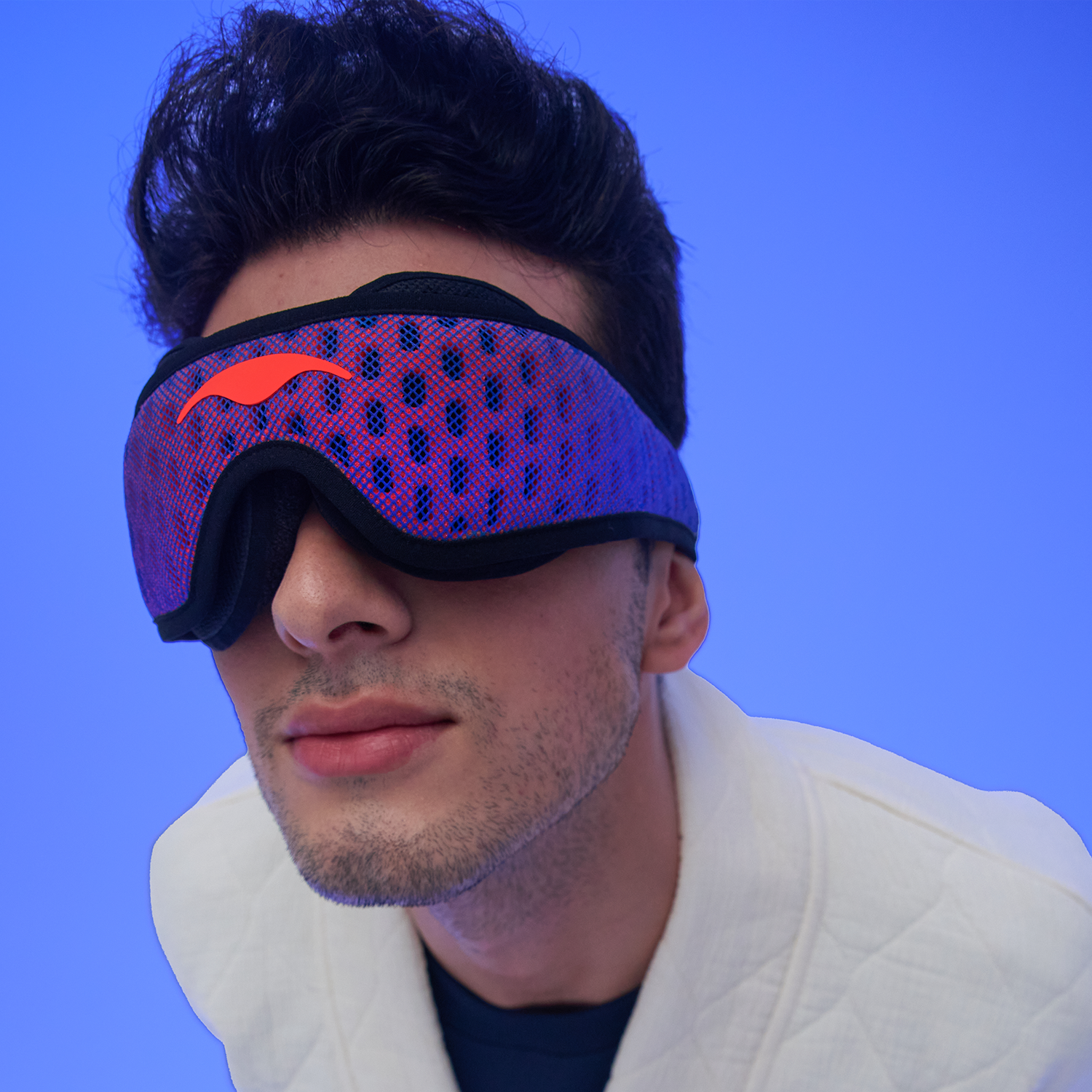 Well, the Manta Sleep Mask PRO is flying straight at ya to save the day. Oops! We mean night. 
It's everything a crappy sleep mask isn't.
Sensitive to light? No problem. These are 100% blackout, which means "Hello darkness, my old friend!" 
Sleep on your side? These have a C-shaped eyecup design that tapers off on the sides of your head, so there's no extra bulk. "Eyecups?" you might ask. Yep. This means that there's zero pressure on your eyes. 
If your sleeper cab tends to get hot, then this sleep mask won't add to the discomfort. Ventilation holes and super breathable fabric let air move through the mask easily.  
On another note, here's how to make your bedroom darker. Just in case you need some advice on the home front. So now you know how to block out all light as you sleep. It's time you learned how to block out the not-so-good kind while awake. And we have just the thing…
Glasses That Keep the Bad Light Away

Great for:

Dealing with harsh LED headlights from other trucks
Driving at night
Nighttime Netflix and YouTube binging
So, you bit the bullet and got WiFi installed in your truck. Now you can binge uninterrupted on all the shows that take forever to stream on mobile data.
Binge-watching can wreak havoc on the quality of your sleep. But let's face it. Here's the thing. Binging at night means you put off bedtime, meaning you get less sleep than your body needs.(2) 
On top of that, electronics (smartphones, TVs, and computer screens), LED lights (headlights), and fluorescent bulbs emit blue light, which interrupts your circadian rhythms. Melatonin, the hormone that helps you snooze, takes a hit from blue light, too. In short, your body's 24-hour cycle is going to have a very hard time recognizing that it's time to go to sleep.(3)
But hey, binge-watching could be one of your favorite ways to spend your free time on the road. And what you do with that is entirely your choice. Also, it's not your fault you have to deal with the glare of other trucks' headlights.  
What if we told you the solution lies in a pair of specs? And not just any kind, but ones that block 99% of blue light. Plus, it's got nose pads that you can adjust. And get this. All you need is a hairdryer to heat the frames and bend them for a custom fit. 
Manta Blue Light Blocking Glasses help you get to sleep after heavy binging. Plus points for being lightweight and making you look extra spiffy.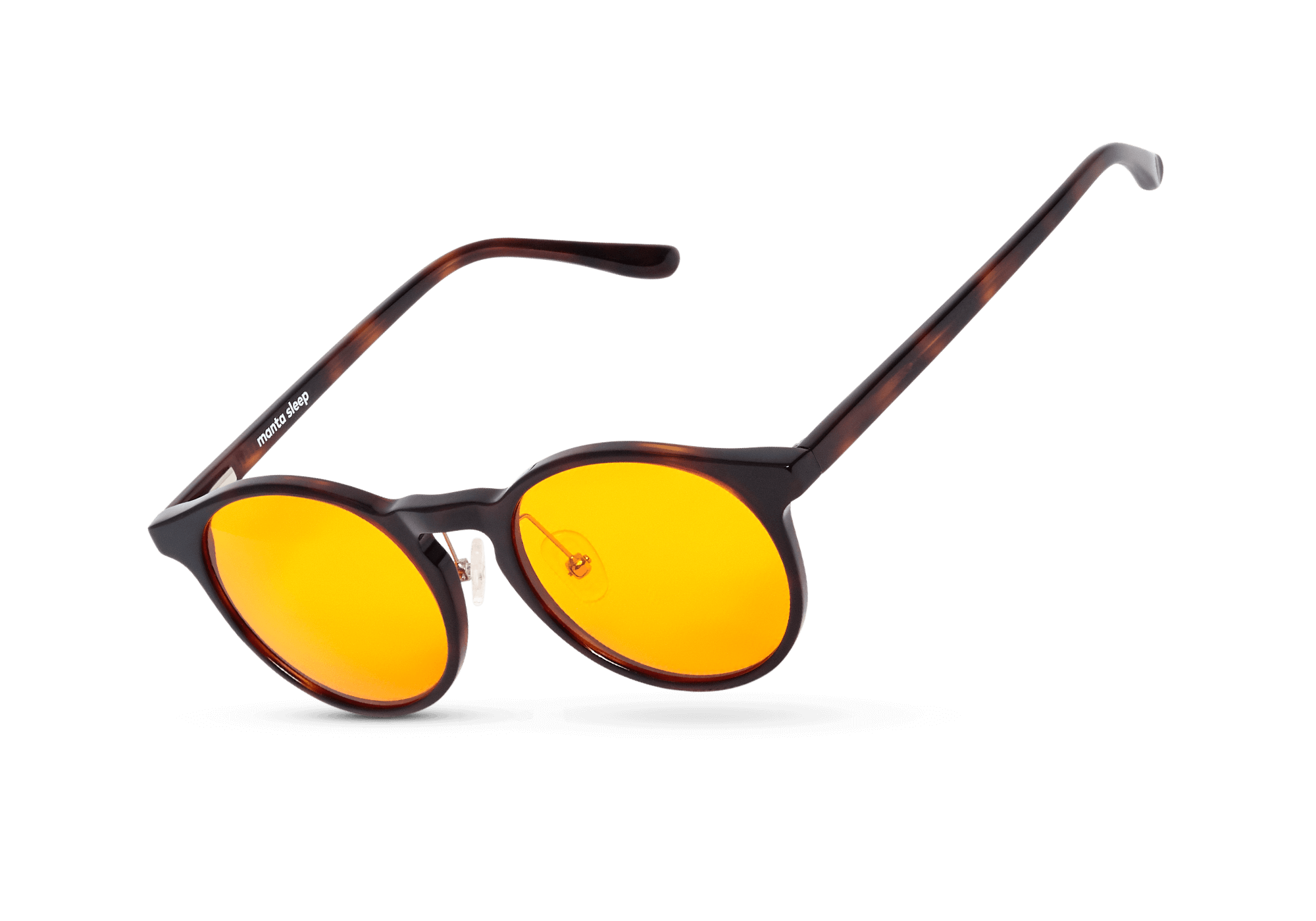 Great for:

Sleep cabs with a crappy mattress
Body aches and pains from long-haul drives
When you're missing your old reliable armchair
The short of it: the mattress in your semi-truck sleeper sucks. 
Here's the scenario: you're sleep-deprived, and a truck stop away from hitting boiling point. Your back is aching like it's about to give out. Plus, you're feeling separation anxiety pangs, missing your trusty armchair. 
Did we hit too close to home? In any case, the immediate solution is to buy a new mattress. The thing is, they don't come cheap (a couple of hundred bucks for really good ones). If you aren't ready to make that investment yet, a body pillow is a good call. Might as well make it the best one on the market.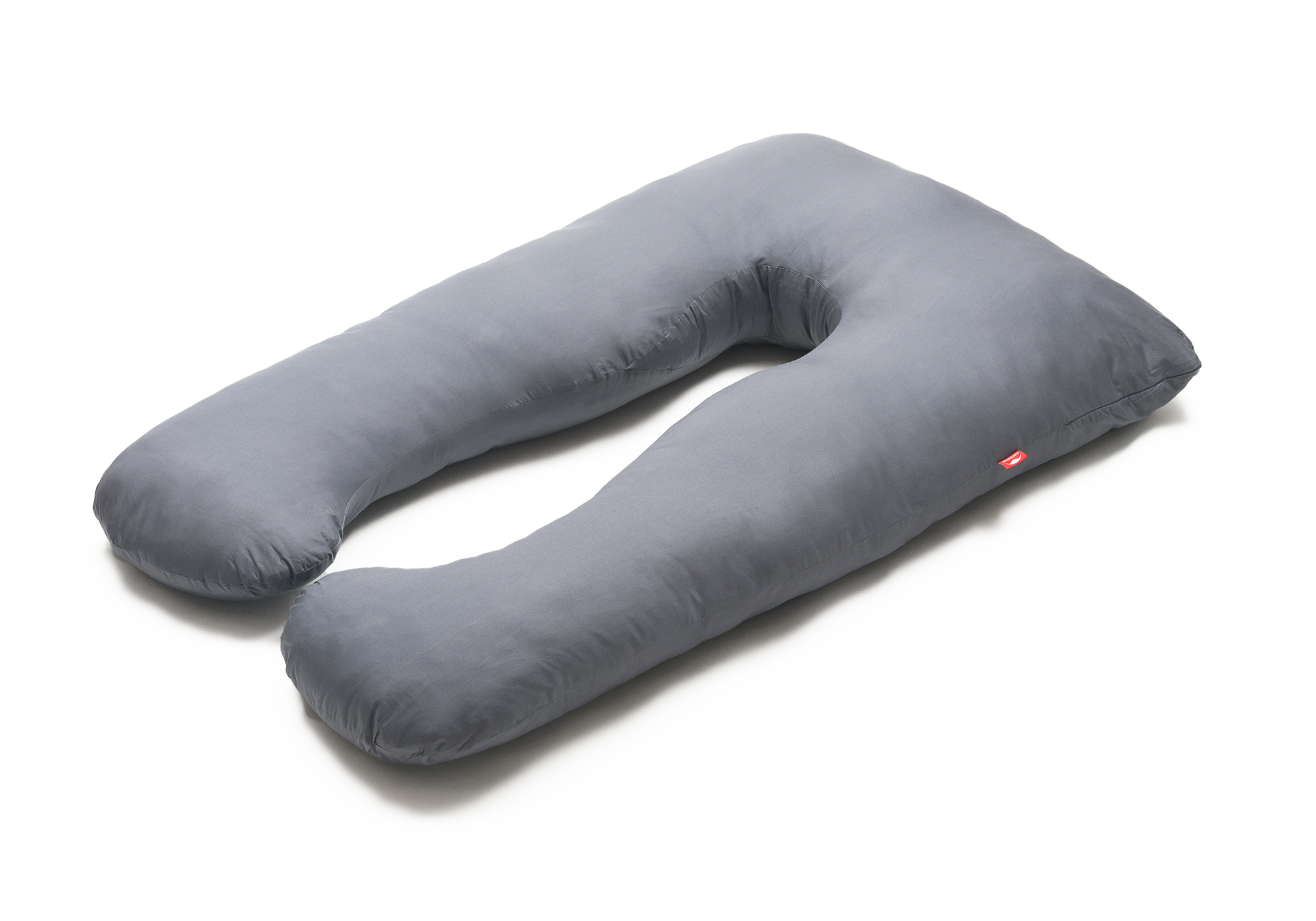 Here are a couple of awesome things to mention about the Manta Body Pillow:
Measures 60" x 38"
Use it 4 different ways (for side sleeping and like an armchair)
Has an easy-to-clean cover (machine washable and dryer-friendly) 
Relieves body pain from fibromyalgia and sciatica, to name a few
(That said, It's essential to measure your semi-truck sleeper mattress first before grabbing the body pillow.)  
Cheers to relaxing in your second-best armchair and sleeping better in your semi-truck sleeper cab! 
Now that you know the best sleep products are for your semi-truck sleeper, here's what you need to include in your packing list.
Trucker Essentials: Don't Leave Home Without Them

Before leaving home, make sure to pack everything you need. Discovering you have no toilet paper when it counts most is a fate we wouldn't wish on our worst enemies.
Here are some things to keep in your semi-truck:
All your essential documents (vehicle registration, permits, license, you get the drift)

Drinking water

Road cones 

Clean clothes (a set or more)

Flashlight (and extra batteries)

Portable cooking gadgets (stove, coffee maker)  

First aid and emergency kits

High visibility safety jacket 

Smartphone, tablet, laptop, and chargers (for your load board and binge-watching sessions) 

Rubber flip flops (for taking a shower at truck stops)

All the best sleep accessories in this article
You might find that you didn't use everything on this list, but that's not to say that you don't need them. 
Stay safe, have a good one, and get good sleep while you're out there. Remember that when it comes to getting good quality shut eye, choose your sleep products wisely.
Sources:
1. "How Sleep Position Affects Your Spine." Coastal Orthopedics, https://www.coastalorthoteam.com/blog/how-sleep-position-affects-your-spine. Accessed 18 May 2022.
2. "Binge-watching is stealing your sleep." Sleep Education, https://sleepeducation.org/binge-watching-stealing-your-sleep/. Accessed 18 May 2022.
3. "How Blue Light Affects Sleep." Sleep Foundation, https://www.sleepfoundation.org/bedroom-environment/blue-light. Accessed 18 May 2022.
Disclaimer:  The information contained in this website or provided through our blog, e-mails, or programs is for informational purposes only. It is not intended to be a substitute for medical advice, diagnosis or treatment that can be provided by your healthcare professionals.