Why a Luxury Sleep Mask is Your Ticket to a Good Night's Rest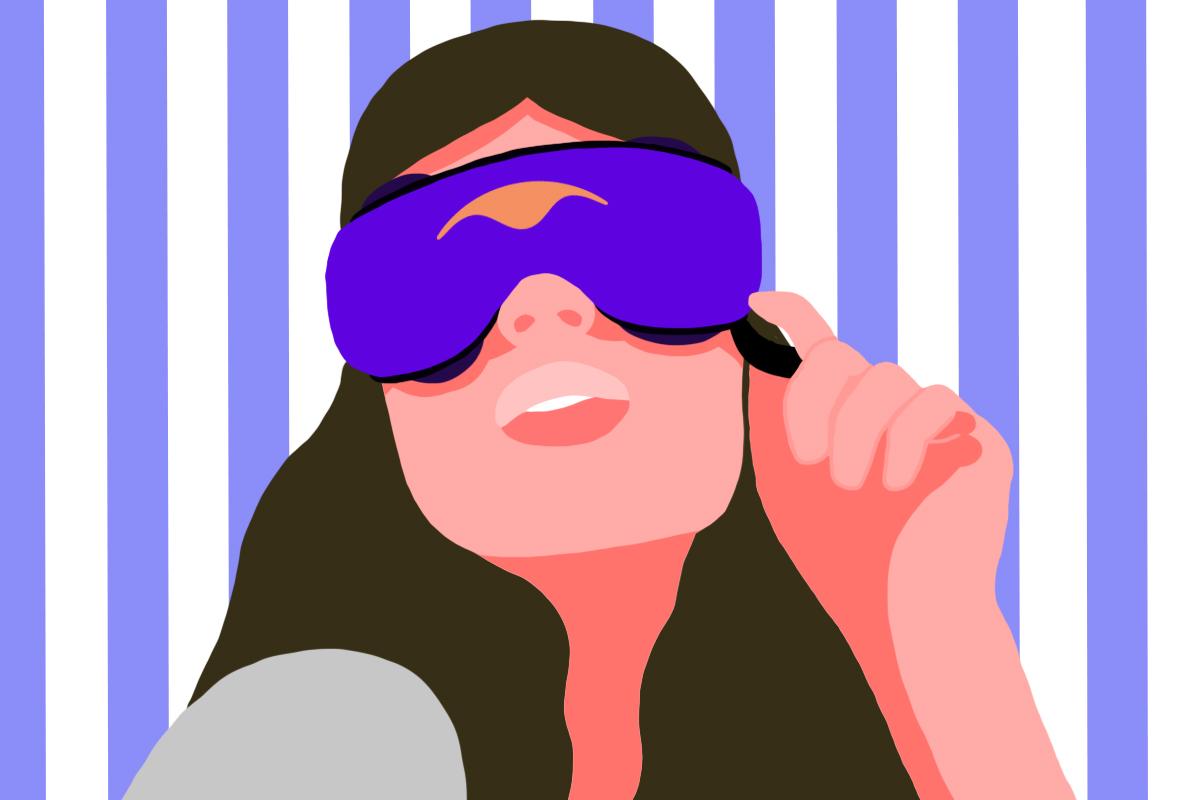 Want a luxury sleep mask but need more info? Read this article to discover the benefits. Plus, one of the best silk luxury masks available in the market.  
Hey, dream chaser. Ever come across a luxury sleep mask? If that's a no, let us introduce you to this sleep accessory that combines form and function.
Picture this. You're trying to get a good night's sleep. The thing is, your surroundings aren't devoid of light. Maybe you're traveling or live in a brightly lit area. A sleep mask could be the answer.
As you may already know, a sleeping mask's main function is to block out light for better sleep quality. (More on this later!) But compared to regular ones, a luxury sleep mask doesn't just provide complete darkness. It also offers exceptional comfort and aesthetics that take your sleep game to a whole new level.
Luxury eye masks are crafted from premium materials like mulberry silk, memory foam or temperature-regulating fabric. Yep. There's no doubt they're an indulgence. But if you're serious about upping your sleep game, it's a worthwhile investment.
Why is sleep quality important?
Is there such a thing as perfect sleep? That's a tall order. But it doesn't mean you can't come close. And that's why sleep quality is a big deal.
Numerous studies and sleep specialists say it's necessary for your overall health and well-being. It boosts your mood and memory. To add, it fortifies your immune system, among other things.
And just so you know, it's not just about how long you sleep but how well you do. The National Sleep Foundation says that there are four measures of sleep quality. They're as follows:
Sleep efficiency is how long you are actually asleep in bed.

Sleep waking refers to how many times you wake up at night. If you do so more than once, it's an indicator of poor sleep quality.

Wakefulness is how many minutes you stay awake after you first hit the hay. If it's 20 minutes (or less), your sleep quality is considered good.

Sleep latency is how long it takes for you to drift off. If it comes down to more than 30 minutes, then your sleep quality needs improvement(1).
On the flip side, poor-quality zzzs can result in sleep deficiency and worse, deprivation. It's a well-known fact that this can put you at risk for health problems like diabetes, kidney and heart disease, obesity and depression, to name a few.
And hey, plain and simple. You need the energy to live your best life. And that's what good quality sleep can give you. No ifs, ands or buts.
Now, on to the connection between a sleep mask and deep and restful zzzs. You need complete darkness for optimum sleep quality. When you see light, it signals to your brain that it's time to be alert and awake.
Darkness prompts your body to produce melatonin, the sleep hormone. It's responsible for helping you wind for bed. And that's where a luxury eye mask comes in handy.
What makes a sleep mask luxurious?
Luxury sleep masks stand out from the rest due to their unique design, premium materials and added features. They do more than just work well. They also look elegant and feel luxurious.
They're crafted from high-quality fabrics, making them gentle on your skin. But a silk sleep mask is the most luxurious of them all.
Luxury eye masks are typically adjustable for a custom fit. This ensures the mask stays on even if you're a restless sleeper. Some offer temperature control or aromatherapy for a deluxe and restful sleep experience.
For instance, some luxury eye masks come with cavities or eye cups that put zero pressure on the eyes. Apart from comfort, this allows your eyes to blink freely during REM sleep. And this sleep stage is essential for your mood, memory and ability to learn.
It's true that some regular sleep masks are effective in keeping light out. But often,  their comfort and usability fall short. Also, they're typically crafted from man-made materials that may irritate your skin. Plus, they usually have elastic straps that aren't durable.
As we mentioned earlier, a sleep mask made from pure silk (not satin silk) is the ultimate in luxury. And here's why.
Benefits of a Silk Luxury Sleep Mask
You're probably wondering "What's so special about a silk eye mask?" The most obvious if they're effective at creating a pitch-black environment helping you drift off faster and sleep better. That is if they offer a superior light-blocking feature.
Silk eye masks have beauty benefits that can't be beat. For one, unlike regular sleep masks, it minimizes sleep wrinkles or creases caused by friction. And wearing a piece of cloth across your eyes inevitably does this every night. But silk has a smooth texture, which means it creates less friction than most other materials.
Also, premium silk won't absorb your skin's natural moisture. Not to mention your skincare products. Plus, it's kinder to your hair. Its smooth texture means less snags, frizz and breakage.
Don't be fooled by a silk luxury eye mask's fragile appearance. Real silk is made up of long fibers that don't break easily. This means its durable than most other fabrics. And that means it'll keep its shape longer.
A problem many sleep mask users face is that their eye masks get drenched with sweat on a hot night. A silk luxury sleep mask is breathable. It helps regulate the temperature around your eyes. You can use it all throughout the year.    
Still not convinced? Read our blog post on silk eye mask benefits for more information.
Manta SILK: The Ultimate in Luxury Sleep Masks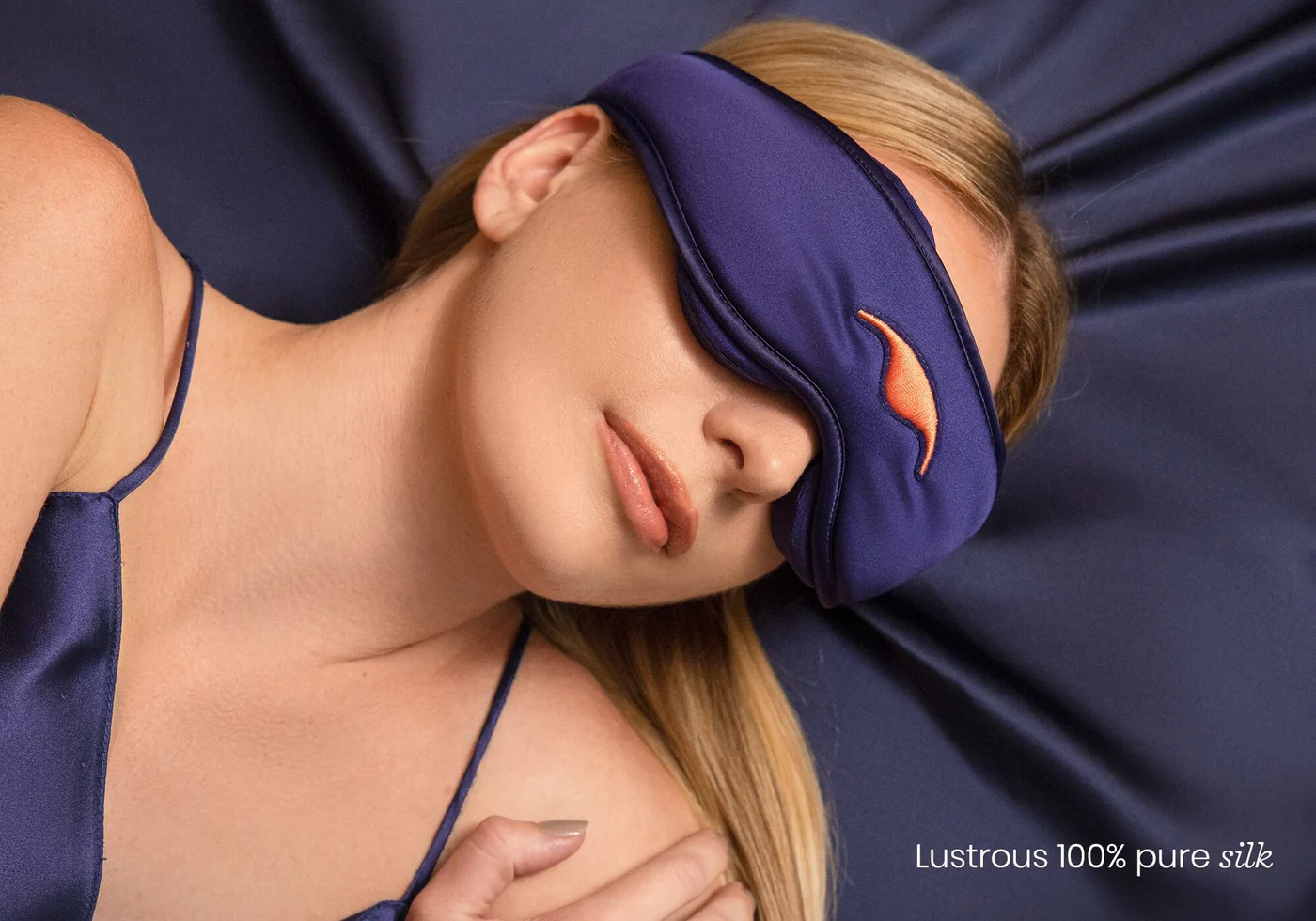 This silk eye mask is made from 100% silk down to its silk fiber filling. The head strap is 20 momme, while the eye cups are 30 momme silk.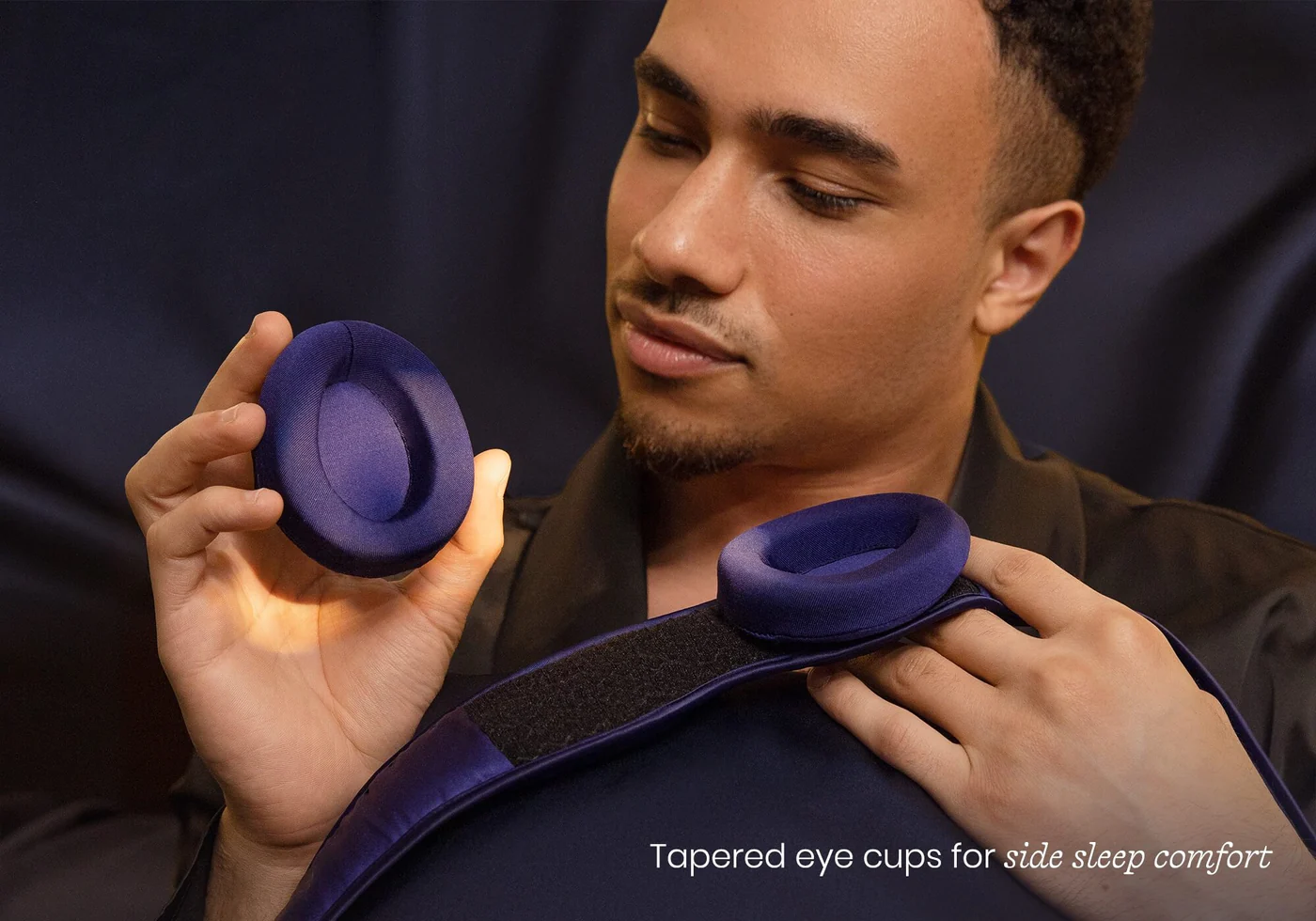 This 100% blackout silk eye mask comes with a set of detachable eye cups. They taper near your temples so there's no added bulk when you sleep on your side. They also have a convex design so there's zero eye pressure on your lashes and peepers.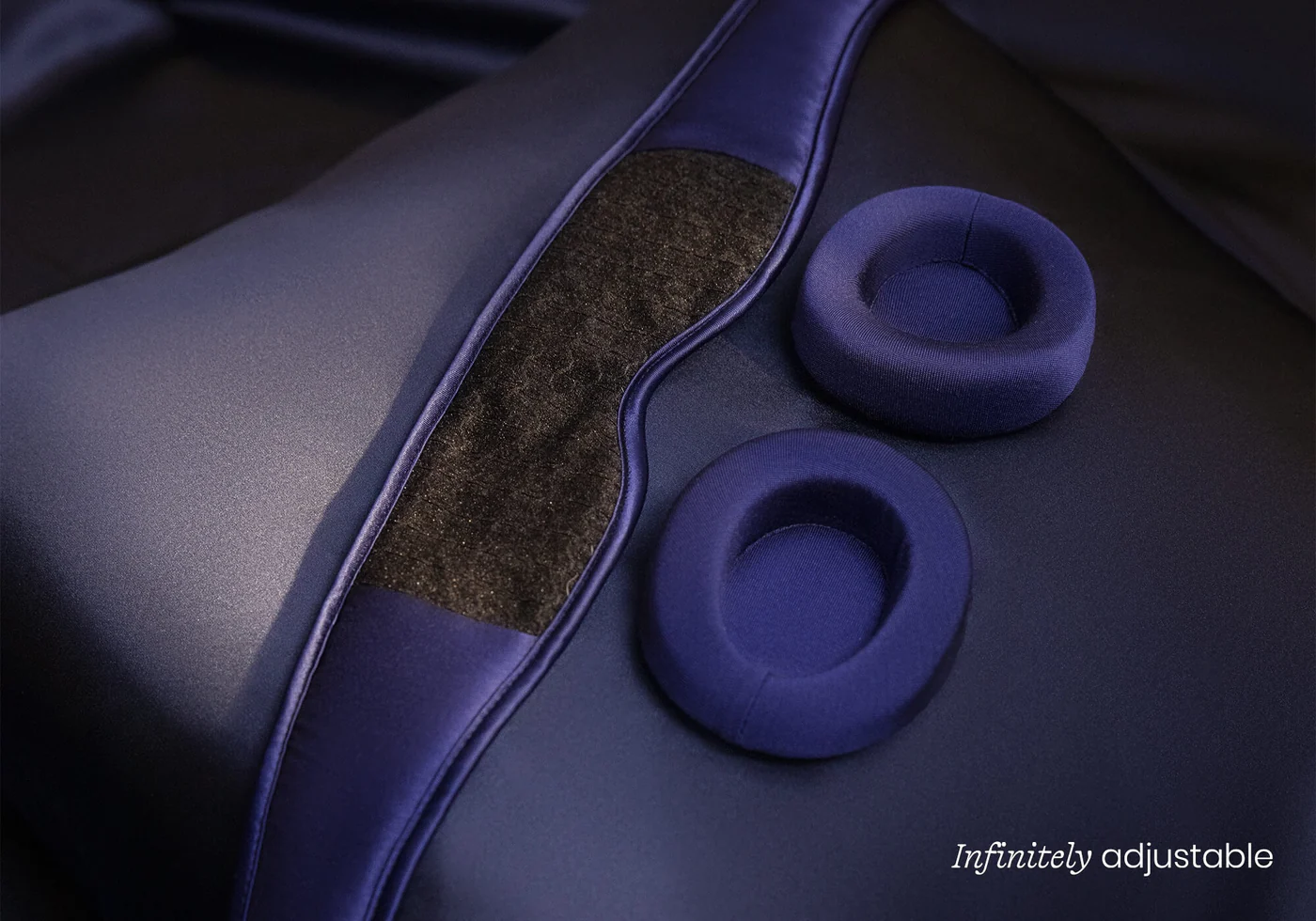 Both the strap and the cups are infinitely adjustable. Position the cups anywhere within the mask's interior, according to your eye placement.
The strap secures around your head with a micro hook and loop closure for a personal fit.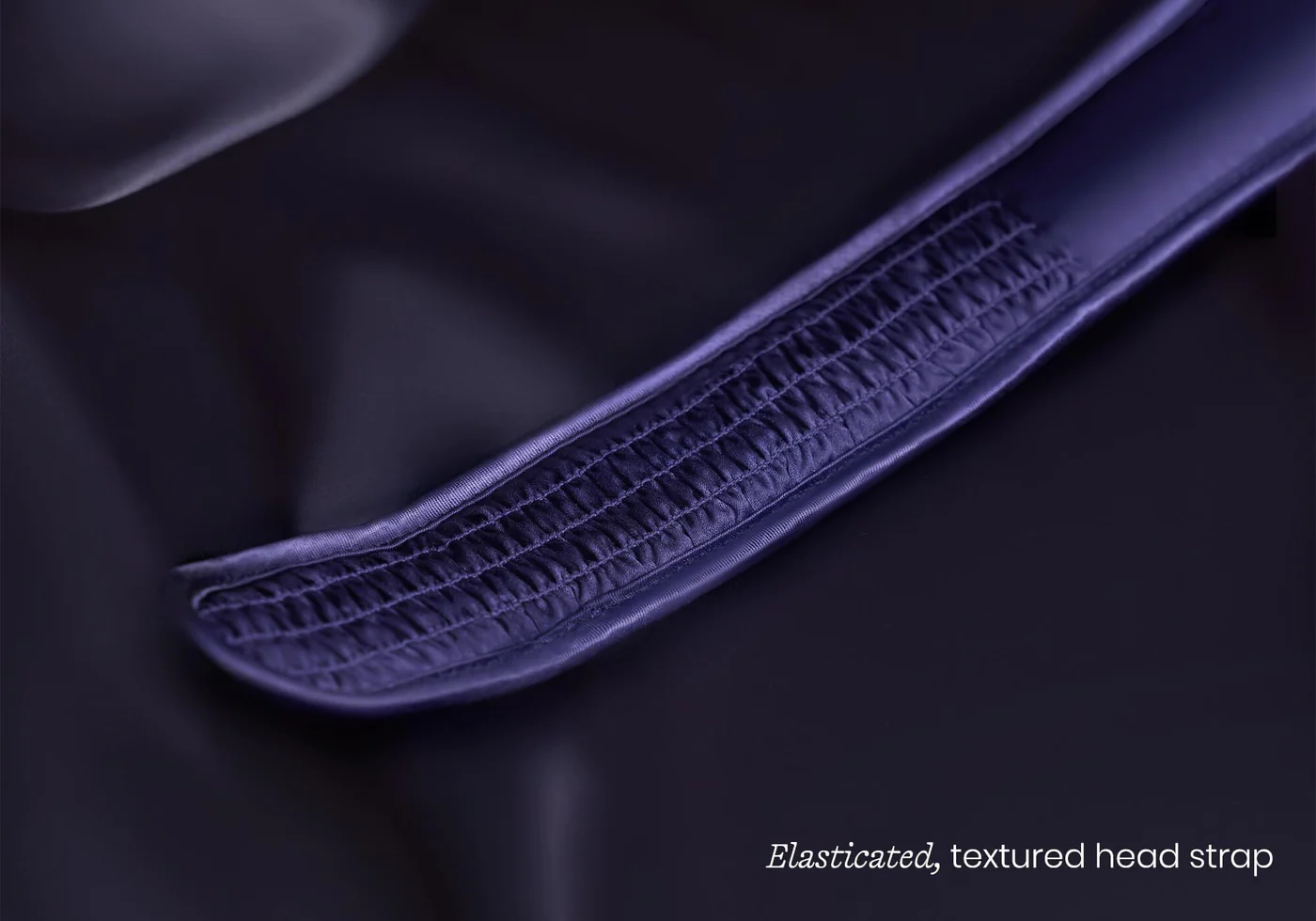 The head strap is elasticized for a comfy yet secure feel.
One thing to note about any sleep mask is it needs to be cleaned regularly. Your eyes and the skin on your face are some of the most sesntitive body parts. Now you may have heard that silk eye masks are difficult to clean.
It's not everyday that you find a silk sleep mask that's 100% machine washable like Manta SILK. No worries if you don't own a washing machine. Read our guide on how to wash a silk sleep mask.
Manta SILK Sleep Mask Customer Reviews
Don't just take our word for it, though. If you're considering our silk contour sleep mask, read our customer reviews to help you make an informed decision.
Best mask they have
"I have a really small head and I have ordered five or six different masks from this place because I love their masks. This one fits my head perfectly and helps my Lashes stay safe."
Best silk sleep mask!
"Light weight, cool, and doesn't cause breakouts! Fully black out too."
The best
"I own 3 manta sleep masks, this one, the old silk version and the glow in the dark. This one is by far the best. The eye cups are thinner so side sleeping is much easier and the texture on the back keeps it on my head. No more slipping off my head!"
I'm now a believer!
"I love this mask! Super functional, comfortable, and I love how futuristic it looks. The matching earplugs and mesh bag were also a really nice touch! I apply eyelash serum right before bed, and this mask makes sure it doesn't smear all over my face while I sleep. I was hesitant to get this initially when I saw the price tag, but honestly this is such a great purchase. I sleep so well with my mask!"
"Hello lovely team,
I already made my review but i just have to tell you AGAIN how much i do appreciate your work . I really think you should be all over the world and i will spread the word for sure.
New Manta Silk 😍
First of all i just love love love the color of the mask, an intense blue / violet ! You are known for not choosing the obvious colors and being an artist i just appreciate that bold move.
After using the mask for around 5 nights i have to say it is my favourite . At first i wasnt sure it would be because i was already used to the Pro but now i can see / feel what makes it better for me .
- I am a female with a small head, the PRO is almost big, even though it fits, but the silk is just the perfect size.
- It really is COLDER than the pro, as i said, for most people that wont be an issue but i live in a humid / hot weather island so this is a factor for sure.
- I find that the band being less flexible helps with having the mask without falling and specially not having to have it tight to my face in order to stay, that is a HUGE factor. Fantastic decision to have the elastic band only on the back.
- It is a bit heavier and doesnt have the feeling of pillow as the pro has, but knowing that i have the mask on for me is a good thing , most people wont agree with me but this makes my brain know it is time to sleep and i relax.
- The cups are amazing, even though they dont have the typical texture of silk (like the band) they are sturdy and very well made, i sleep on my side and i find it even better than the Pro (maybe because they are smaller and better fitted for me), the darkness is amazing ! When i use the Pro during the day i can see just a tiny tiny bit of light coming from the orange part of fabric , not with the silk. With the silk i can feel just a bit my lashes at the end of the cup but that doesnt bother me at all, i rather have it like this than bigger cups and bigger mask, that doesnt happen with the Pro as it is deeper ( I dont wear fake lashes and i dont use makeup).
- Have i already said it is a beautiful mask ? :)"
— Barbara S.
Conclusion: Why a Luxury Sleep Mask is Worth It
Sure, it might seem extravagant to spend on a luxury sleep mask. But when you weigh up its advantages, you'll see it's worth it. Using one can majorly boost your sleep quality, which means better health overall. (It makes for a thoughtful gift, too.)
So, ready to level up your sleep game? Wear a Manta SILK Sleep Mask for luxurious comfort and fantastic zzzs. Think of it as your ticket to the kind of rest you deserve.
Let us know how your luxury sleep mask experience goes by dropping a comment below.
Sources:  
(1) "What Is Sleep Quality?" National Sleep Foundation, www.thensf.org/what-is-sleep-quality/. Accessed 25 October 2023.
Disclaimer:  The information contained in this website or provided through our blog, e-mails, or programs is for informational purposes only. It is not intended to be a substitute for medical advice, diagnosis or treatment that can be provided by your healthcare professionals.