Midnight Bathroom Trips Keeping You Up? Here's What to Do
It's 2 a.m. and you're soaring on the back of a dragon, wind in your braids, wielding your favorite sword, finally taking your chance to overthrow the evil queen.
Just as you raise your sword, about to be named ruler of the seven kingdoms, you see floods. For some reason, everything is water.
Oh, and your bladder hurts.
Your eyes shoot open as the fantasy fades and you realize you're in bed, really having to, well, pee.
After getting up and relieving yourself, you desperately try to squeeze your eyes shut so you can resume your plans to vanquish the queen.
But, as we all know, it's almost impossible to return to a peaceful dream state after being interrupted by your bodily needs — and anything that interrupts your sleep is likely to leave you cranky and tired the next morning.
Whether your bladder wakes you up in the middle of the night once in a while or all the time, we have some tips that will help you avoid the need to use the bathroom in the midst of your plans of supreme overthrow.
Nocturia, or frequent urination at night, is a common cause of sleep loss in adults (1).
Typically, our bodies are programmed to decrease urine production at night, allowing us to sleep for 6-8 hours uninterrupted.
Getting up one time per night falls within the normal range for most people and is not considered to be nocturia — but getting up two or more times a night is likely to affect your mood the next day, and is classified as nocturia.
Nocturia is more common in middle-aged adults and older, as a result of natural aging processes which affects fluid retention. However, aging isn't the only explanation for frequent night urination.
Sometimes, nocturia is simply caused by drinking too much fluid (especially alcohol and caffeine) too close to bedtime.
Certain drugs may also be the culprit, especially diuretics (a drug that helps rid the body of sodium and water, which makes you urinate more frequently (2)).
Another reason people experience frequent night urination is due to underlying medical conditions. This includes conditions like prostate issues, urinary tract infections (UTIs), diabetes, pregnancy or chronic diseases.
There are several things you can do to stop those disruptive bathroom trips, no matter the cause. Here are four strategies to try:
#1: Stop Drinking Two Hours Before Bed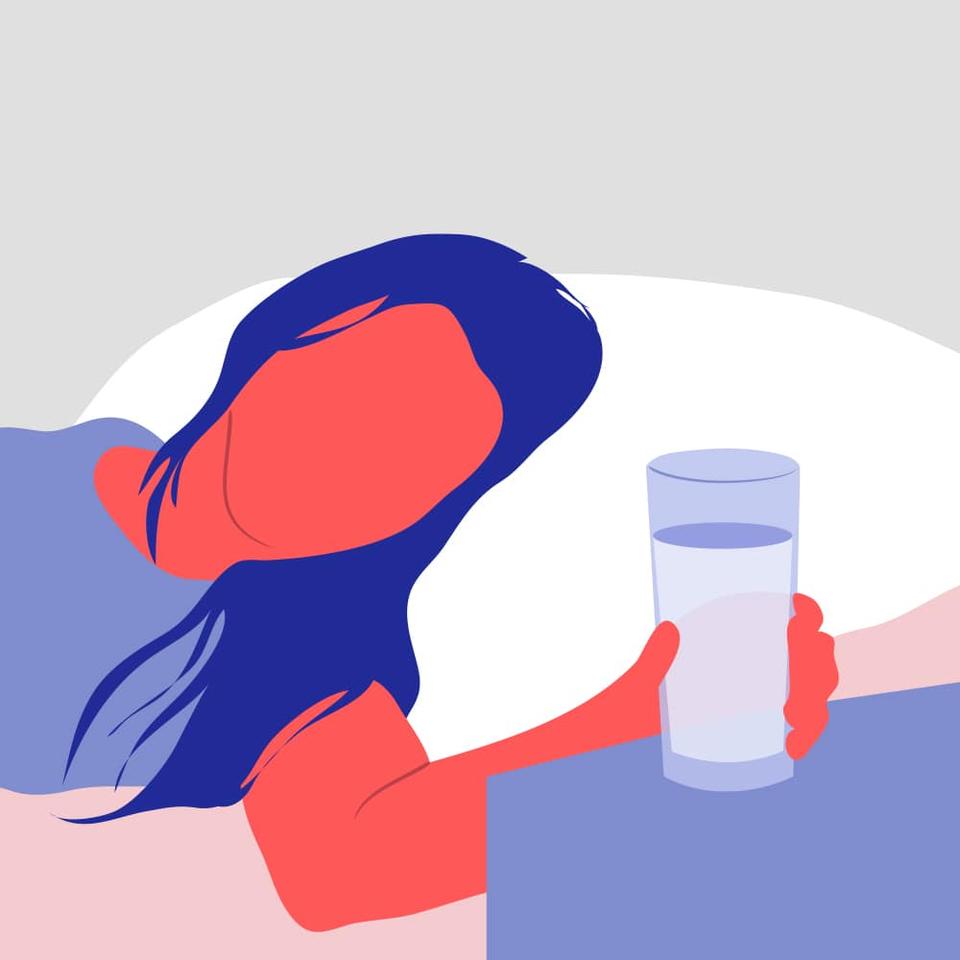 It may seem obvious that drinking more liquids will make you more likely to go to the bathroom, but if you're suffering from frequent middle-of-the-night bathroom trips, it may be the answer you're looking for.
Since your body theoretically should halt urine production overnight, it shouldn't really matter how much you drink before bed.
However, those who suffer from frequent nighttime urination may not have the ability to wait until morning — so stopping liquid consumption 2 hours before bed should do the trick.
It's especially important to avoid caffeine and alcohol at least six hours before bed (3), as these are diuretics and will speed up urine production.
#2: Reschedule Your Medications 

If your medications are diuretics, talk with your doctor about rescheduling the times you take them. It's ideal to take these kinds of medications in the morning rather than before bed.
Diuretics include blood pressure medications, anti-depressants, anesthetics, strong pain relievers and antibiotics.
Over the course of the day, the pull of gravity can lead to fluid retention in your lower extremities. Then, when you lay down for the night, your body reabsorbs the fluid — and it ends up in your bladder (4).
Fortunately, there are a couple of ways around this.
For an immediate improvement, try wearing compression socks to boost your circulation and stop the fluid from accumulating.
You can also stretch before bed if you find that your legs and ankles are swollen after a long day. Try some of these poses to get your blood moving before bed for a restful and rejuvenating night of sleep.
Claim Your Uninterrupted Sleep
Frequent urination at night is no fun for anyone and can lead to serious sleep deprivation over time.
Luckily, the tips and tricks above have proved successful for many people.
Whether you try cutting down on your fluid intake, changing around medication times, reducing sodium or wearing compression socks, freedom from interrupted sleep is totally possible for you.
Before you know it, you'll be back to overthrowing queens and riding dragons to your heart's content.
Sources:
(1) "Nocturia or Frequent Urination at Night." National Sleep Foundation, www.sleepfoundation.org/articles/nocturia-or-frequent-urination-night.  Accessed 20 Jun. 2019.
(2) "Is Using the Bathroom in the Middle of the Night Normal?" Sleep.org, www.sleep.org/articles/using-the-bathroom-at-night/. Accessed 20 Jun. 2019.
(3) Drake, Christopher PhD et al. "Caffeine Effects on Sleep Taken 0, 3, or 6 Hours before Going to Bed." Journal of Clinical Sleep Medicine, www.jcsm.aasm.org/viewabstract.aspx?pid=29198. Accessed 20 Jun. 2019.
(4) Jin, Myeong Heon and Moon, Du Geon. "Practical management of nocturia in urology." PubMed, www.ncbi.nlm.nih.gov/pmc/articles/PMC2684373/. Accessed Jun 20. 2019.
Disclaimer:
  The information contained in this website or provided through our blog, e-mails, or programs is for informational purposes only. It is not intended to be a substitute for medical advice, diagnosis or treatment that can be provided by your healthcare professionals.