Does a Sleep Mask for Headaches Work?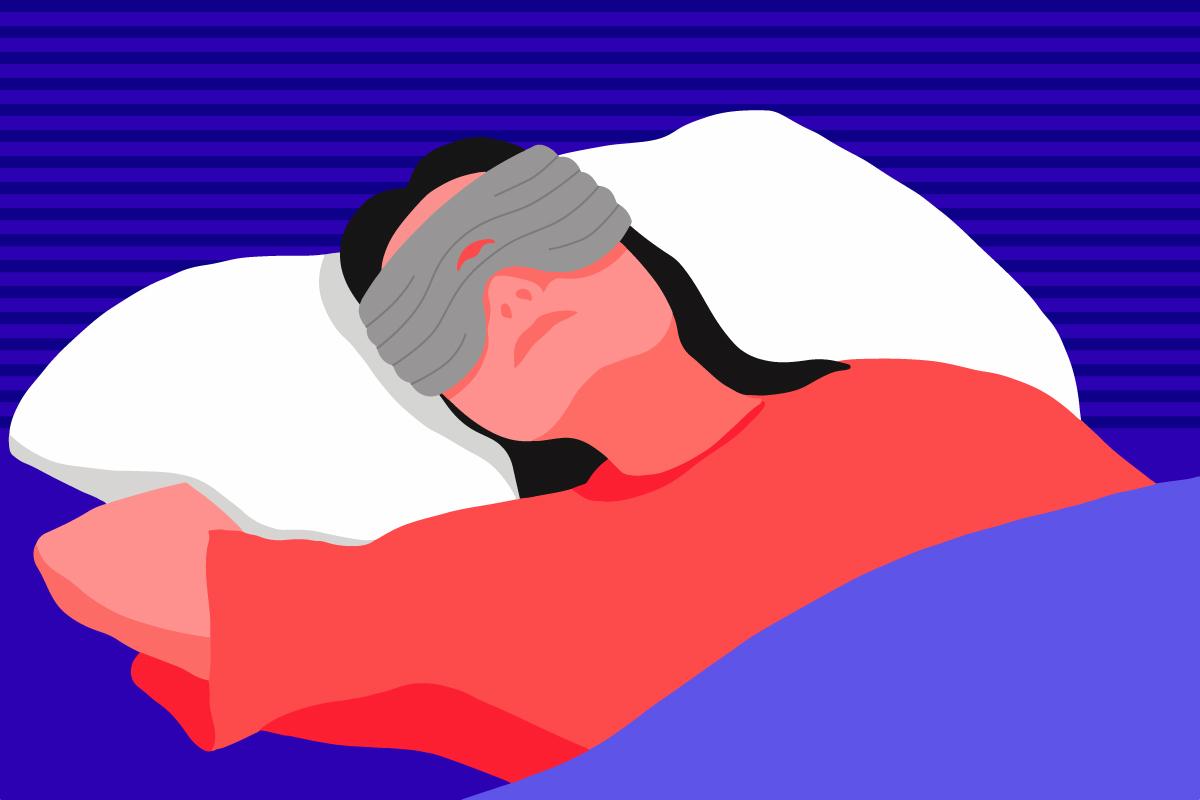 Wondering if a sleep mask for headaches is effective? Read this to find out how they may ease pain. Plus, the kinds of headaches and your eye mask options.
We know why you're here. You're sick of throbbing head pain messing with your sleep. Well, you've come to the right place. This article is a deep dive into what could potentially be your solution — a sleep mask for headaches.
This isn't just your average light-blocking sleep mask. It's designed to ease the discomfort of headaches, helping you get the zzzs you need. And it's become increasingly popular for those who regularly experience migraines and tension headaches.
You're likely thinking, "How does a sleep mask for headaches help?" This article aims to answer your question (and more). Here's what we'll cover:
What's the link between sleep and headaches?
Ever considered how your sleep habits can influence how often and how severe your headaches are?
According to a study published in the National Library of Medicine, migraines can be brought by too little or too much sleep. On the other hand, people who have insomnia often suffer from chronic headaches(1).
Studies suggest that as you sleep, your body releases dopamine. This is a chemical that helps ease pain. Medical News Today also says sleep is a natural analgesic(2). Therefore, a deep and restful night's sleep is key to headache management.
But what about getting good sleep when you're already in pain? Enter the sleep mask for headaches. We'll discuss this more later. But first, you need to understand the kinds of headaches.
The Different Types of Headaches
In this section, we'll talk about the most common ones: headaches, migraines and sinus headaches.
Tension headaches have mild to moderate, dull pain as symptoms. They can be episodic or chronic. Mayo Clinic likens the pain to feeling like there's a "tight band around the head." You may also feel pain in your forehead or the back of your neck and head. Not to mention tenderness in your shoulders, scalp and neck(3).  
Often genetic, migraines cause severe and pounding pain on one side of your head. The pain may worsen with movement, bright lights, loud noises and even certain odors. An episode can last for hours to days. According to the Cleveland Clinic, a migraine is the sixth most debilitating condition worldwide(4).
ENT Health says a sinus headache isn't always a medical diagnosis. It refers to feeling pressure and pain around your eyes, cheekbones and forehead(5). You might think you are feeling pain because of sinusitis. However, it might be the result of a migraine or tension headache.
Studies show that nasal congestion, sinus pain and pressure might be symptoms of the other 2 types of headaches. The defining characteristic of a sinus headache is it's accompanied by nasal discharge.
The Role of Sleep Masks in Headache Relief
Sleep masks for headache relief do more than just shield you from light. (But take note, this is a godsend for people with photosensitivity.) They're designed to provide gentle pressure or soothe by warming or cooling your eye and face area.
They massage specific pressure points to bring relief. And they relax muscles with hot compression. Or numb the pain with cold compression therapy.
Sleep Mask Options for Headaches
Let's take a look at your options in the next section.
A weighted sleep mask is usually packed with beads to provide gentle pressure. It works via two therapeutic techniques: acupressure and Deep Touch Pressure (DTP). These techniques help ease pain from tension headaches, sinus headaches and migraines.
But it's important to note that not everyone responds to weight as a pain reliever. For some, it might worsen symptoms. It's important to consult with a healthcare professional, especially if you suffer from chronic headaches, including migraines.
Now let's move on to the concept of acupressure. It's a traditional Chinese technique that involves applying pressure on specific points to ease pain. A weighted eye mask massages these points.  
DTP, on the other hand, uses touch to calm and soothe anxiety. In the context of this technique, a weighted sleep mask feels like a gentle hug or squeeze for your face. It relaxes muscles that are tense from headaches.
(Note: There are other weighted sleep mask benefits besides headache relief.)
If this is what you're looking for, why not consider our weighted eye mask?
Manta WEIGHTED Sleep Mask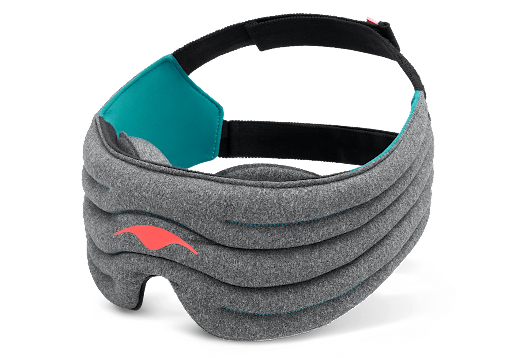 "I have had the WEIGHTED mask for about two weeks now and I am in love with it. Since I was a little boy, I cannot sleep in the dark. Even a small night light will not do. I have to sleep with the lamp on. I've been this way since I was a kid because of trauma. So I thought I would try out this mask to help me sleep better at night. It has helped me so much. Even during the day for my nap it helps me. I will also say that two days ago I had a headache. I finally put on the mask and within 20 minutes the headache was gone! I had another one today and put on the mask and it went away so fast! I have no idea how that works lol. Anyways, this is a great product. You cannot see ANY light whatsoever and there's no pressure on your eyes. It DOES take some getting use to so don't get frustrated if it doesn't bring you comfort right away. Just get it already!"
— Steven H.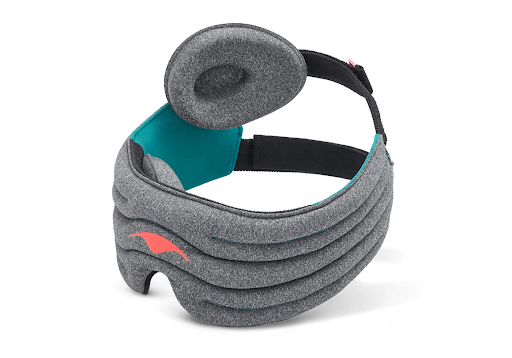 This infinitely adjustable mask weighs 0.68 lb. It's packed with tiny glass beads that are evenly distributed throughout the head strap. The beads stay in place with stitching. The duo strap design ensures that the mask stays put the whole night through.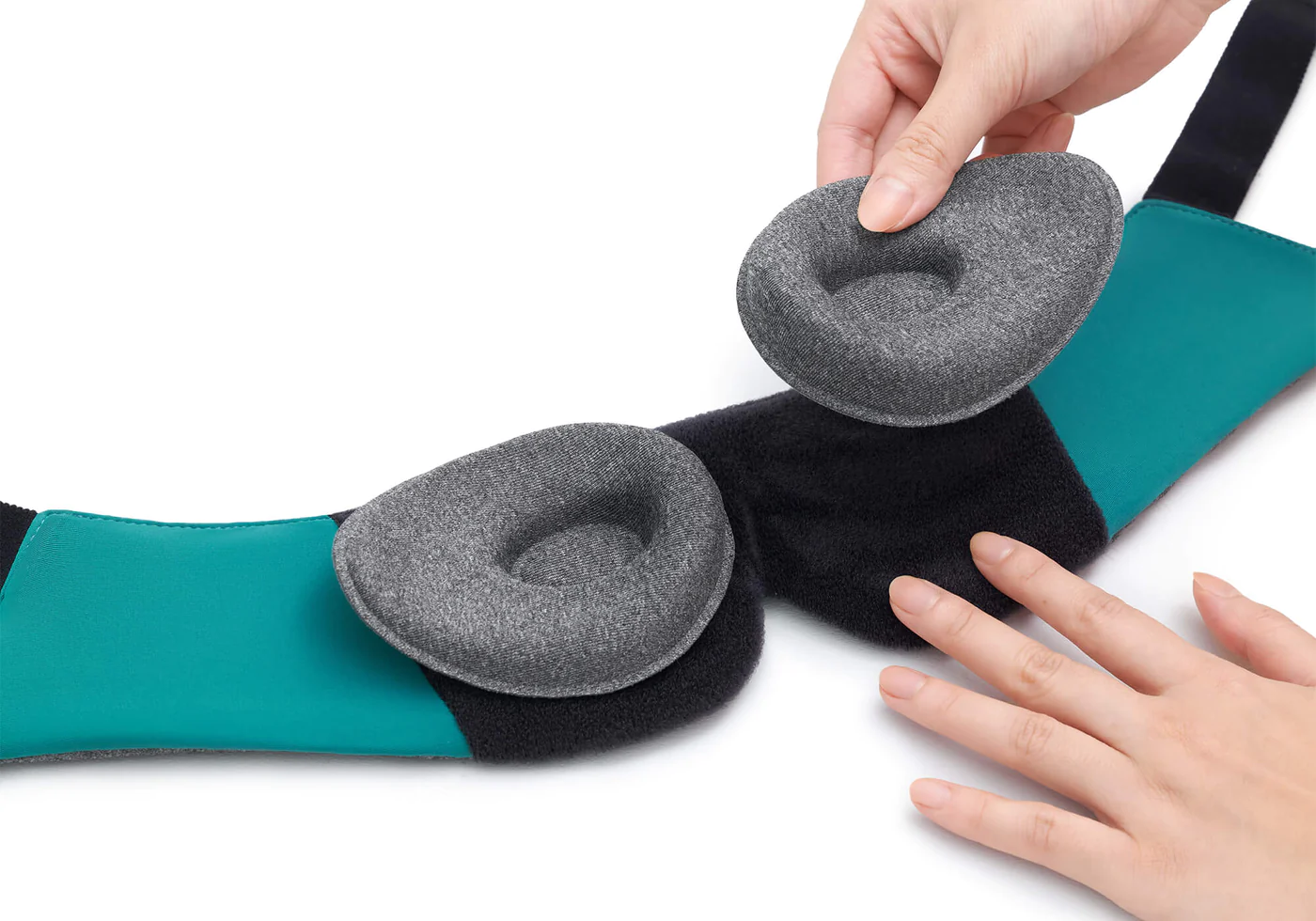 The mask comes with a pair of extra tapered eye cups for side-sleeping comfort. Position them anywhere within the mask's interior for a personal fit. Each cup has two indentations to keep the weight off your eyelids. Their unique design still allows the mask to press against the points around your eyes. They also seal out 100% of light.
Another effective sleep mask for headaches provides cold compression therapy. It usually contains beads or gel that can be cooled in a freezer. And because they're packed with these materials, they're also slightly weighted.
Cooling sleep masks numb the pain from sinusitis. It does the same for migraines but also brings down swelling. It's also helpful for eye conditions like puffiness and itchiness from allergies.  
Speaking of, we have just the sleep mask for you.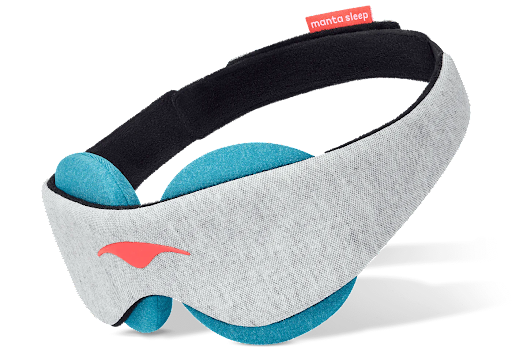 Excellent for Migraines
"The cool mask is comfortable and lightweight. When I have a migraine, which unfortunately is quite frequent, this product is absolutely amazing. It applies cooling right where you need it, around your eyes. It's so good I bought a second one, so there's always one in the freezer ready to go."
— Ben L.
The cooling power of this near-blackout sleep mask for headaches comes from the eye cups. They have indentations so your eyes don't feel any direct pressure.
They're filled with beads that are gentler than gel. Cool them for an hour or store them in the freezer for easy access. P.S. They come with a freezer-safe storage bag.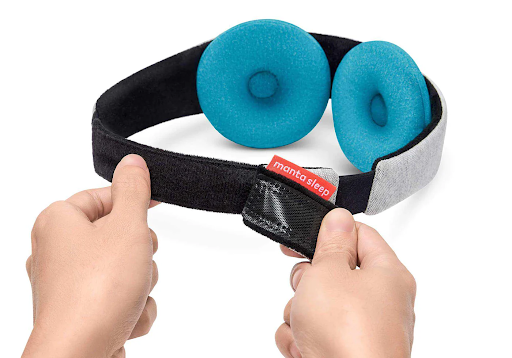 The soft and cozy head strap is infinitely adjustable. It secures around your head with a micro hook and loop closure. The eye cups can be positioned anywhere within the strap's interior.
Oh, and the strap is 100% machine-washable. The eye cups are hand-washed cold only.
This type of sleep mask for headaches is similar to the cooling eye mask. The difference is it offers warm compression therapy. It contains materials that heat up in the microwave.
A heated eye mask works by relaxing tense muscles associated with migraines and tension headaches. In the case of sinus headaches, the mask eases swelling and opens up nasal passages.
Allow us to introduce you to our version of a warming eye mask.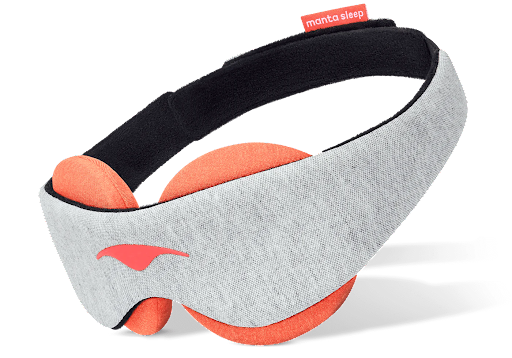 Ammmaazziinnggg
"This mask is life changing! If you have a headache or a sinus headache this makes everything feel so much better!! I highly recommend!! I have had multiple friends purchase from here based off me bragging lol!!! Do it you won't regret it!"
— Samantha M.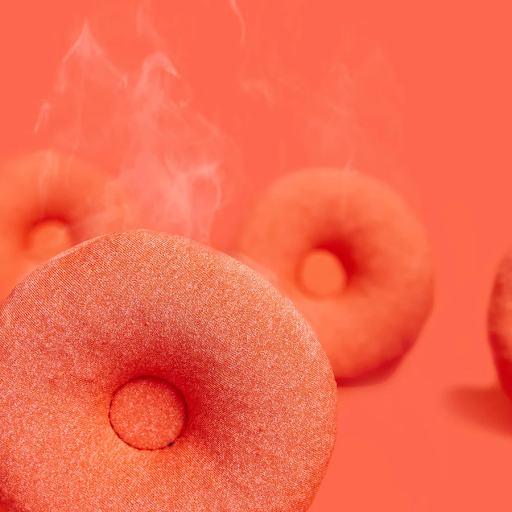 The detachable eye cups are filled with zeolite beads that emit steamy, natural heat. Like Manta COOL's eye cups, these have indentations in their centers to keep direct pressure off your eyes.
Pop them in the microwave for 20 seconds and heat them, using the medium-high setting.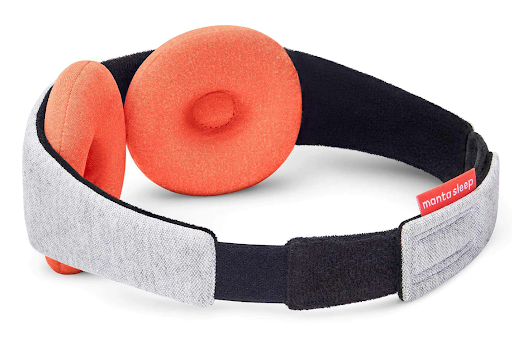 Like Manta COOL's head strap, this one is also infinitely adjustable. It's durable, too, with its triple-reinforced elastic.  
Again, the strap is 100% machine-washable but the eye cups are handwashed cold only.
How to Choose the Best Sleep Mask for Headaches
Choosing the best sleep mask for headaches is relatively simple. Here's what to consider:
Comfort – Look for masks made from soft, cozy and breathable materials. Ideally, it should also be adjustable for a perfect fit. That way it won't feel too tight to cause discomfort. Or slip off because it's too loose.

Weight — Another important factor. It depends on your preferences. Do you want a heavier one for more pressure? Or lighter? Remember that safety is key when it comes to pressure on your face and eyes. Aim for a mask that's less than 1 lb.

Additional features – As we mentioned earlier, cold or warm compression therapy helps ease headache pain. However, consider what gives you more relief. Hot or cold?

Light-blocking ability – Yes, darkness improves your sleep quality. But it's also necessary if you have light sensitivity while experiencing headaches. Think of it as sensory relief.
Incorporating a sleep mask for headaches into your routine is a piece of cake. Simply slip on the mask before hitting the sack. If your mask has a cooling or warming feature, prep it ahead of time and follow instructions!
If you're not one to sleep with weight on your face, then make wearing a mask part of your pre-bedtime activities schedule. Slip it on, get relief and then remove it before settling down for deep and restful zzzs.
So, there you have it. A sleep mask for headaches is a natural and effective solution for pain relief. Whether you opt for a weighted sleep mask, or one with cooling or warming features, it's a step towards improving your quality of life.
But remember that a sleep mask for headaches isn't a cure. It may indeed ease symptoms. But using it alongside treatment may give you even better results. Don't forget to develop good sleep habits because these may contribute to how often or severe your head pain is.
Let us know if using a sleep mask for headaches helps ease your pain for a good night's rest. Leave a comment below.
Sources:  
(1) "Sleep-related headache and its management" National Library of Medicine, pubmed.ncbi.nlm.nih.gov/24132786/. Accessed 27 September 2023.
(2) "Why sleep is the best painkiller" Medical News Today, www.medicalnewstoday.com/articles/324316. Accessed 27 September 2023.
(3) "Tension headache" Mayo Clinic, www.mayoclinic.org/diseases-conditions/tension-headache/symptoms-causes/syc-20353977. Accessed 28 September 2023.
(4) "Migraine Headaches" Cleveland Clinic, my.clevelandclinic.org/health/diseases/5005-migraine-headaches. Accessed 29 September 2023.
(5) "Sinus Headaches" ENT Health, www.enthealth.org/conditions/sinus-headaches/. Accessed 29 September 2023.
Disclaimer:  The information contained in this website or provided through our blog, e-mails, or programs is for informational purposes only. It is not intended to be a substitute for medical advice, diagnosis or treatment that can be provided by your healthcare professionals.