A Sleep Mask with Beads: The Different Kinds and How Each Works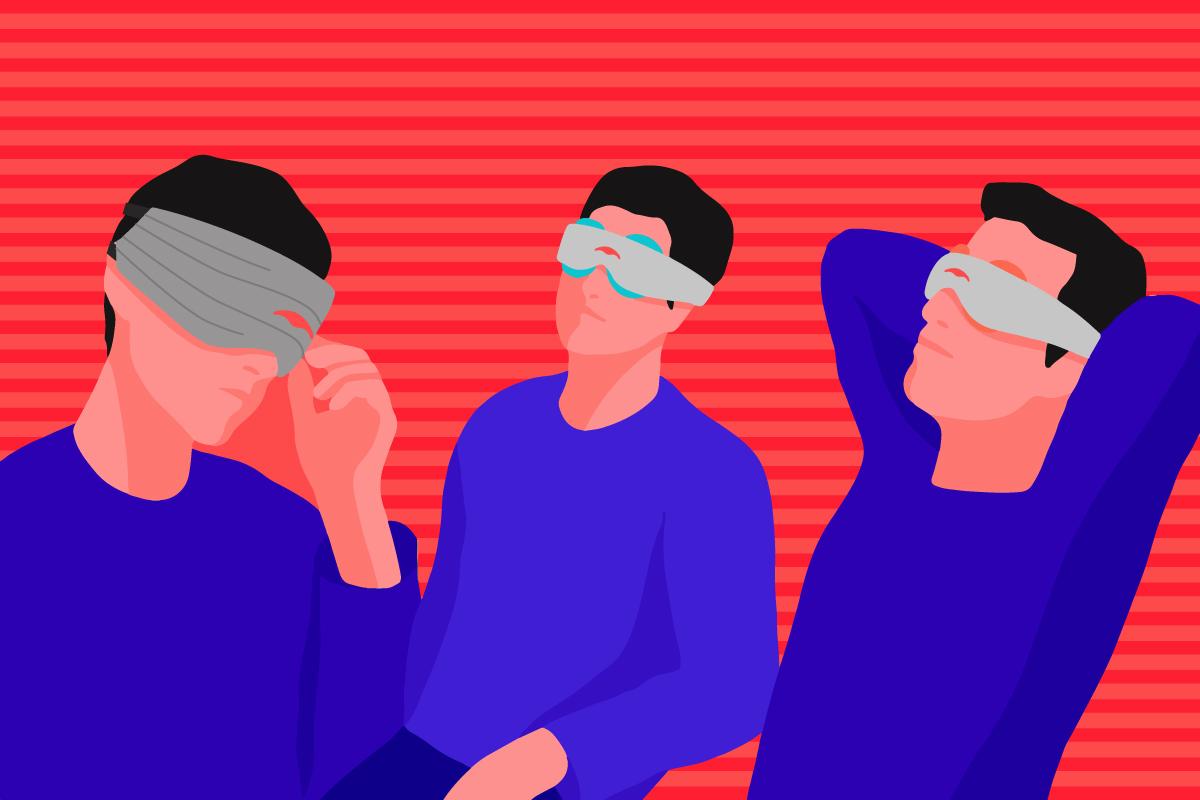 A sleep mask with beads is a powerful sleep aid that goes beyond improving your sleep quality. Discover the different kinds to know which one is best for you.
Love sleep? If so, you're likely always looking for ways to make it deeper and more restful. A typical eye mask is nothing new as an easy and effective sleep enhancer. But a sleep mask with beads is a game-changer.
Let's first look into the main purpose of a sleep mask. It's to keep the light out. And why's that so important? Seeing light signals to your brain that it's time to be awake. Darkness, on the other hand, triggers the production of melatonin, the sleep hormone. This helps your body unwind for bed.
A sleep mask with beads differs from other eye masks in its design and benefits. And that's what this article will explore at length.
Here's what it covers:
What is a sleep mask with beads?
A weighted eye mask contains beads for therapeutic pressure on your face and eye area.  But there's more than one type of sleep mask with beads. Depending on their function, the beads are crafted from various materials.
For instance, a cooling sleep mask would contain beads made from material that can be cooled in a freezer. Meanwhile, a warming sleep mask would be filled with beads that can be heated in a microwave.
But the one non-negotiable is they need to have a superior light-blocking feature for better sleep quality.
Wondering how a beaded sleep mask compares with a regular one? Well, let's break it down. You already know that they both block out light. This helps create the right environment for optimal sleep. But a sleep mask with beads has additional features.
A beaded relaxation eye mask offers a soothing, calming pressure for instant relaxation and better zzzs. It massages pressure points around your face and eye area. Think of it as a mini spa session!
The Science Behind a Sleep Aid Mask with Beads
The primary function of a sleep aid mask with beads is to deliver gentle pressure to your eye and facial area. The principle behind this is Deep Touch Pressure (DTP), also known as Deep Pressure Stimulation (DPS).
This type of therapy uses the magic of firm touch (like hugging or swaddling) to relax you and lessen stress or anxiety. For instance, if anxiety is depriving you of sleep, then a weighted eye mask for insomnia may help. It also treats various conditions, including autism in children, ADHD, anxiety, depression and sensory processing disorder.
DTP triggers the parasympathetic nervous system to lower heart rate and blood pressure. It also lowers levels of stress hormones and increases the production of serotonin (the happy hormone) and melatonin.
A weighted sleep mask with beads also helps relieve pain from migraines and tension headaches. The weight of the beads gives pressure points around your eyes a gentle massage to ease discomfort. It stems from a type of massage therapy called acupressure.    
A sleep mask with beads has a number of health and wellness benefits. These include:
Relieves anxiety

Gives a gentle massage to ease tension and stress

Promotes relaxation

Eases discomfort from migraines and headaches

Blocks out light to improve sleep quality
Think of this sleep mask as a comforting hug for your eye area. It's also one that'll help you relax by applying pressure to where it counts. And finally, it'll provide sensory relief from light, enveloping you in soothing, sleep-inducing darkness.
Key Features of a Comfort Bead Eye Mask for Sleeping
So, if you're on the market for a comfort bead eye mask for sleeping, here's what you need to consider:
First, know what the mask is made of. Ideally, the fabric should be soft and breathable. On top of that, the beads shouldn't make you feel discomfort. Also, make sure that you aren't allergic to any of the materials.
Second, check the weight. Healthnews says that weighted eye masks typically weigh between 0.5 and 1 lb(1). Stick to this range so you won't feel too much pressure from the mask. It should feel heavier than a typical eye mask but not cause discomfort.
Third, find a sleep mask with beads that's adjustable. A snug, not-overly-tight fit is ideal. It should contour to your face so no light leaks through. You can achieve this more if the mask has eye cups. These also prevent the mask from directly pressing against your eyelids. Too much direct pressure on your eyes might cause temporary blurred vision.
Fourth, know what you're looking for. Some eye masks with beads offer cooling or warming functions. Others are purely weighted. They usually weigh more than cooling or warming masks to massage points on your face for relaxation and pain relief.      
These considerations should help you choose wisely. Remember that the main goal is to improve your sleep quality.
The Different Types of Sleep Masks with Beads
There are 3 kinds of sleep masks with beads. We're going to explore each in this section. So, let's get cracking.
Weighted Sleep Mask with Beads
This type of mask contains beads whose main function is to provide additional weight. It typically runs heavier than cooling or warming sleep masks.
The beads are evenly distributed throughout the mask. This is so gentle pressure is applied to all the right pressure points on your face and eye area.      
You may want to consider our weighted sleep mask with beads. Check out its features:
Manta WEIGHTED Sleep Mask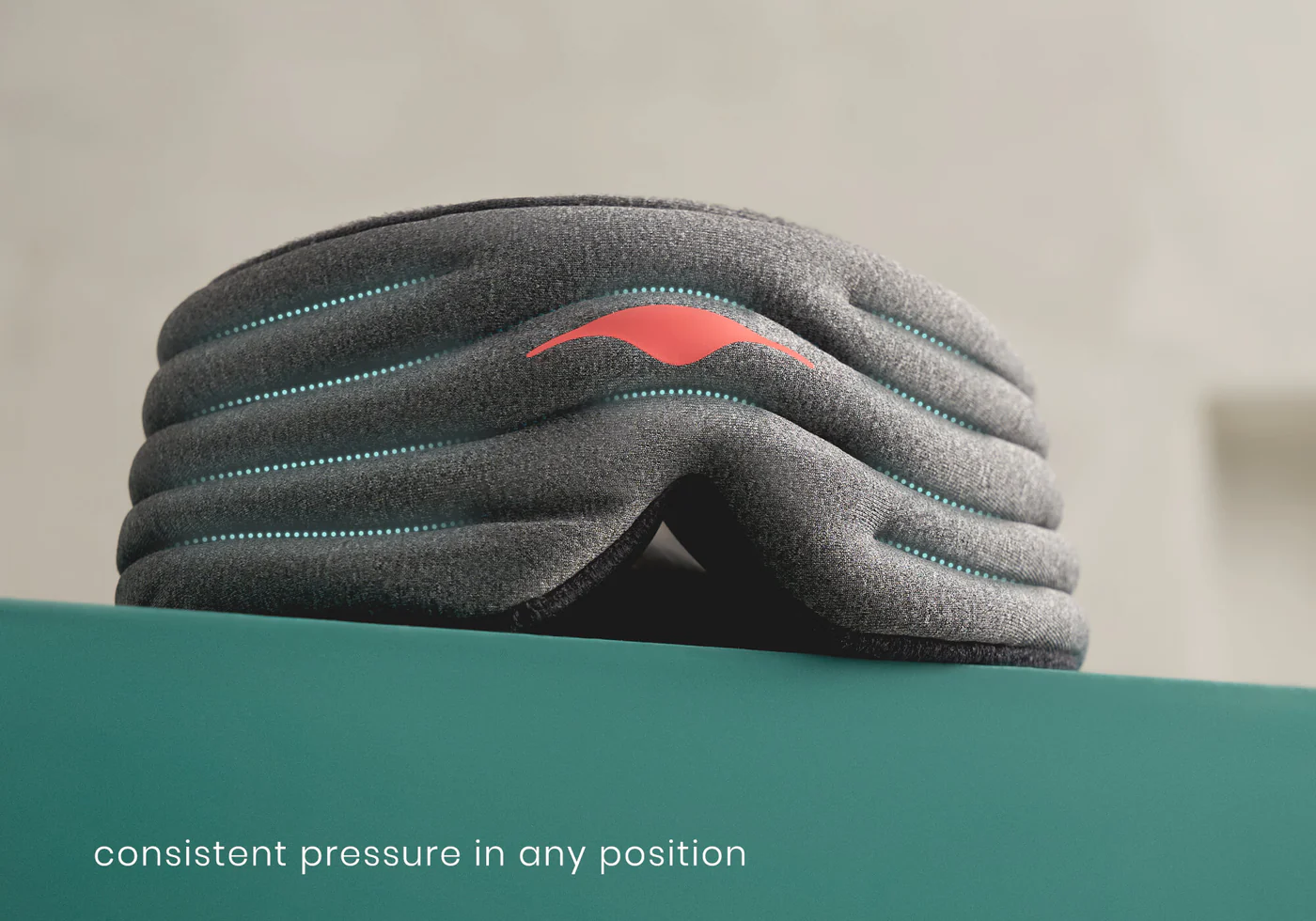 The 100% blackout mask contains microglass beads that are evenly distributed throughout the head strap. It's reinforced with stitching to keep the beads firmly in place. Plus, it's made from soft and breathable materials.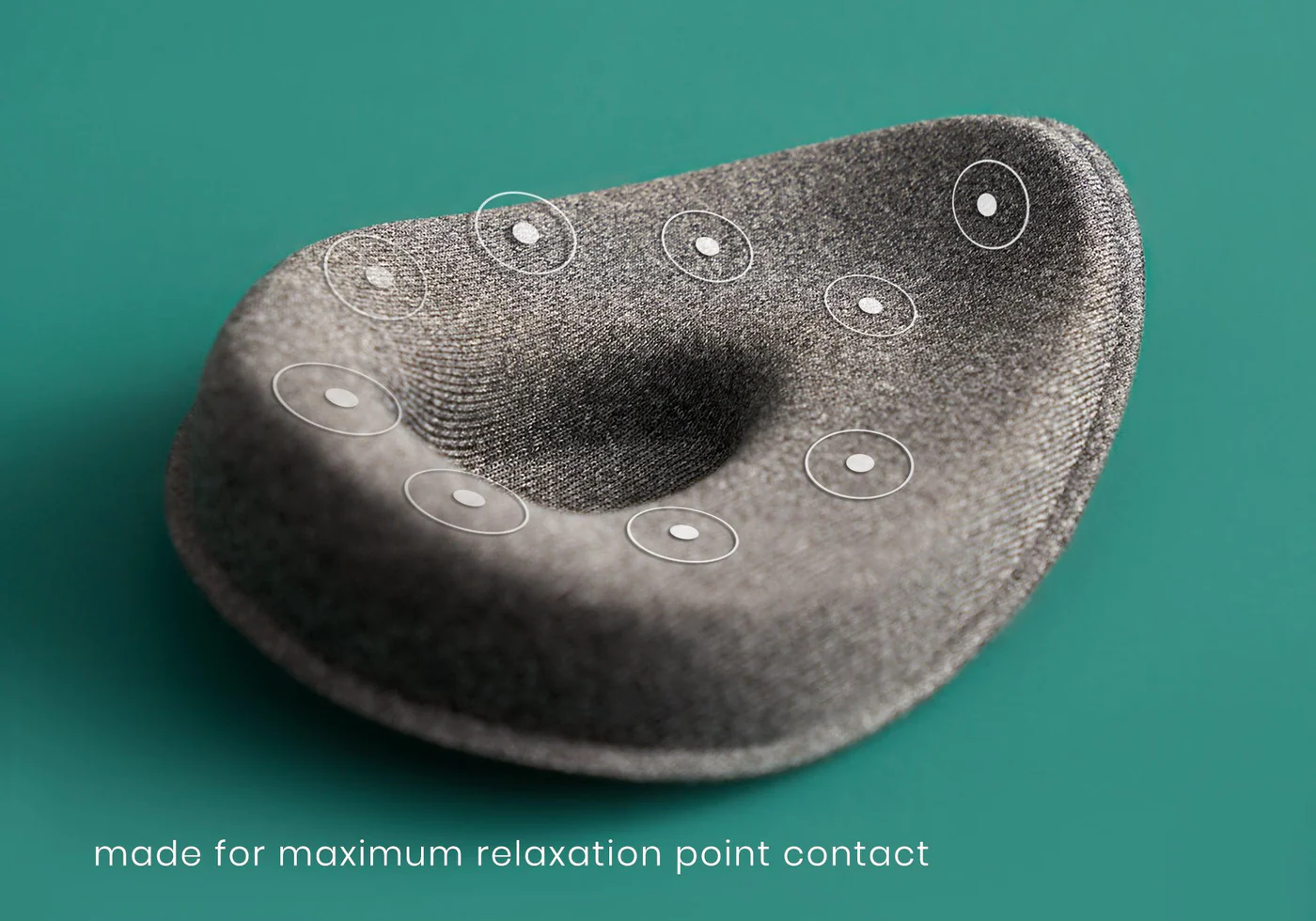 This weighted sleep mask with beads comes with a pair of extra tapered eye cups for side sleeping. Position them anywhere within the mask's interior to match your eye position. Each cup has an indentation to keep the weight off your eyelids. But you'll still feel the weight on the pressure points around your eyes.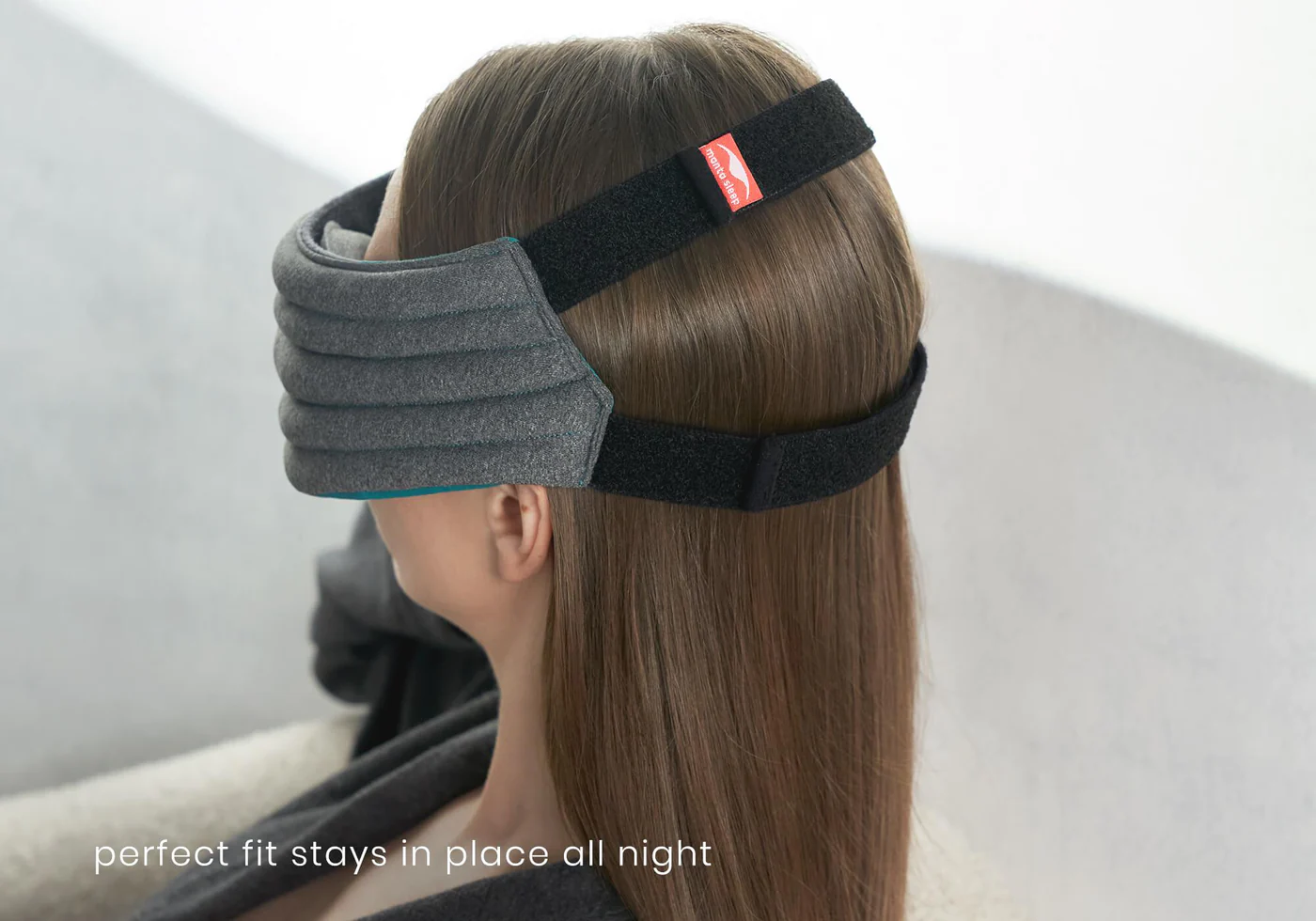 The mask has a duo-strap design to keep it in place even if you shift positions throughout the night. Position it over or under your ears, depending on your preference. The strap is handwashed cold only. But the eye cups are 100% machine washable.
Cooling Bead Eye Mask for Sleep
The next kind of sleep mask with beads is a cooling eye mask. These are filled with beads made with some form of cooling agent. The cooling function is triggered by giving them a couple of shakes. Or even better, conveniently storing them in a freezer.
A cooling eye mask works by lessening the swelling in the blood vessels surrounding your eyes. It helps soothe your tired peepers and reduces puffiness. It eases sinus pain and relieves eye itchiness from allergies.
Yes, it is lighter than a weighted sleep mask with beads. But it also provides a gentle pressure while blocking out light.
Why not consider our version of a cooling sleep mask with beads?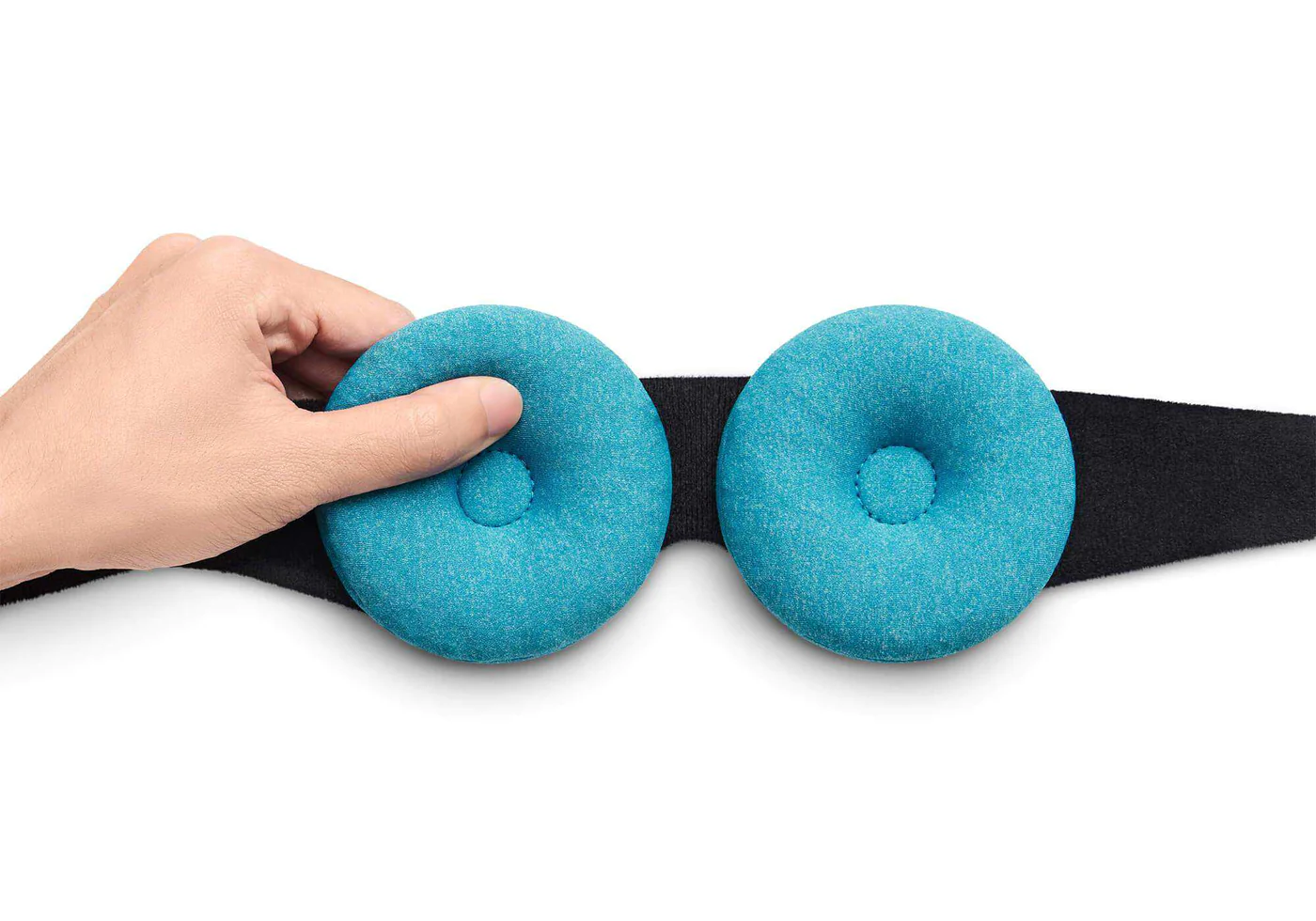 Our mask comes with a pair of adjustable eye cups filled with cooling beads that are even gentler than gel. Each cup has an indentation to prevent direct pressure on your eyes. Pop them in the freezer for an hour, or just store them there for as long as you want. They come with a freezer-safe bag.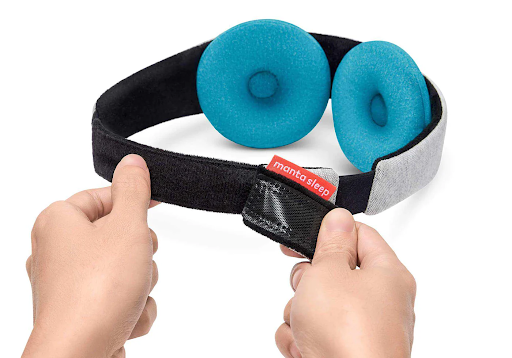 The head strap is infinitely adjustable and secures around your head with a micro hook and loop closure. The material of the strap is breathable and soft for a comfy experience. The strap is 100% machine-washable, while the cups are handwashed cold only.
Warming Bead Eye Mask for Sleep
Finally, there's the warming bead eye mask. The heat comes from the beads within the mask, which can be warmed up using a microwave. When worn, these masks soothe with their warmth.
This warming sleep mask with beads is designed for those who use contact lenses or simply want to soothe and relax their eyes. It uses moist heat to unclog tear ducts, which is beneficial if you have dry eyes. Plus, it also helps ease migraine pain and ease symptoms of conditions like pinkeye and blepharitis.
If you're looking for a therapeutic eye mask that uses heat, then why not consider Manta STEAM Sleep Mask?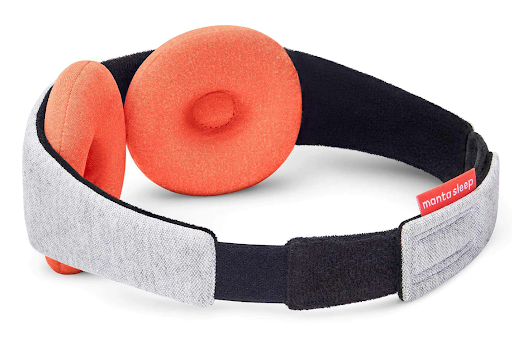 The head strap of this sleep mask with beads is similar to Manta COOL. It's also infinitely adjustable. The eye cups are filled with zeolite beads that emit natural steam. Pop them in the microwave for 20 seconds and you're good to go. They stay warm for the doctor-recommended 3 to 5 minutes.
So there you have it. A sleep mask with beads goes beyond being an accessory for better zzzs. A weighted sleep mask has the power to relax and gently massage your face and eye area. And if you have a cooling or warming eye mask, they both offer relief from specific eye issues.
We're eager to know what sleep mask with beads you chose. And how it worked for you. Let us know by leaving a comment below. Sweet dreams!
Sources:  
(1) "Weighted Sleep Eye Masks: How Do They Work?" Healthnews, healthnews.com/sleep/sleep-hacks/weighted-sleep-masks-how-do-they-work/. Accessed 24 September 2023.
Disclaimer:  The information contained in this website or provided through our blog, e-mails, or programs is for informational purposes only. It is not intended to be a substitute for medical advice, diagnosis or treatment that can be provided by your healthcare professionals.