Do you use a sleep mask for sleeping?
If so, this is going to be one of the most important articles you'll read.
Sleeping masks are cost-effective, easy to use, and have been scientifically proven to improve sleep.(1) 
However, there is a hidden danger that most people don't know about.
In fact, it's so damaging to your eyes you may NEVER want to use a sleep mask again.
This article will explain why through Tim's nightmarish experience with his sleeping eye mask. So, keep reading.
As an ambitious businessman, Tim lives a busy life.
He flies frequently, works long hours, and is 100% focused on growing his venture.
On top of all that, there's also the personal life to maintain.
Needless to say, Tim felt like he had been burning the candle at both ends. Tim knew if he could just improve the quality of his sleep, he'd be able to work more efficiently, increase business growth, and still have enough energy left for all the best things in life.
Thus began Tim's tango with the sleep mask.
Blurry Vision Due to Pressure
Sleep eye masks have been scientifically proven to improve sleep(1), and are recommended by experts.
So, under both the advice of his physician and friends, Tim purchased a sleep mask from Amazon.com.
Initially, Tim was in love with it. Whether at home or on a plane, the light blocking significantly improved his sleep quality, leaving him feeling energized upon waking.
However, soon Tim became irritated by the pressure the mask put on his eyes.
*If you can't imagine it, close your eyes and press down on your eyelids for 10 seconds to see how blurry your vision gets.*
If that's what 10 seconds of pressure can do, imagine what 7 to 8 hours each night could do to your eyes.
Tim became very worried when he noticed how long it took to focus his vision in the morning, after using his sleep mask for the night.
Sometimes he would experience blurry vision for 20 to 30 minutes after waking. And he noticed it was getting worse over time.
Needless to say, Tim was frightened by this experience.
So, can sleeping masks cause blurred vision? Unfortunately, this is the reality with most sleep masks strapped to your face. A lot of people can strap common sleep masks on too tightly, and there is direct pressure on your eyeballs.
It can cause undue pressure on your corneas and you may notice some blurriness upon waking up. Although this usually passes within the first few hours, it's still a cause for concern if you continually apply this kind of pressure on your eyes.
Is it bad to wear a sleep mask at night?
We investigated Tim's claims (and the claims of many others) and discovered that there is cause for concern when it comes to constant pressure on your eyes. Research conducted by Professor Charles McMonnies of the UNSW School of Optometry and Vision Science indicates that rubbing or applying pressure to your eyes could accelerate the progression of pressure-sensitive eye diseases(2).
The constant pressure from Tim's sleep mask could have caused:
Both of which lead to blurriness, and if continued, can potentially cause more serious medical conditions like glaucoma or keratoconus. Yikes!
In fact, Professor McMonnies strongly recommends avoiding sleep masks that apply pressure to your eyes.
Some people also ask: do sleep masks cause styes? While sleep masks have not been proven to be a direct cause of styes, wearing one can be a contributing factor. Particularly, if yours presses on your eyelids. The material can cause some skin irritation and, if not washed regularly, can lead to dirt building up in that area.
Another frequently asked question is: can a sleep mask suffocate you? The quick answer is no. Even common sleep masks that apply pressure on the eyes do not usually affect your breathing, as sleep masks are designed to only cover your eyes. The nose and mouth are left free and clear so as not to impede breathing and airflow. In short, you just need to know how to wear a sleep mask properly, and you won't have any problems.
Why Most Sleep Masks Are a Bad Idea
Tim was in a love-hate relationship with his sleep mask.
The eye mask did help him to sleep better in hotel rooms with flimsy curtains, on frequent flights across time zones, and even in the office when it's time for a power nap.
However, the constant pressure on his eyes and the blurry vision it was causing are serious medical concerns.
Beyond that, Tim was also unsatisfied in other areas:
His sleep mask does not provide full blackout. There was always some light leaking through the gap at his nose.

He could never achieve the perfect fit. The mask always slipped off his face during the night, but if he tightened the strap, there would be even more pressure on his eyes.

The Velcro closure would cling to and pull on Tim's beautifully wavy hair. Ouch.

The synthetic material was hot, uncomfortable, and led to "sweaty eyes."
Why Is It Good to Sleep With An Eye Mask?
Tim knew there had to be something better.
The fact that sleep masks can significantly improve your sleep quality is scientifically proven and undisputed.
However, most eye masks are unscientifically designed and put a dangerous amount of pressure on your eyes.
But what if you could find a truly premium, effective, and science-based sleeping mask that solves these problems?
You'd be looking forward to a bunch of benefits including:
Deeper, uninterrupted sleep

Relief from insomnia

Balance between REM and NREM sleep

Sleep anywhere in peace

Fall asleep faster
Best of all, with absolutely ZERO pressure on your eyes?
That's when Tim found Manta Sleep Mask.
To learn more about sleeping masks, what to look for in a good mask, and how to determine which product can help the most for your specific sleep challenges, read our article on the best sleep mask.
Manta Sleep Mask is the Answer
Manta Sleep Mask upgrades your sleep with:
A personalized fit

100% blackout

Zero pressure on your eyes
It's the world's only sleep mask with modular eyepieces...which can be adjusted and molded to fit your unique face.
It works for 99% of all face shapes & gives you 100% blackout for your entire sleep cycle...energizing you for wherever life takes you when you wake up.
"I've owned many sleeping masks, and honestly, all of them combined could never be as good as the Manta! It's so amazingly comfortable and works better than expected. Thank you for creating such a great product!" - Mako
"I have been a day sleeper for years. Over that time I've tried many sleep masks. This one is definitely the BEST! Keeps the light out, and doesn't hurt. SO pleased with this product!" - Penny Evans
"I've never been able to wear a sleep mask, but this is amazing. I sleep much better with it. Great work. I love it!" - Uyen Brockway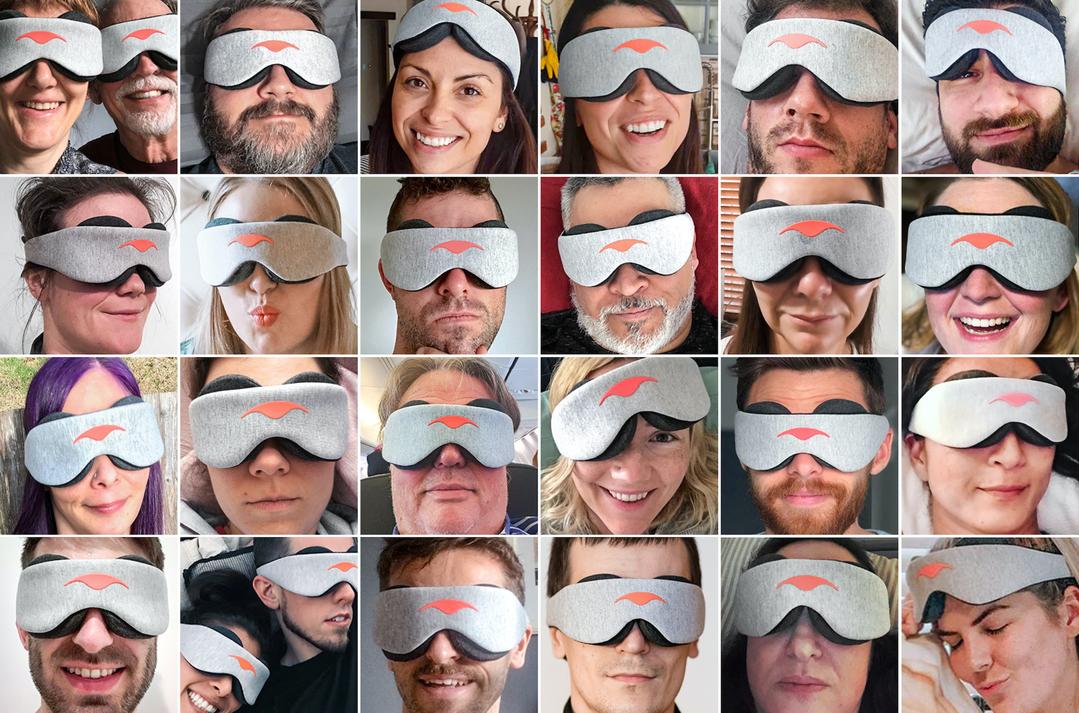 Manta Sleep Mask was created based on the feedback of thousands of sleep mask wearers, just like Tim, who wanted something BETTER.
It's the world's only modular sleep mask that gives you breathable, tailor-quality, 100% blackout comfort so you can get the best sleep of your life.
The best part? The scientifically designed eye contours apply absolutely ZERO pressure on your eyes!
With Manta, you'll enjoy:
100% guaranteed blackout

Zero pressure on your eyes

Comfortable and breathable premium cotton

Fully customizable for a tailored fit

Modular components for further sleep enhancement
Here at Manta, we truly believe that when you upgrade your sleep, you upgrade your life.
When you sleep better, you have the energy to take on more opportunities, increase your earning potential, live healthier, and spend more quality time with the ones you love.
Put simply, you'll have the energy to get the most out of life.
To show you how serious we are about quality sleep, you can make Manta Sleep Mask yours with a 60-day money back guarantee. Buy it now and start waking up refreshed every time.
If it doesn't change your life, we'll give you your money back!
Sources:
(1) Hu RF, Jiang XY, Zeng YM, Chen XY, and Zhang YH. "Effects of earplugs and eye masks on nocturnal sleep, melatonin and cortisol in a simulated intensive care unit environment." PubMed Central, 18 Apr. 2010, www.ncbi.nlm.nih.gov/pmc/articles/PMC2887188/
(2) "Watch how you rub: warning on eye spikes." University of New South Wales, www.science.unsw.edu.au/news/watch-how-you-rub-warning-eye-spikes. Accessed 23 August 2018.
(3) Sgobba, Christa. "7 Reasons Your Eyesight Is Blurry." Men's Health, 11 Oct. 2014, www.menshealth.com/health/a19544030/7-reasons-eyes-are-blurry/