Choosing the Best Cooling Eye Mask: What to Consider & Why
Aside from the many benefits of using a cold compress on your eyes, it's plain soothing. Cooling eye masks are popular because they simplify the whole cold therapy process. And when it comes to comfort and coolness, they beat a DIY ice pack any day.
The question here is: what's the best cooling eye mask out there? (Because you do want the best, don't you?) There are so many available that choosing can feel like a chore. And so, we came up with this guide to make things easier for you.
Read on to find out how and the different ways a cooling eye mask helps. Plus, our version of a cooling eye mask and why our customers love it.
What is a cooling eye mask?
Think of it as a souped-up version of a cold compress. Unlike an ice pack or a DIY compress, you don't need actual ice or cold water. It's less messy and usually has a better cooling effect.
A cold eye mask resembles a sleep mask, except it contains a cooling agent (usually gel). All it takes is cooling it in a refrigerator or freezer. How long and where depends on the cooling eye mask.
And because there's a compression factor, it's slightly heavier than your average sleep mask.
You may be wondering if there's such a thing as a cooling eye mask for sleeping. We'll let you in on a little secret: there is. Keep reading to find out.
What does a cooling eye mask do?
As we said before, a cold eye mask is versatile. One obvious benefit is it cools you down on a hot day. But more importantly, it helps relieve the symptoms of certain aches and pains. Here are a few things it helps with:
Itchy eyes are a symptom of different health conditions. Some of the most common of these are mild allergies. It could be from pollen, pet dander, dust or pollution.
Rubbing your eyes to relieve the itching will only make it worse. The best cooling eye mask helps relieve itchiness. And it does so without exposing your eyes to more allergens.
A cooling eye mask may numb the pain and relieve sinus pressure. Another option is to alternate between cool and warm compresses.
A cold eye mask with a bit of weight is a plus because it's like a gentle massage to sinus pressure points.
Another use for cold therapy is to relieve migraine pain. And anybody who has had one knows how bad it can get.
Much like using a cooling eye mask for sinus discomfort, the cold helps numb the pain. Ideally, you would apply one at the onset versus when it hits full force.
A cooling eye mask helps improve the appearance of the tired and delicate skin around the eye area. It also refreshes eyes that feel tired.
You've finished a sob-fest watching your favorite tear-jerker–puffy eyes galore. Or had a late night. Maybe you've been staring at your screen all day. Any of these can cause eye fatigue. That's what makes this type of eye mask your best bet for relief.
Note: Rule of thumb when using cold therapy. When in doubt, consult with your healthcare provider — especially if you have existing health conditions.
Tips for Choosing a Cooling Eye Mask
The fact that it's so useful means you need to be choosy when it comes to a cooling eye mask. Think of it this way. You'll use it often, so it needs to be top-notch quality-wise.
That said, here are tips to help you choose wisely.
Choose a cooling eye mask for sleeping.
To relieve any type of pain, doctors usually recommend rest. And the problem with most cooling eye masks is that they have cutouts in the eye area.
And light makes it difficult to rest your eyes. It's also sometimes unbearable during a migraine attack. So, choose a cooling eye mask that'll also help give you sensory relief.
Do your research. Find out what others have to say before clicking "Buy."
We'll be honest. An excellent cold eye mask doesn't come cheap. With that in mind, there are many inexpensive ones out there. So, if you need it for say a one-time use, by all means, go for it.
Not willing to compromise on quality and effectiveness? Then consider it an investment worth its weight in cold. But check what others had to say about the product before buying.
Pick a cooling eye mask that cools but doesn't freeze.
Too much cold is plain uncomfortable. According to Healthline, too much for too long can damage delicate skin, tissue and nerves(1).
Choose a cooling eye mask that won't give you freezer burn (because there's a lot out there that do).
Go for a cooling eye mask that gives cold compression.
By compression, we mean gentle pressure. And for that, it would mean the cold eye mask needs to apply a bit of weight on pressure points.
For instance, sinus pain and inflammation occur on the face — especially around the eyes, nose and forehead. A cooling eye mask with compression evenly distributes the cold to areas that count.
The Best Cooling Eye Mask for Sleeping
We may sound like we're tooting our own horn here. But we're confident we have one of the best cooling eye masks for sleeping.
We spent a lot of time and research on this near-blackout sleep mask that offers cold compression therapy. So, we don't mind showing this one off.
We want to emphasize that rest is a crucial aspect of healing. It's a powerful tool that can take relief from quick-fix to long-term. The main difference between this cold eye mask and the others is it's designed with sleep top of mind.
It's true many of our customers use Manta COOL Mask for all-night wear. But we recommend using it for restorative naps. Not everybody can sleep for hours on end with weight on their eyes.
There's a lot to love about this near-blackout cooling sleep mask. But let's get to the most important feature first.
The cooling secret of Manta COOL Mask is in the eye cups. They're filled with beads that are gentler than gel. So, you get gentle compression combined with cold therapy.
The detachable eye cups can be positioned anywhere on the head strap for a custom fit.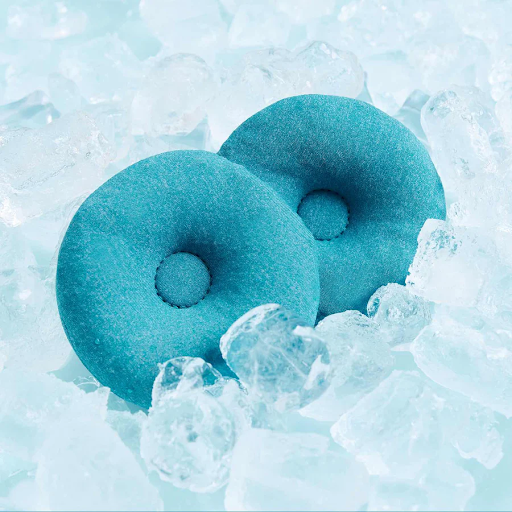 Lightweight at 0.67 lbs. (combined) for cold compression therapy

Circular indentations for eye-pressure-free compression

Freeze for an hour for best results

Store in the freezer for convenience

Large enough to cover sinus pressure points

Comes with reusable freezer bag to keep them bacteria and odor-free

Easy to clean (handwash with cold water and mild soap)

Stay cold for the doctor-recommended 10 minutes
Buy the COOL Eye Cups separately to pair with any of our head straps. With one exception: Manta WEIGHTED head strap. The combined weight may cause discomfort.
Manta COOL Mask's head strap is infinitely adjustable. It was designed to accommodate various head sizes for a personalized fit.
The head strap is durable. We engineered it for a firm but comfortable fit around your head. This prevents the mask from slipping despite the weight of the cups.
In case you want to know more about this cold eye mask from others, here's what our customers have to say:
New favourite eye mask
"I love that this mask is adjustable for one thing and I love that the eye cups can be put in the freezer but won't give you freezer burn when using them on your eyes and that you can get the weight in the whole eye socket instead of just the bottom and the brow bone like other eye masks. So much better for me, especially when migraines and sinus issues hit."
Great product
"I suffer with sinus headaches. I bought the mantas mask with the eye patches that I can freeze. I use this mask and I find such relief from my headaches. I will order one for napping for other days soon. It's great for me on days that are hard with headaches."
Purchased to help with migraines
"Very useful in helping decrease migraine symptoms (if you suffer from migraines, you know your mileage may vary). Snug, secure, cooling (obviously) and with a comforting weight, but not overly heavy. I only wish it stayed cooler longer somehow. If purchasing for migraine, I'd suggest getting 2 sets of cups so you can switch them out."
Cool Cool eye cups
"They are great. My eyes often get hot and burning, could be hayfever, allergies. The Cool cups are very soothing."
Just Buy It.
"I am a migraine aficionado, unfortunately. I purchased the manta mask with the cool eye cups. I saw these and wondered if they'd be helpful. I'm tellin you, buy them. I have been so surprised with how nice these are when cold doesn't do it."
Perfect relief post surgery
"Had eye surgery and have used these to reduce the swelling. Very comfortable.. only wished they stayed cold for longer, personally, but they do the trick! Find they're reducing my eye bags too! Bonus!"
If the cooling eye mask information in this article still doesn't cut it, check out these other blog posts for more:
So, now you know its uses and how to choose the best cooling eye mask. It's high time to get yourself some soothing and therapeutic relief. And go take a well-deserved healing nap while you're at it.
Sources:
(1) "Treating Pain with Heat and Cold." Healthline, www.healthline.com/health/chronic-pain/treating-pain-with-heat-and-cold. Accessed 25 October 2022.
Disclaimer:  The information contained in this website or provided through our blog, e-mails, or programs is for informational purposes only. It is not intended to be a substitute for medical advice, diagnosis or treatment that can be provided by your healthcare professionals.