How a Cooling Eye Mask Benefits Your Wellness
Thinking of getting a cold eye mask? This article lists the cooling eye mask benefits. You'll also learn when you shouldn't use one. Plus, our recommended sleep mask and how it works.
What is a cooling eye mask?
New to cold compression therapy? Well, an eye mask is the easiest way to experience soothing relief.
A cooling eye mask is typically made from one or a combination of materials like fabric or plastic. And it contains a cooling agent — either gel or beads. Some are shaken while others are frozen to trigger the cooling effect. And most have cutouts for the eyes.
But some are better than others, especially if you can wear them for sleeping. But we'll get to that later. First, we'll discuss the different cooling eye mask benefits.
What are the cooling eye mask benefits?
So, are cooling eye masks good for you? The short of it is yes. It's perfect for cooling you down on an extra hot day. But that's barely scratching the surface of how useful one really is.
There are cooling eye masks for puffy eyes. These also help refresh tired skin in the delicate eye area and soothe eye strain.
A cooling eye mask also helps ease inflammation and pain associated with the ailments listed below. Let's talk about the cooling eye mask benefits.
One of the most popular cooling eye mask benefits is easing symptoms of this condition. It numbs the pain and lessens inflammation of the sinuses.
A cold eye mask specifically targets sinus points on the face:
Between your eyes

Behind your eyes

Above your eyes on your lower forehead

Under your eyes in your cheekbones
Here's the key to getting optimal relief from a cold eye mask. Find one with the coverage and weight to deliver cold compression therapy to these points.
Another way to use a cooling eye mask for sinusitis is to pair it with a steam eye mask and alternate the use. Here's how that works, according to Advanced ENT Allergy(1).
A cold eye mask helps numb the pain and reduce the swelling. On the other hand, a heated eye mask soothes and warms the nasal passages while loosening mucus.
A cold eye mask may help numb the pain and lessen inflammation associated with migraines. Using temperature therapy is one way of easing migraine symptoms, according to Mayo Clinic(2).
Some cold eye masks run heavier for cold compression. The added weight allows the cold to target areas associated with migraines like the forehead and eyes.
A cold mask is a good alternative to oral pain relievers for mild cases. But if you suffer from chronic or severe migraines, consider it as complementary to your treatment, not as a replacement. And always consult with your migraine specialist prior to use.
Itchy Eyes from Allergies
If you suffer from seasonal allergies or hay fever you know only too well the discomfort of itchy eyes. The itchiness is a reaction to allergens like pollen and pet dander, to name a few.
These trigger histamines in the body to act as a defense. But as a result cause allergic symptoms, including itchy and watery eyes.
A natural reaction is to scratch. But it's the last thing you should do when your eyes itch. And the reason is your fingers will likely bring your eyes in contact with more allergens. Not to mention accidentally causing injury.
A cooling eye mask is an easy way to reduce itchiness and get soothing relief.
Heat therapy is a common treatment for dry eye, pinkeye and styes. But did you know that a cooling eye mask benefits your eye problems, too?
Like its name suggests the symptoms include a reddish or pinkish color in the whites of your eyes. Throw in swelling of the lids and eye lining as well as discharge.
According to National Eye Institute, cold compression helps alleviate swelling and redness that come with pinkeye(3).
If pinkeye is a result of an infection, it is contagious. If you're using a cooling eye mask for this, consider it a personal care item. And always wash your mask after every use.
Contrary to what some might believe styes are not pinkeye. As mentioned earlier, pinkeye is an infection of the lid and lining. A stye is an infection of the tear duct. The symptoms, however, are similar.
Warm compression therapy is commonly recommended for stye treatment. But Palm Beach Eye Center recommends cold compression therapy for when the stye is tender, an indication of inflammation(4).
The cold reduces inflammation. Warm compression therapy follows when the tenderness is gone.
Symptoms of this condition include itching and stinging, redness and feeling like there's a foreign object inside your eyes.
Dry eyes happen because you don't make enough tears. Or the ones you make don't lubricate your eyes adequately. More commonly, it's also caused by too much screen time and pollution.
Medical News Today says a 2013 study showed that a cooling eye mask applied thrice a day for 30 seconds (for a month) helps with dry eye. It acts as a substitute for artificial tears(5).
Dry eye is also a symptom of other health conditions like Meibomian Gland Dysfunction (MGD). If you have this, use warm compression therapy instead of cold.
When Not to Use Cold Therapy
Now that you're aware of cooling eye mask benefits, you should also know when to avoid cold therapy.
Cold therapy in general has no known side effects. But you should never apply it to your skin for longer than 15 to 20 minutes. And because your eyes and the skin around them are delicate, wear a cooling eye mask for the doctor-recommended 10 minutes.
This is especially true for people who have sensory issues caused by conditions like diabetes. They have difficulty telling when cold is too cold, which could lead to tissue and nerve damage. Not to mention frostbite.
People with cardiovascular or heart disease shouldn't use cold therapy without their doctor's go-signal, according to Healthline(6).
Can you sleep in a cooling eye mask?
Considering what you've read so far. Yes, it's possible to sleep with a cooling eye mask. There's a but though.
Make sure you're not exposing your skin to cold for too long. As we said before, longer than 20 minutes and you're in the danger zone. And with an eye mask, stick to the doctor-recommended 10.
There are some who sleep all night long with a cool compression eye mask. But keep in mind that not everyone is accustomed to having weight on their eyes. You may be one of them. When in doubt, ask your doctor.
Here's another thing to consider. Why sleep with a cooling eye mask that has eye cutouts? Or is made from flimsy or transparent material? Exposure to light makes falling asleep nearly impossible. And even if you do, good luck with that restful nap.
But the best cooling eye mask for sleeping? A game changer.
Try This Cooling Eye Mask for Sleeping
It serves two purposes. One is to give your eyes and the area surrounding them cooling eye mask benefits. The second is to block out as much light as possible and give you the kind of rest that complements treatment.
Enter Manta COOL Mask. This cooling eye mask for sleeping gives the wearer cold compression therapy. The mask's near-blackout design is perfect for getting good zzzs. Simply freeze the eye cups for an hour and they're good to go.
Check out its features:
Infinitely Adjustable Head Strap and Eye Cups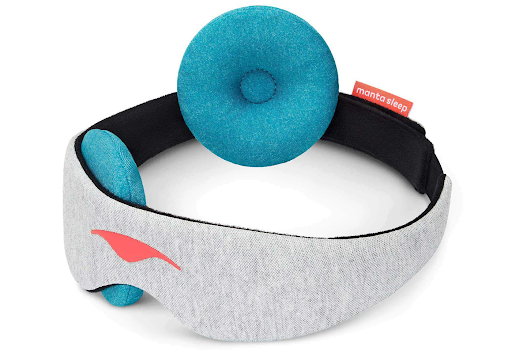 This mask has detachable eye cups and an adjustable head strap. The strap secures around your head with a micro hook and loop fastener. It's suitable for all adult head shapes.
Meanwhile, the cups attach to the strap with the same type of fastener. Position them anywhere within the interior of the mask to cover your eyes completely.
Cooling Eye Cups with Eye-pressure-free Compression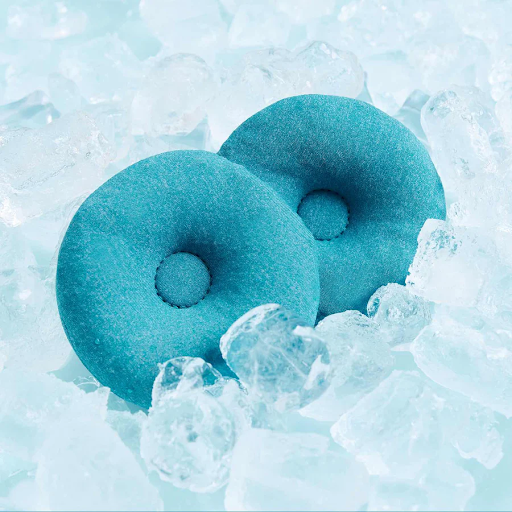 The mask, including the eye cups, weighs approximately 0.73 lbs. The cups are filled with cooling beads that are gentler than gel on the eyes. The beads are insulated, which makes them stay colder 20% longer than most other masks but not too long to cause injury.
Circular indentations at their centers keep the pressure directly off your eyes while evenly distributing gentle weight where it counts.
The mask also comes with a reusable freezer bag that keeps it free from bacteria and food odors. In fact, store the eye cups in the freezer for as long as you want for convenience.
If you want to experience the cooling eye mask benefits we listed in this article, start with Manta COOL Mask. Get cold compression therapy and near blackout for soothing relief and a restful nap.
Know any other cooling eye mask benefits? Let other readers know. Drop a comment below.
Sources:
(1) "8 Tips to Relieve Your Sinus Pain." Advanced ENT Allergy, www.advancedentandallergy.com/blog-8-tips-to-relieve-your-sinus-pain/. Accessed 27 October 2022.
(2) "Migraines: Simple steps to head off the pain." Mayo Clinic, www.mayoclinic.org/diseases-conditions/migraine-headache/in-depth/migraines/art-20047242. Accessed 27 October 2022.
(3) "Treatment for Pink Eye." National Eye Institute, www.nei.nih.gov/learn-about-eye-health/eye-conditions-and-diseases/pink-eye/treatment-pink-eye. Accessed 27 October 2022.
(4) "Stye, Chalazion and Blepharitis Care." Palm Beach Eye Center, palmbeacheye.com/comprehensive-eye-care-palm-beach/stye-chalazion-blepharitis/. Accessed 28 October 2022.
(5) "Can a warm or cold compress help relieve symptoms of dry eyes?" Medical News Today, www.medicalnewstoday.com/articles/dry-eye-compress. Accessed 28 October 2022.
(6) "Treating Pain with Heat and Cold." Healthline, https://www.healthline.com/health/chronic-pain/treating-pain-with-heat-and-cold. Accessed 28 October 2022.
Disclaimer:  The information contained in this website or provided through our blog, e-mails, or programs is for informational purposes only. It is not intended to be a substitute for medical advice, diagnosis or treatment that can be provided by your healthcare professionals.