Get Relief with the Best Sleep Mask for Dry Eyes

Believe it or not, millions of Americans suffer from dry eyes yearly. It's common, yes. But that doesn't make it any less uncomfortable and sometimes downright painful. 
The great news is there are a couple of ways to relieve symptoms, which we'll talk about more later. But one of the easiest ways is to find the best sleep mask for dry eyes.
Most of the time dry eyes are temporary, but there are instances where it becomes chronic. Dry eye can also be a symptom of other health issues. So if you suspect you have it, visit a doctor to find out exactly why and how to fix it.
If you aren't sure what you're feeling is dry eye, here's some basic information to help you figure it out.
If your eyes start to itch or sting (or even burn) for no apparent reason, you might have dry eyes (also known as dry eye). 
This can be situational. For instance, you're on an airplane and you start to feel your eyes itch. This is to be expected because the humidity levels on planes are notoriously low. Plus, it's not just your eyes that dry out but your skin, nose and throat, too. 
Of course, other factors cause dry eyes. Note that if you experience this regularly, it might be what they call chronic dry eye syndrome.
What's chronic dry eye syndrome?

This condition happens when your tears don't do a good job of lubricating your eyes regularly. Either you don't make enough or they're of poor quality. 
Your tears are made up of three layers, according to the American Optometric Association: water, oil and mucus(1). These layers form a tear film to protect the surface of your eyes. If any of these layers are lacking in any way, then it lowers the quality. This, in turn, could lead to dry eye syndrome.
There are two types of dry eye: evaporative and aqueous. Evaporative is more common and happens when there's not enough oil in the tear film(2). 
People who have meibomian gland dysfunction (MGD) have this type of dry eye.  The glands are blocked, which leads to limited oil production. And as we mentioned earlier, this essential layer of your tear film helps protect the eyes' surface.  
Meanwhile, aqueous dry eye affects the water layer of your tear film. Your lacrimal gland doesn't produce enough, causing your eyes to dry out.
Here are some common symptoms to watch out for:
It "feels" like there's something in them

Blurred vision

Stinging or burning sensations

Light sensitivity

Red eyes

Watery eyes 

Stringy eye secretions 

Itchy and scratchy eyes
By the way, dry eye doesn't just happen when you're going about your business during the day. You can wake up to these annoying symptoms. 
If you're feeling any of these, see an optometrist or ophthalmologist for an examination. If you're diagnosed with the condition, they'll prescribe treatment depending on the causes. Wearing the best sleep mask for dry eyes might just be part of it. 
A typical way to treat a mild case of dry eyes is eye drops, also known as artificial tears. Do not mistake this for the kind that treats red eyes because that can dry them out even more.
Eye duct plugs are another way to treat dry eyes. Also called punctual plugs, these are placed in your tear ducts to prevent moisture from escaping, keeping the surface of your eyes lubricated. 
You might be prescribed medication. Or your doctor will encourage you to make lifestyle changes, including getting enough sleep.  
Bottom line: Don't be tempted to self-diagnose. After all, we're talking about your windows to the soul here. 
So, what causes dry eyes? Here are some common factors: 
Age
Gender
Certain medications
Wearing contact lenses
Environmental factors
Medical conditions
LASIK surgery
Sleep deprivation
Let's start with age. The older we get, the more dry eye becomes common. Apparently, it's all part of aging. So if you're over 65, expect to feel symptoms more often.
Another is gender. Anybody can get dry eye, but females are more prone due to changes in hormones. Dry eyes are sometimes experienced by pregnant women. Menopause also brings it on.      
Some types of medicine, on the other hand, can lead to fewer tears. Examples are medicines for allergies, blood pressure, antidepressants and oral birth control.
People who wear contact lenses for long periods are also prone to dry eyes. 
Environmental factors such as pollution (smoke), low humidity, dry air, and even wind can lead to dry eyes. You might be surprised to find out that staring at your computer or TV screen for long periods is one cause. Why? You don't blink as much. Doh.     
Some medical conditions list dry eyes as a symptom. One of these is Sjogren's syndrome. People with this immune condition also experience dry mouth. 
On the other hand, people with blepharitis (an inflammation of the eye's oil glands) also experience dry eyes. 
Also, some people who undergo LASIK surgery experience dry eye symptoms.  
Finally, sleep deprivation can lead to dry eyes because without sufficient rest you produce fewer tears. (You can add this to your list of reasons good quality sleep is so important.)
What's the best sleep mask for dry eyes?

Does a sleep mask help with dry eyes? The short of it, yes. 
But in general, do sleep masks work? A good number of studies show they do. Overall, the best sleep mask helps improve your sleep quality by blocking out light. Also, they protect your eyes from air and dirt creeping in. Some types also help seal moisture in.
Protects the Eyes and Seal in Moisture

This is especially true for people who have lagophthalmos. They can't close their eyes completely while asleep, making them prone to dry eyes.
Much like the ones used for swimming, moisture chamber goggles are made from silicone. They work by reducing the evaporation rate of your tear film. 
Those used specifically for sleeping have a strap that wraps around your head. The problem is not many goggles are known for their comfort. 
Try looking for a sleep mask with eye cups instead. These are also very helpful if you use a CPAP machine for sleep apnea because air leaks cause your eyes to dry out. 
Why not try this one?
The original Manta SLEEP Mask is a good call if you're looking for something sleek and simple yet effective. There's a lot of thought behind each feature, too.
This best blackout sleep mask gives a true custom fit. Both the head strap and eye cups are fully adjustable. The strap is made from soft material and won't snag your hair. 
The best thing about it is the soft tapered eye cups. These attach to the strap with a micro hook and loop fastener so your eyes are covered completely. They're deep enough to give maximum eye protection with zero eye pressure.     
Oh, and it comes with a wash bag and a pair of earplugs, too.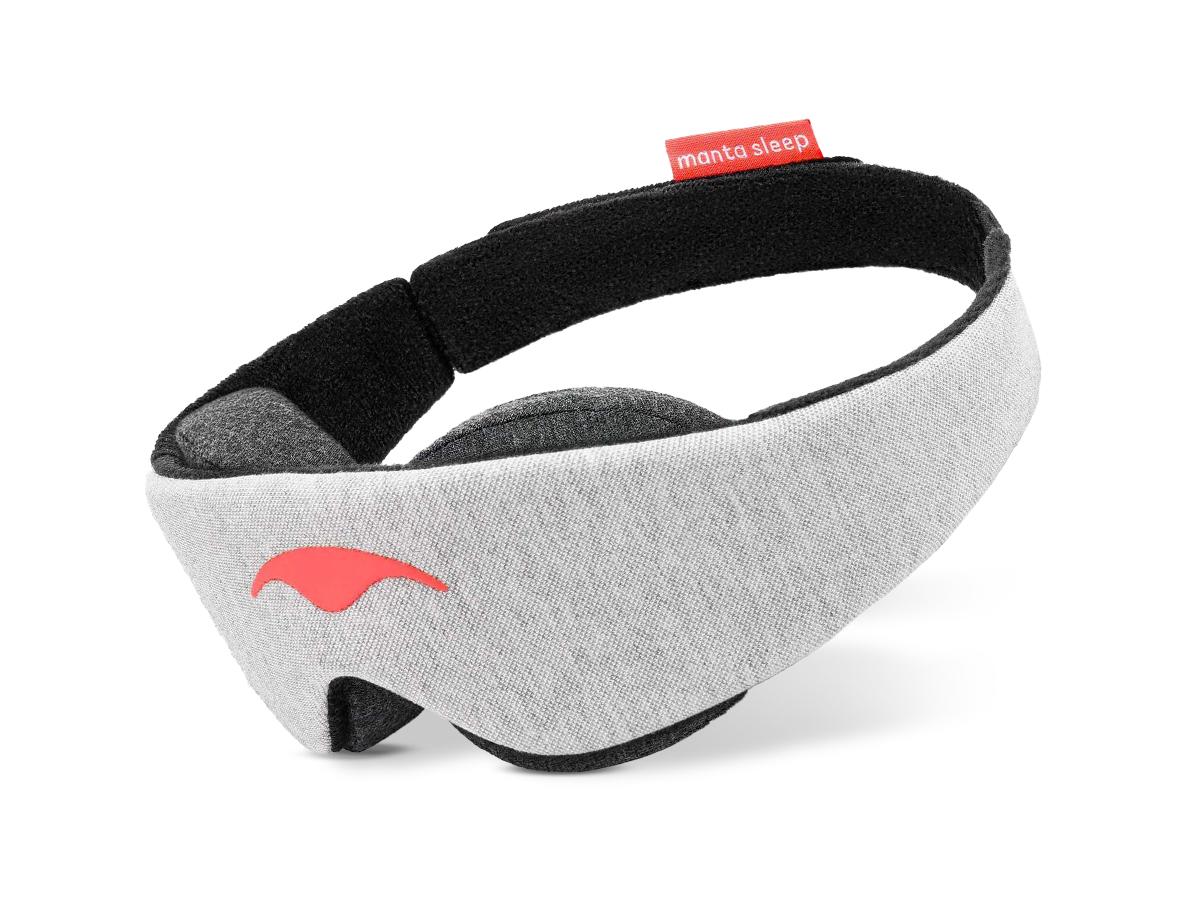 How it helps with dry eyes:
Magic
"I've used a sleeping mask for over a year but this was a game changer. I have chronically dry eyes and need to use eyedrops before bed. My old mask I found would just press up against my eyes and I would wake up with them feeling very uncomfortable. But this mask is brilliant. Totally customised to my face too so no light in whatsoever. I find it extremely helpful during bad headaches too. I also love that it's so breathable no more overly sweaty head because of excess material this is very streamlined. Would 100% recommend to anyone needing a reliable and good quality eye mask!"
Restful Sleep
"I have dealt with problems associated with dry eyes for years. I have finally found a wonderful sleep mask that is both comfortable to wear and provides relief from having to use eye drops during the night to relieve the effects of dry eyes."
"My eyes chronically water throughout the day,  this mask has really helped combat dry eye, plus I sleep so deeply that I'm a bit startled that it's morning. Order a few pairs!"
"I am a side sleeper too. The mask stays on even when having really long hair up in a bun which creates more instability. It has helped my dry eye condition a lot. I have bought many masks in all price ranges and this is for sure the best one of all and worth the investment. My friend saw mine took a picture and bought a fake one from an unknown brand that looked similar. When my friend tried mine he went and bought it right away."
"I got my Manta a couple weeks ago and LOVE it. I was having problems waking up with super dry eyes because of the vent hole in my CPAP mask. Now I just wear two masks -- SUPER SEXY, AMIRITE? -- and I can sleep while breathing AND my eyes don't dry out."

Hydrates and Soothes Dry Eyes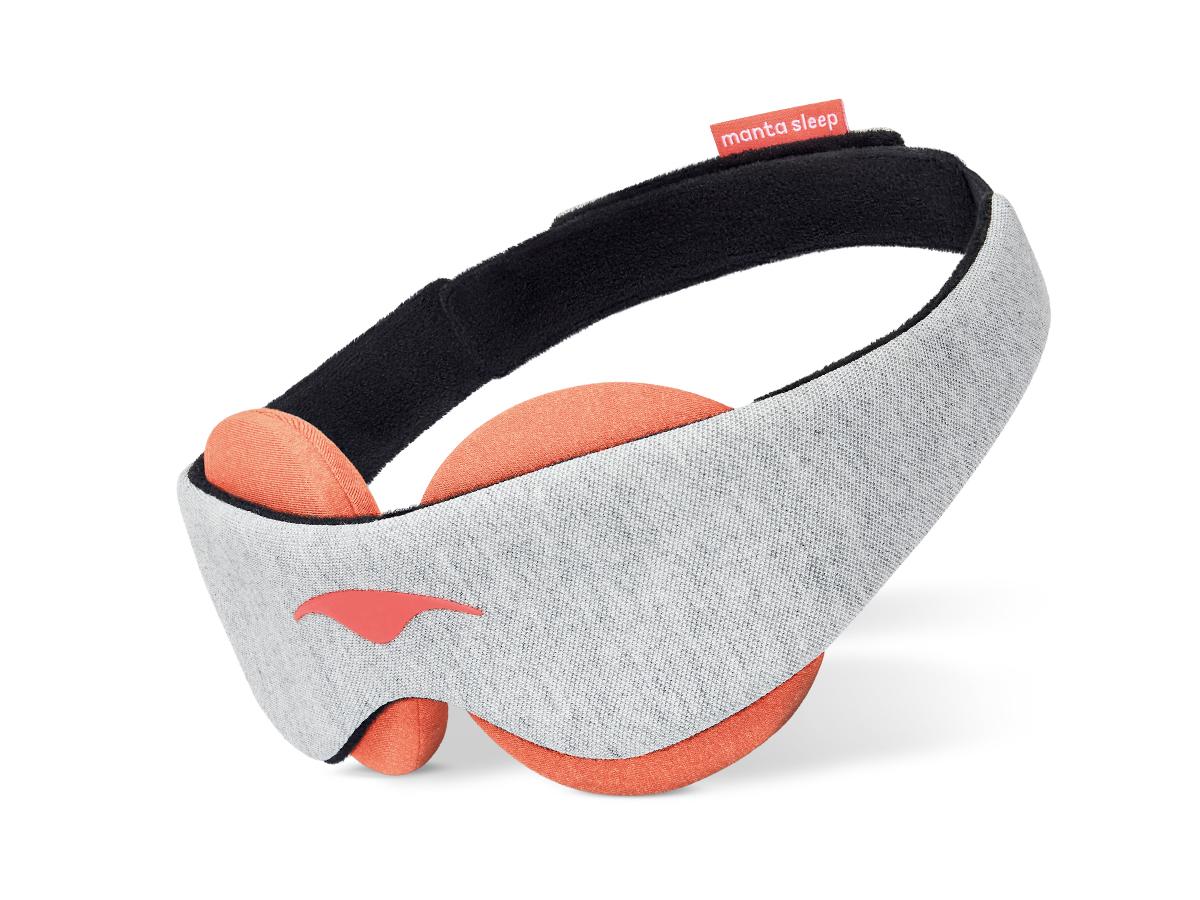 Enter our take on heated eye masks: Manta STEAM. This sleep mask is like the original except it comes with a set of microwaveable eye cups. 
Each fully adjustable eye cup is filled with self-hydrating beads. Pop them in the microwave and attach them to the head strap to enjoy 100% natural steam. 
You'll feel relief in about 3 to 5 minutes while the mask stays comfortably hot for a little over 10. According to Medical News Today, heated eye masks can be used daily for 10 to 15 minutes(2).  
This mask doesn't 100% block out light, but it does come pretty close. Use it to ease your dry eye, MGD, sinus pressure, and even pink eye. 
This could be the best sleep mask for dry eyes if you're up for soothing steam therapy. 
Here's why people love Manta STEAM:
Chronic dry eye relief! Finally!
"I was prescribed heating compresses for my chronic dry eye and meibomian gland dysfunction. The compress my ophthalmologist sold me was so heavy on my eyes that after just 5 minutes I wouldn't be able to see when it was removed from the pressure. This mask is so comfortable without direct pressure on my globe. I am able to wear it for 15 minutes with ease and tears immediately form. It's been amazing."
Helps with dry eyes related to Lasik
"I purchased this mask when I was desperately looking for relief from dry eyes that occurred after I had Lasik surgery. I was using the artificial tears 6+ times per day and was still having issues with dry eye pain, like the gritty feeling, and blurred vision due to dry eyes. After using this mask there is a noticeable difference in the moisture of my eyes. I tried one day not using it and was back to the drops 6 times that day. Also, I suffer from chronic migraines and headaches and the heat is very relaxing at the end of the day when work stress has me tense and I've been staring at a computer all day. 10/10 would buy again."
Dry eyes bye bye
"I have had other heatable eye masks......but they don't compare. This mask is so comfortable. Adjustable. You can make it fit just right. It's also effective which is probably the most important part. Worth every penny. I'll be purchasing other masks as soon as I am able. I'm sold. This is hands down the best warm mask I have tried."
"My ophthalmologist suggested I should apply heat on my eyes for my dry eyes and a non-specific conjunctivitis that I had... After tried a lot of things for applying heat on my eyes (boiled water on a piece of cloth etc.) I discovered this mask and I tried it... It was the easiest and most convenient way for heat application on my eyes! Really helped me a lot!"

If you're looking for 100% blackout and soothing steam relief, here's a tip. If you already own the Manta SLEEP Mask, you can get the STEAM Eye Cups separately.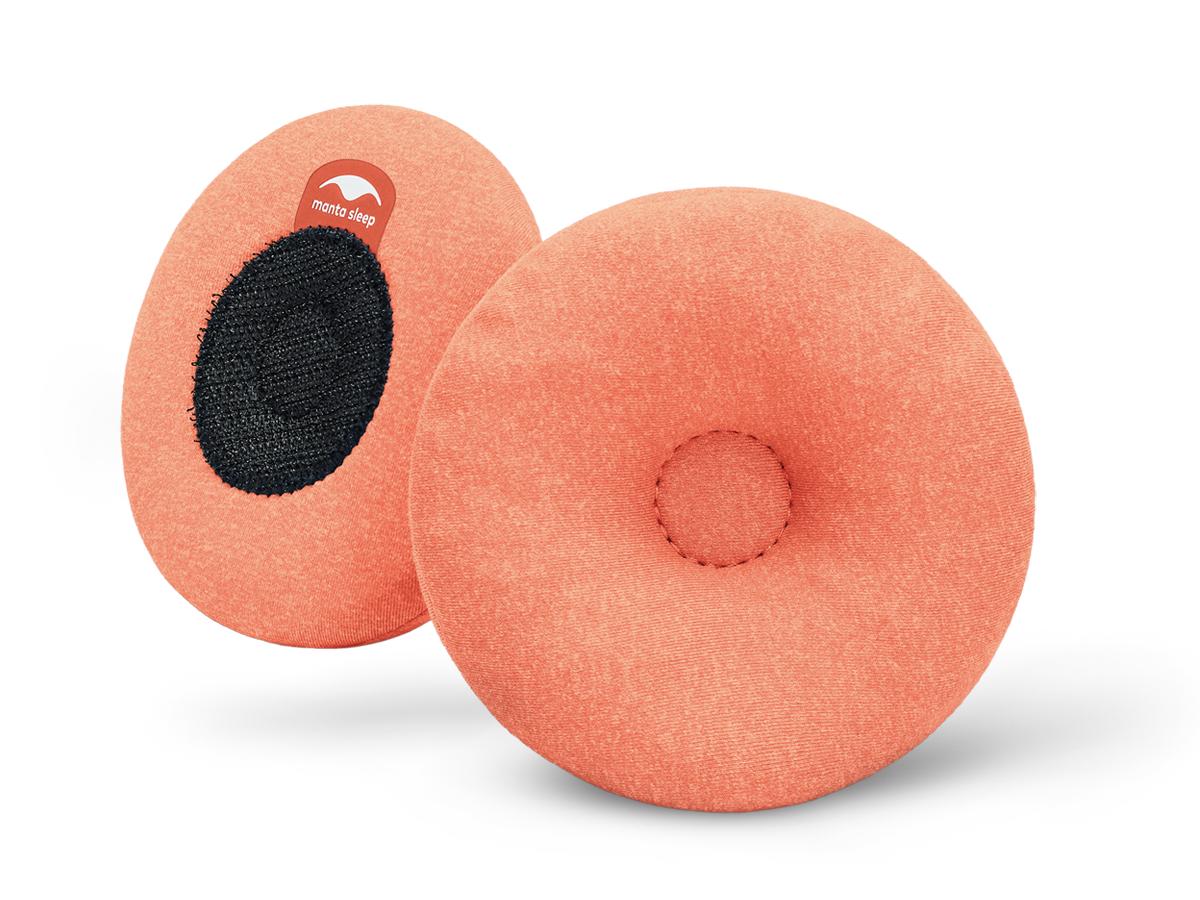 Good for post LASIK dry eye
"I have mild post LASIK dry eye and these have been great for consistent relief." – Zac P.
Amazing for dry eyes
"I've suffered from dry eyes for months now and these have helped so much. Just 5 mins using these brings instant relief! They're so easy to heat and use. Highly recommend." – Allison O.
Dry Eyes 
"My ophthalmologist recently told me that the oil ducts in my eyes have become occluded, explaining why I have dry eyes. The procedure to "help" by using heat and vibrations would cost $700 per eye. So this mask was the next best solution, and as far as I can tell, it has definitely helped! Definitely a life/eye saver!" – Nina L.
Our eye cups are swappable, which means you can pair any of them with any Manta Sleep head strap. (The reverse is true, too).
Try using the STEAM Eye Cups for 3 to 5 minutes to get dry eye relief and then swap them with the original eye cups to get deep, restful and 100% blackout sleep. 
Besides using the best sleep mask for dry eyes, here are some simple ways to beat it before it even starts.
Remember what we told you about staring at the screen too long? Make a conscious effort to blink more. Time it if you must; every 20 minutes for 20 seconds is good. Or you can do something even better. Limit your screen time, period.
Include fish that's oil-rich in your diet. This can't be too hard since by this we mean salmon, tuna and sardines (Yum). Throw in some walnuts for good measure, too. And cook your food in canola oil. These foods contain omega-3 fatty acids, which help your tears' oil layer work better.
Low humidity or dirty air triggers dry eyes. A humidifier in your home, especially your bedroom can work wonders. Make it a point to keep the air in your home, clean by using an air filter. Oh, and this is yet another great reason to quit smoking for good.   
Now that you're armed with all this information, we hope there's not a dry eye in the house. Well, certainly in yours at least. 
And go get your best sleep mask for dry eyes, too. Hello, soothing relief and deep and restful sleep!
Sources:
1. "Dry eye." American Optometric Association, www.aoa.org/healthy-eyes/eye-and-vision-conditions/dry-eye?sso=y. Accessed 29 July 2022
2. "About Dry Eye." TearWell, tec.sco.edu/about-dry-eye. Accessed 01 August 2022.
3. "Do eye masks work for dry eyes?" Medical News Today, www.medicalnewstoday.com/articles/eye-mask-for-dry-eyes. Accessed 29 July 2022.
Disclaimer:  The information contained in this website or provided through our blog, e-mails, or programs is for informational purposes only. It is not intended to be a substitute for medical advice, diagnosis or treatment that can be provided by your healthcare professionals.