Natural-Born Insomniac? You Might Have a "Dolphin" Chronotype — Here's How to Deal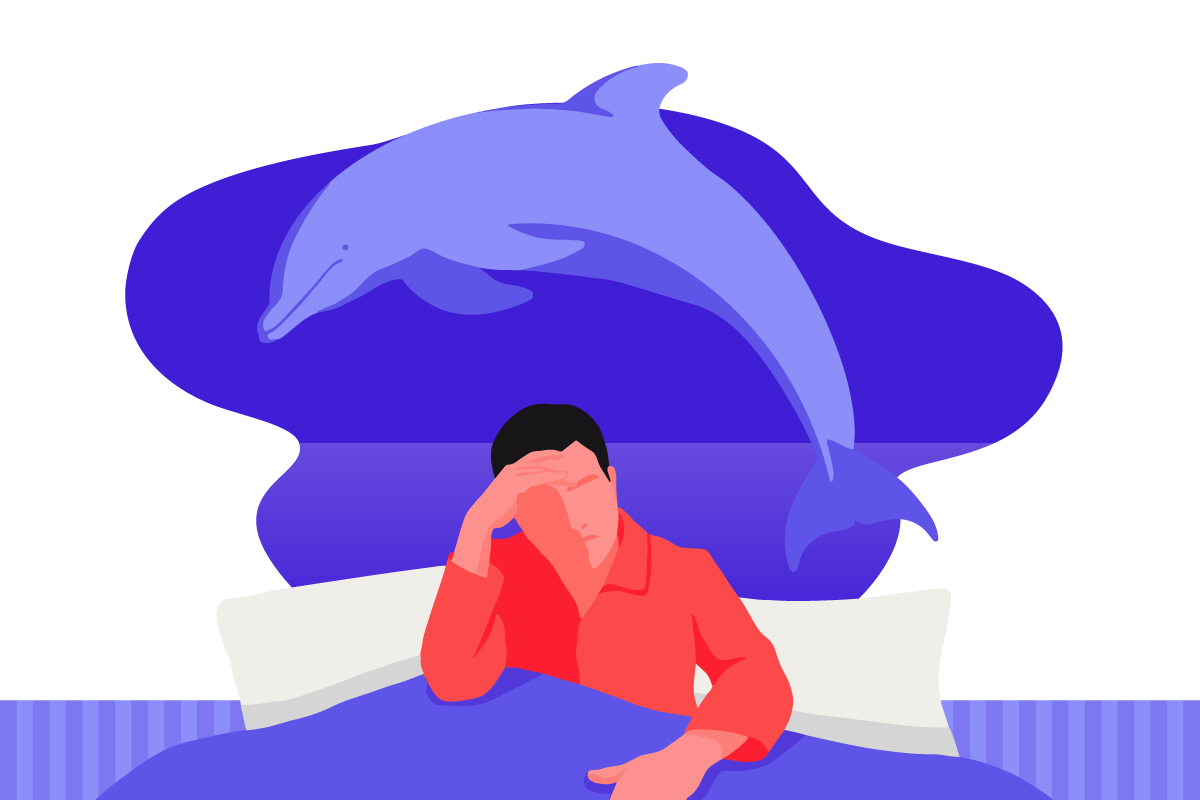 Suffering from insomnia? You may have a dolphin chronotype. Find out more about your sleeping patterns in this post.
You have the dolphin chronotype if you answer yes to most of the following questions:  
Do friends describe you as intelligent and detail-oriented, but a bit of a worrier?

Would you label your sleep patterns as erratic?

Does your brain kick into high gear at bedtime? (Like a three-ring-circus of anxiety-inducing performances.)

If you found a genie's lamp, would you spend at least two wishes on a solid 8 hours of sleep? (And wonder why anyone wouldn't spend one of those wishes on sleeping well every night?)

Do you consider yourself a perfectionist?  
(In case you're unaware, sleep doctor Michael Breus, Ph.D. came up with the idea of 4 different chronotypes in his book The Power of When in 2016. According to him, our sleep and wake patterns are similar to some animals, including the dolphin.)
We're ready when you are to discover more about the dolphin chronotype.
What does it mean if I have a dolphin chronotype?
This means your body's natural patterns of sleep and activity resemble those of a dolphin. (As opposed to the early-to-bed, early-to-rise lion chronotype schedule.)  
MindBodyGreen says that only 10% of the population belongs to the dolphin chronotype(1). And we hate to say it, but this small percentage has the sketchy sleep patterns of insomniacs. (Unlike those with a bear chronotype schedule. They usually fall asleep without a hitch.)  
But fear not. You're in excellent company. William Shakespeare, Richard Branson, Jackson Pollock and Steve Aoki are all dolphins, too.  
So, what now? Don't go against what's natural. Regardless of chronotype, following its schedule lets you:  
Get the best sleep

Take advantage of your natural peak productivity times

Dodge your chronotype's associated pitfalls  
First, let's take a look at the dolphin chronotype schedule.
A Day in the Life of a Dolphin Chronotype
Dolphins remain in constant motion to survive the frigid ocean. Not to mention avoid falling victim to predators of the murky depths. Even when asleep (you heard it right).  
You've heard the phrase "sleep with one eye open." Well, dolphins literally do. They use unihemispheric slow-wave sleep to recharge.  
This means that, for about 4 hours a day, they'll close their left eye. This allows the right side of the brain to go to sleep. Then, they reverse it for the left side.  
During this stage of semi-sleep, dolphins are in a daydream state. They swim slower, but remain conscious of danger and can breach the water's surface for air.  
It seems convenient. But this style of dozing isn't as deep. (There's no evidence that dolphins experience REM sleep.) And, as you can imagine, it's the type of sleep that's interrupted in a snap.  
When they're not asleep, dolphins put their advanced intelligence to good use. They explore, play and socialize. Hunting and foraging is a choreographed group activity.  
Now let's examine how that translates to your life.
How to Work With Your Dolphin Chronotype Schedule for Optimal Energy

Let's get this out of the way first. As much as everybody loves dolphins, this chronotype isn't anybody's first pick. We can't think of anyone who wants in on erratic sleep patterns and sketchy snoozing.  
Your ideal sleep schedule is 11:30 p.m. to 6:30 a.m. But we know who we're talking to. Whatever schedule allows you to have the best sleep is the way to go.  
Your energy is at its peak between 10 a.m. to 1 p.m. The smart thing to do is to focus on routine tasks before this. Then, use the time after your peak to recharge with a post-lunch nap.  
Dolphin chronotypes fight a constant battle against fatigue. This is because they don't have it easy when it comes to falling asleep. In fact, it's rare they get a full night's rest, according to Casper(2).  
A good technique to try is the coffee nap, which is having a cup right before your afternoon nap. According to The Sleep Doctor, the caffeine will start to kick in as your 30-minute nap ends(3). It'll turbocharge your energy levels. And it won't impact your ability to sleep at night.
Bonus Tips for Those With a Dolphin Chronotype Schedule:
Here are other ways to take advantage of your dolphin chronotype schedule:  
Those with the dolphin chronotype are overthinkers. A cardio workout within 30 minutes of waking reduces stress from overthinking.  

As we said earlier, overthinking is your nemesis, especially when the lights go out. Reading for half an hour at bedtime helps you wind down. Meditation and mindfulness exercises work, too.

They say to use your bedroom for only 2 things: sleep and sex. The best time for the latter is 8 p.m. (hormonally speaking).  
Don't fight those natural urges. Work with them to get great sleep, maximize your energy and live your best life!
What sleep mask is best for the dolphin chronotype schedule?
The best sleep mask for a dolphin chronotype schedule is one that'll soothe anxiety. It should prepare you for deep and restful sleep. And help you drift off during your energy-boosting coffee nap.  
Enter a weighted eye mask. Your new nap buddy and anxiety buster. Why not try our version, Manta WEIGHTED Mask?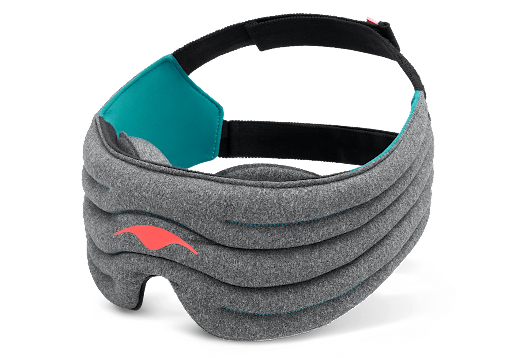 We call it the world's best 100% blackout weighted sleep mask for good reason. Its evenly-distributed weight improves sleep and mood. And it prevents light from creeping in. And we mean total lights out.
Manta WEIGHTED Mask may work on the same premise that a weighted blanket does. It's called Deep Touch Pressure Stimulation (DPS).  
It mimics the pressure of a gentle but firm squeeze or a hug, which calms and relaxes. It triggers your parasympathetic nervous system, slowing down your breathing and heart rate.  
This mask also gives gentle acupressure, targeting the relaxation points in your face. It triggers the release of sleep and feel-good hormones, melatonin and serotonin.  
Dolphins, Manta WEIGHTED Mask will help lift your mood. It'll help soothe you when anxiety starts to kick in.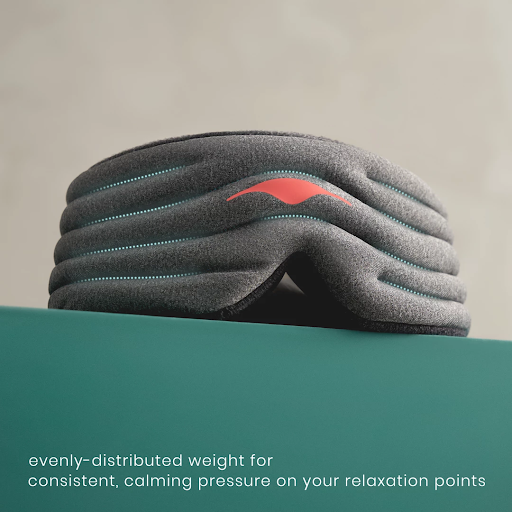 The weighted aspect of this sleep mask is the head strap. It's filled with glass microbeads. These are evenly distributed throughout the mask.  
Its streamlined design with reinforced stitching keeps the weights in place.
Manta WEIGHTED is infinitely adjustable for your unique head size. Its duo-strap design means that it will stay put all night regardless of your sleep position. The straps secure around your head with snag-free micro hook and loop closures.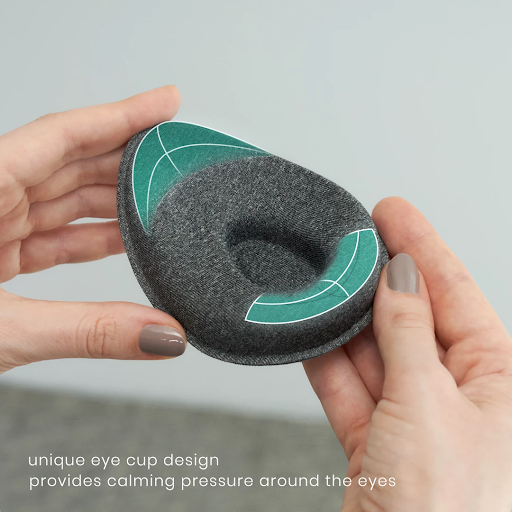 The eye cups have a unique design. They're extra tapered for side sleep comfort. Each has an indentation so your eyelids don't feel any direct pressure. But you'll still feel the gentle pressure around your eye area. In case you didn't know, direct weight on your eyes may cause temporary blurred vision and headaches.
The cups are adjustable and easy to position for a personal fit. Not to mention they taper near your temples so there's less bulk for side sleepers.
We designed the mask for all-night wear. But not everyone likes weight on their face. If you're one of them, wear it to calm your pre-bedtime anxiety. Or for naps (essential for those with a dolphin chronotype schedule).  
Finally, if you aren't convinced you have a dolphin chronotype, why not take our pop quiz on chronotypes? You'll also learn about the history of the different animal sleep types. Plus, tips on getting the most out of your particular animal.
Sources:  
(1) "Only 10% Of People Have This Sleep Pattern — What It Means If You're One Of Them." MindBodyGreen, www.mindbodygreen.com/articles/dolphin-sleep-chronotype. Accessed 08 March 2023.  
(2) "How to Find Your Chronotype to Boost Productivity." Casper, casper.com/blog/chronotype/. Accessed 08 March 2023.
(3) "Types of Naps." The Sleep Doctor, thesleepdoctor.com/napping/types-of-naps/. Accessed 08 March  2023.
Disclaimer:  The information contained in this website or provided through our blog, e-mails, or programs is for informational purposes only. It is not intended to be a substitute for medical advice, diagnosis or treatment that can be provided by your healthcare professionals.