Silk Contour Sleep Mask: Luxury, Comfort and Better Zzzs in One
Want a silk contour sleep mask? Read this to discover its numerous benefits and what to consider when choosing one. Plus, our version with customer reviews.
Hey, sleepyhead! You've come to the right place if you want to take your zzzs to a whole new level. Welcome to the world of luxurious sleep, where the silk contour sleep mask reigns supreme.
It's nothing like your typical sleep mask. It delivers a combination of luxury, comfort and better sleep quality. Now if you're one of those who hasn't had the best of luck with sleep masks in general, hear us out first.  
A silk contour sleep mask is more than an accessory. It's designed to improve your sleep quality with unmatched comfort and unexpected health perks.
Do we have your attention? Great! Then let's dive into the world of silk contour eye masks and discover why they should be in your sleep tool kit. Here's what you're in for:
What is a silk contour sleep mask?
A good silk contour sleep mask is crafted from premium silk. Like any sleep mask, its primary function is to block out light. The main difference is that the material is kinder to your skin. Plus its luxurious feel is one way of elevating your sleep regimen.
A silk contour sleep mask should follow the natural curves of your eye area. Depending on the mask's design, it should guarantee a comfortable fit that won't exert unnecessary pressure on your eyes.
A silk contour sleep mask blocks out light as you catch zzzs, whether you're power napping during the day or trying to sleep at night next to a nocturnal bookworm. Why is this important?
Light tells your brain that it's time to be awake. Meanwhile, darkness increases the production of melatonin, the sleep hormone. It signals your body that it's to relax and hit the sack.
A silk contour sleep mask brings indulgence to the table. The soft, supple texture of silk feels great against the skin. Think of it as a mini spa treatment for your eyes. You'll be looking forward to bedtime even more with this kind of eye mask. (We kid you not!)  
Okay, so it sounds fancy, but what's in it for you, right? Well, it has more than a few benefits that make it worth the higher price point.
Benefits of a Silk Sleep Mask
Let's tackle some of the silk eye mask benefits. The first is that it's good for skin health.  
Silk has sericin, a protein that supposedly has properties that counteract aging. Research shows that sericin has anti-oxidant and anti-aging properties, according to Science Direct(1). This protein is used widely in anti-aging cosmetics today.
The smooth texture of a silk contour sleep mask means fewer sleep creases and wrinkles. It won't cause as much friction to your skin as, say, a regular sleep mask made from other fabric.
A silk eye mask won't absorb as much moisture from your skin or skincare products. You'll wake up with hydrated, more radiant skin.  
Also, real silk is resistant to allergens. And that's why a silk contour sleep mask is the kinder option for your skin. It'll minimize skin irritation and allergies.
Plus, the silk is a natural temperature regulator. This makes it ideal for year-round use. A silk contour sleep mask will keep your skin cool during summer and warm during winter. It won't add to the irritation or dryness caused by changes in temperature.
A Silk Contour Sleep Mask for Long Lashes
Yet another reason to choose a silk contour sleep mask over a regular eye mask is if you have long lashes or extensions. It won't squish your lashes as you sleep.
Now, pay attention. This only applies if you have a silk eye mask with convex eye cups that put zero pressure on your eyes and lashes. So, you can forget about worrying about lash damage and focus on getting a good night's sleep.
This also applies to eyelash extensions. A common complaint of many sleep mask users is that it ruins extensions by putting direct pressure on your eyes. Again, the best silk eye mask for lash extensions is one that has eye cups.
The eye cups' contoured design seals out the light while keeping your extensions intact. No more worrying about keeping your lash game on point!
High-Quality Silk Sleep Masks: What Makes Them Stand Out
Quality silk depends on its momme weight, which is from 6 to 30 momme. The higher the weight, the better its quality. Premium silk is composed of long fibers which makes it heavier and more durable.
Apart from the fabric weight, an exceptional silk contour sleep mask should also have a superior light-blocking feature. Adjustability is also key for a personal fit. We already mentioned that it should have convex eye cups for zero eye pressure.
It should also be easy to clean. Most silk eye masks are hand-washed cold only. Keeping a silk mask clean is important. That's because you wear it on your face and over your eyes. Look for a premium silk contour sleep mask that's 100% machine washable.
The next section focuses on our version: Manta Silk Sleep Mask. Have a look at its features.
Our Recommendation: Manta SILK Sleep Mask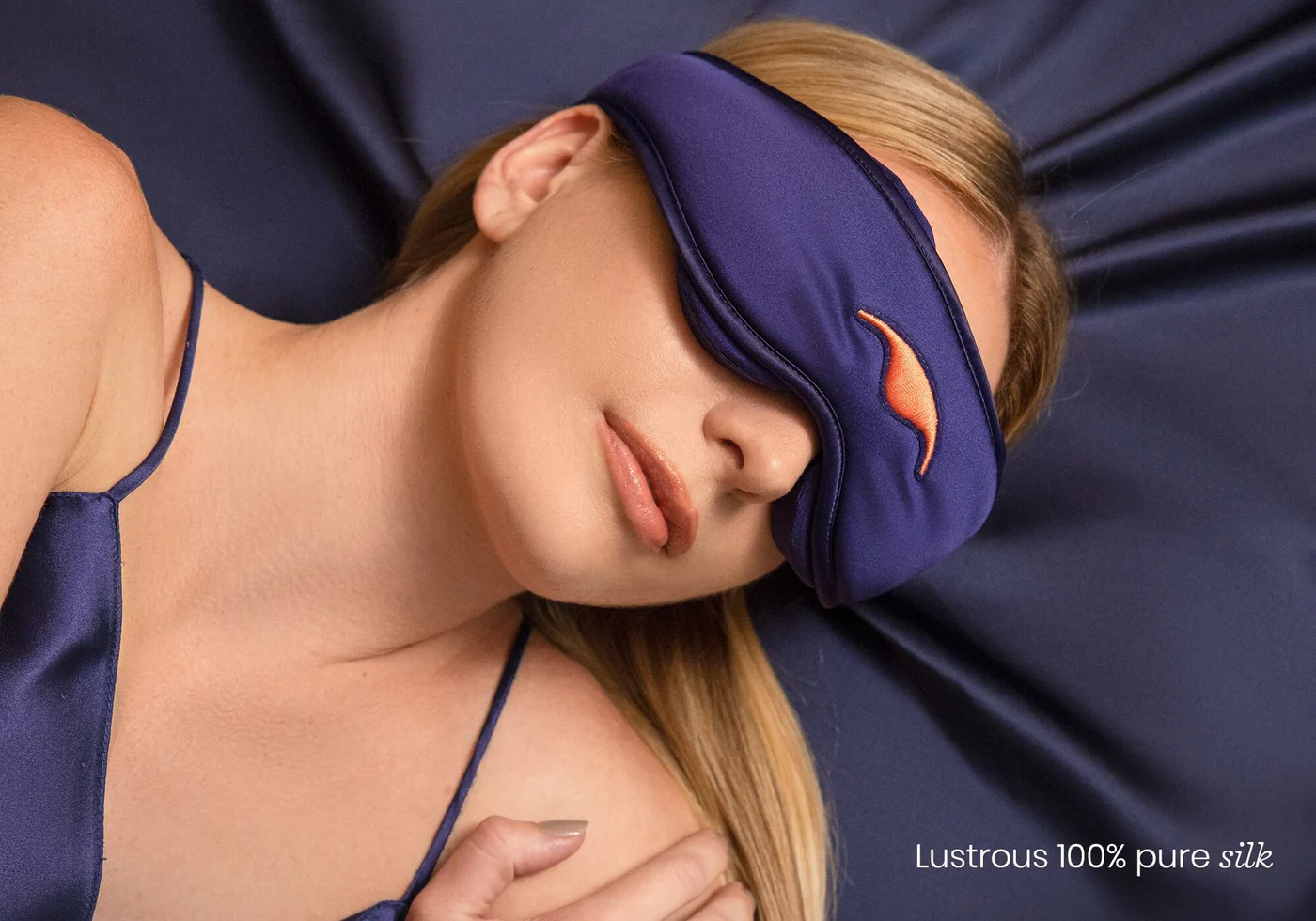 Manta SILK Sleep Mask is made from 100% silk. The head strap's fabric is 22 momme, while the eye cups are crafted from 30 momme premium silk.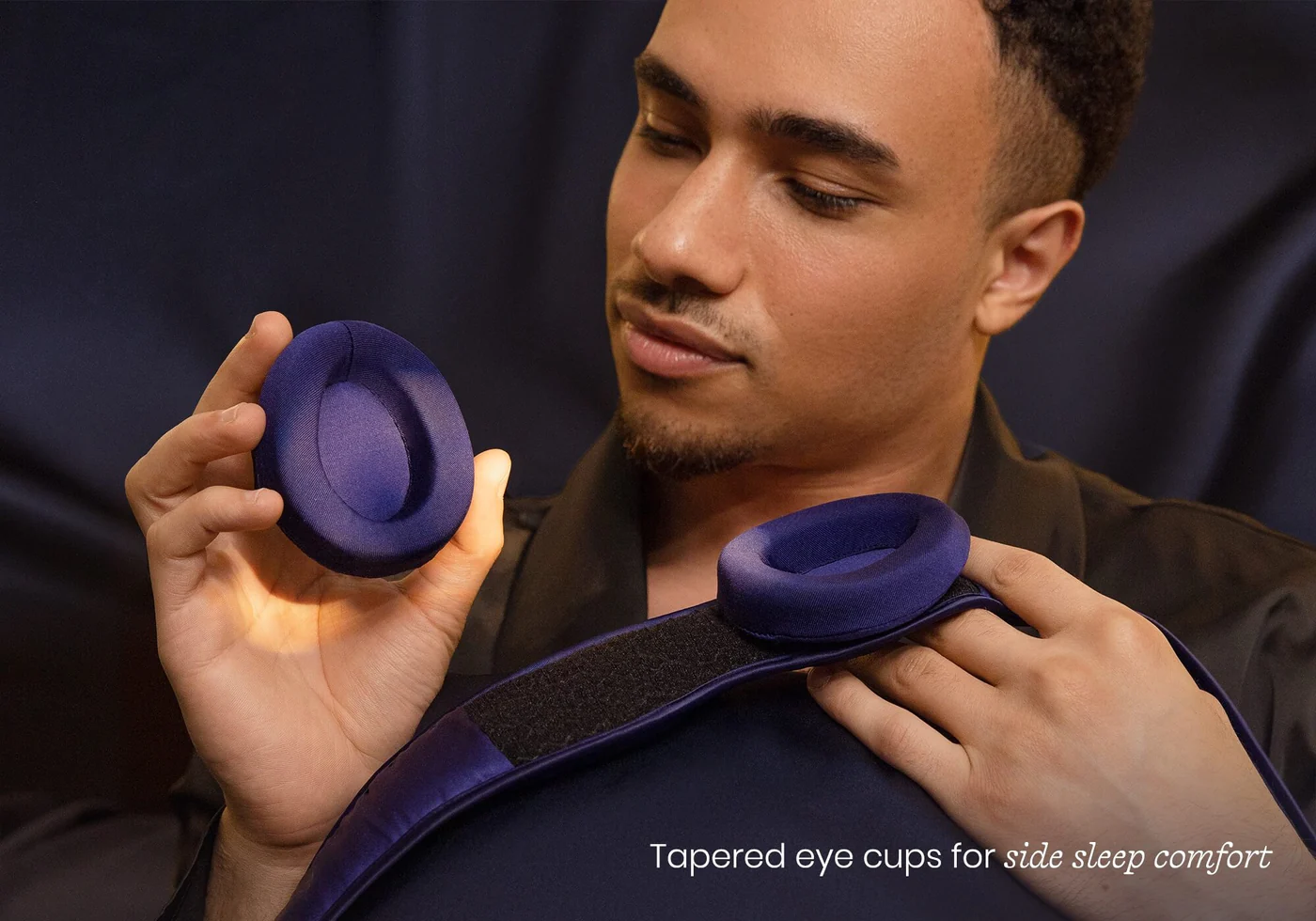 The eye cups taper near your temples — perfect for side sleeping. Their convex design means you won't feel any pressure on your eyes or lashes.
When we say this mask is 100% silk, we mean it. Even the filling is silk fiber. It's breathable, comfortable and luxurious.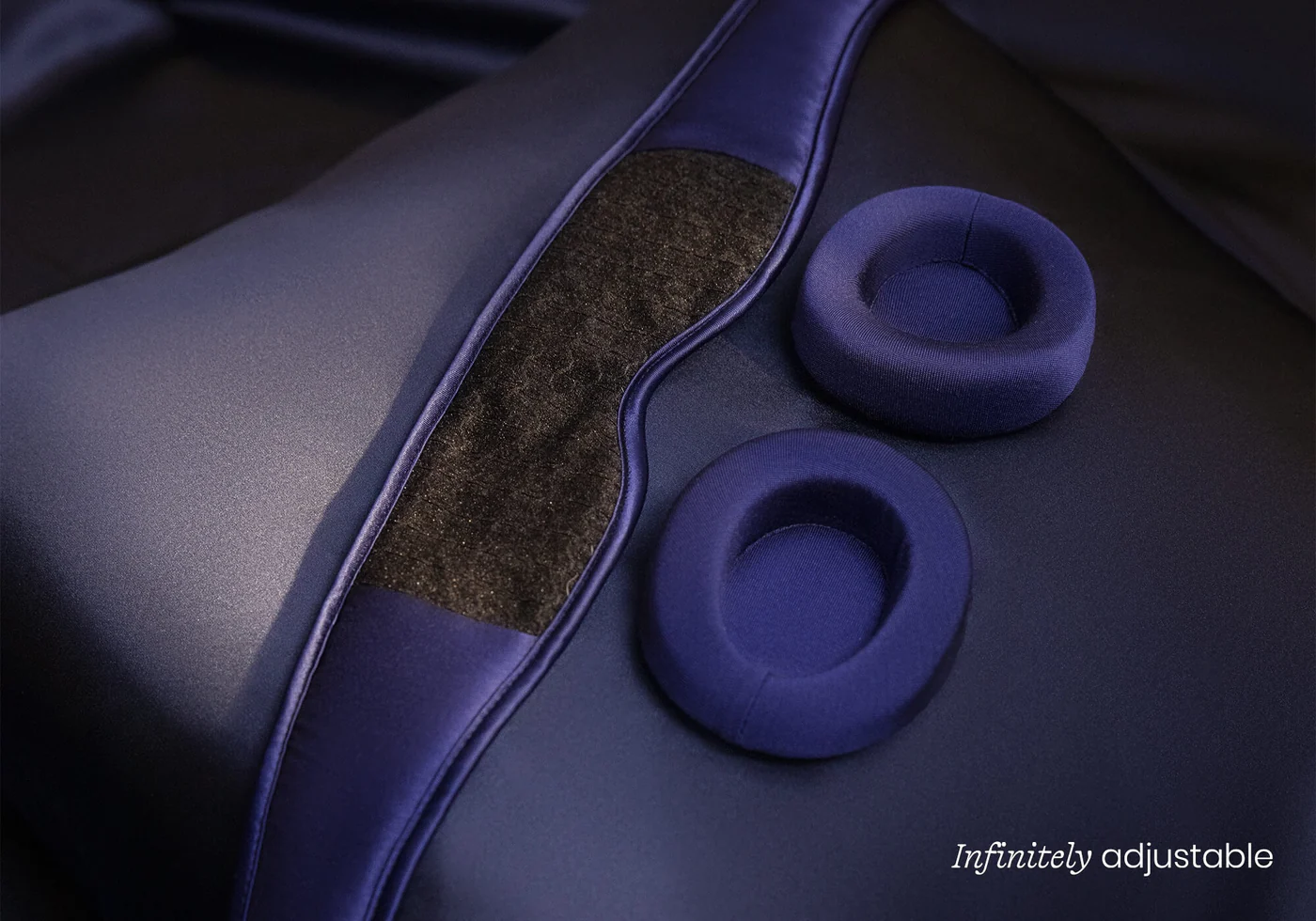 Both the eye cups and strap are adjustable. Position the eye cups within the strap's interior according to your unique eye area for a custom fit. The strap secures around the back of your head with a micro hook and loop closure.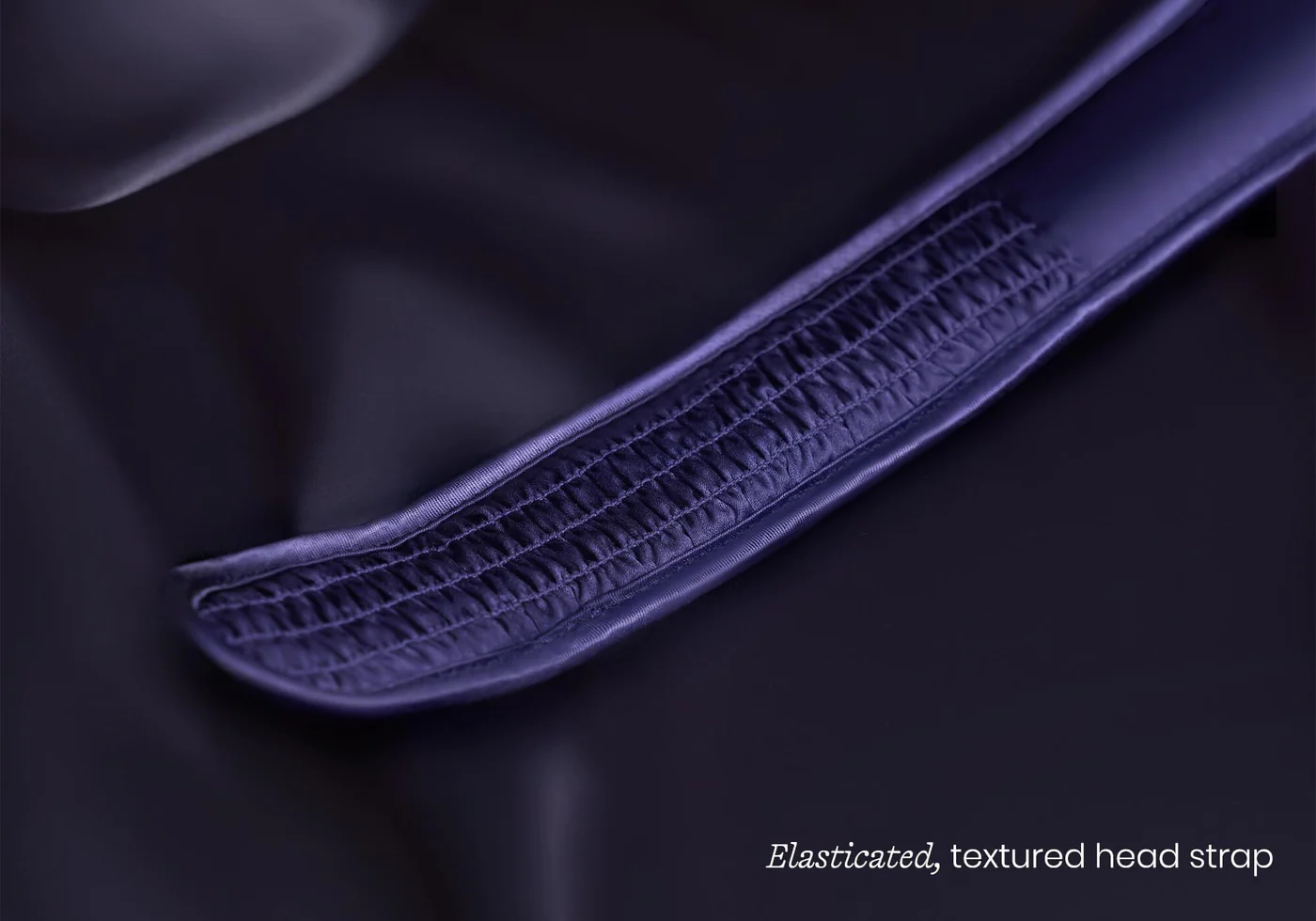 Finally, the strap is elasticized to ensure a comfy yet snug fit.
Manta SILK Sleep Mask Customer Reviews
Don't just take our word for it, though. If you're considering our silk contour sleep mask, read our customer reviews to help you make an informed decision.
Wasn't a fan of sleep masks until now
"This is the only sleep mask that I enjoy using. The pressure on my eyelids makes the masks too annoying. I actually find the manta mask enjoyable to wear. And it creates total darkness absolutely no light gets in. Love there is a silk option too."
Best mask they have
"I have a really small head and I have ordered five or six different masks from this place because I love their masks. This one fits my head perfectly and helps my Lashes stay safe."
I am so happy with my purchase.
"I have not had a headache since I started wearing the mask. I go to Midwestern for dry eyes and told them about your products and the doctor is ordering one as well.
They will be telling their patients about the mask as well. My dermatologist has the same issues and he had it on his computer. You should be getting orders from the dry desert area of Arizona. Great product and I am so glad I ordered it."
I'm now a believer!
"I love this mask! Super functional, comfortable, and I love how futuristic it looks. The matching earplugs and mesh bag were also a really nice touch! I apply eyelash serum right before bed, and this mask makes sure it doesn't smear all over my face while I sleep. I was hesitant to get this initially when I saw the price tag, but honestly this is such a great purchase. I sleep so well with my mask!"
Best silk sleep mask!
"Light weight, cool, and doesn't cause breakouts! Fully black out too."
— Deidre O.
To sum things up, a silk contour sleep mask is more than your average sleep accessory. It's great for your skin, improves your sleep quality, protects your lashes, and makes your bedtime routine luxurious. It's a worthwhile investment for your health, beauty, and wellbeing.
We're curious about your experience with a silk contour sleep mask. Drop a comment below.
Sources:  
(1) "Silk sericin conjugated magnesium oxide nanoparticles for its antioxidant, anti-aging, and anti-biofilm activities" ScienceDirect, www.sciencedirect.com/science/article/abs/pii/S001393512300213X. Accessed 20 August 2023.
Disclaimer:  The information contained in this website or provided through our blog, e-mails, or programs is for informational purposes only. It is not intended to be a substitute for medical advice, diagnosis or treatment that can be provided by your healthcare professionals.