Do Steam Eye Masks Work? Here's the Lowdown
Do steam eye masks work? If you've been wanting one but are holding back, read this article to discover what steam eye mask users have to say.
Maybe you already know what steam eye masks are. But the real question is: do steam eye masks work?
Well, that all depends on what you need one for and how you use it.
A steam eye mask is a more convenient and effective version of a homemade warm compress. It's designed to deliver moist warm compression to your eyes. Unlike its DIY counterpart, a steam eye mask is self-warming. The heat is more consistent and the application isn't tedious. In most cases, all it takes is a few seconds in the microwave.
This article examines how (and if) a moist warm compression works for eye problems. To paint a clear picture, we'll use our version of a steam eye mask as a basis. Here's what this blog post tackles:
We also took a look at what our customers have to say about Manta STEAM Mask. We figured a good way to answer your question is to let them do the talking.
What is Manta STEAM Mask?
It's not the world's comfiest blackout heated mask for nothing. It's a steam eye mask and a sleep mask in one. And it's near blackout, too. It lets you enjoy a restorative nap combined with soothing relief and relaxation.
You're probably wondering where the mask's moist heat comes from. It comes with a pair of self-warming eye cups. All they need is 20 seconds on medium-high in the microwave to get them steamy. They stay that way for over 10 minutes.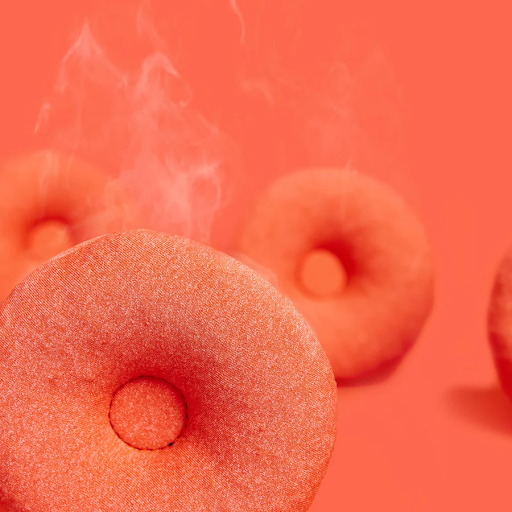 The cups contain self-hydrating beads that give off 100% natural steam after heating. They have a micro hook backing and attach anywhere in the mask's interior. Position them so they cover your eyes completely.
For compression, they're comfortably weighted at 0.38 lbs combined. Each cup has a circular indentation at its center. This is so you feel the weight on the surrounding area. Not directly on your eyes.
We designed this mask to give you soothing moist warm compression in just 3 to 5 minutes. If you're looking for more information, read up on how to use a steam eye mask.
Now that you have a good idea of what a steam mask is, let's take a closer look at moist warm compression.
How does moist warm compression work?
Steam eye masks use moist warm compression to relieve dry eyes and other ailments.
Moist is the operative term here because there's such a thing as dry warm compression therapy, too. A steam eye mask delivers moist heat. Whereas a heating pad or a hot water bottle is considered dry.
Moist warm compression works by promoting better blood flow. The warmth of the compress dilates blood vessels where it's applied. According to Science Direct, it also softens tissues and helps drain infectious liquids(1).
Generally, moist warm compression is more effective than dry on the eyes. That's because many eye problems involve a lack of moisture. A study in the National Library of Medicine found that moist warm compression treats Meibomian Gland Dysfunction(2).
Meibomian gland what? Don't worry. We're getting there. The next section is all about specific eye problems that benefit from a steam eye mask.
Do steam eye masks work? On what and how?
Do steam eye masks work? Yes, they do by easing symptoms of the eye problems listed here. Moist warm compression is usually prescribed as part of the treatment plan. But it's not an instant cure in itself. Steam eye masks are usually more effective for mild to moderate cases.
That said, it's essential to know for certain what the problem is. And for that, you need to consult an eye doctor. The rule of thumb is to get their go-signal before using a steam eye mask.
We list down the benefits of warm compress on eyes, as well as feedback from Manta STEAM Mask users.
Hydrates Eyes Due to Meibomian Gland Dysfunction (MGD)
Meibomian gland dysfunction (MGD) is when you suffer from dry eyes and blurred vision. It's when your eyes' meibomian glands don't produce enough oil or are clogged.
Manta STEAM Mask helps unclog eye glands and thicken the lipid layer to hydrate and allow tears to form.
Chronic dry eye relief! Finally!
"I was prescribed heating compresses for my chronic dry eye and meibomian gland dysfunction. The compress my ophthalmologist sold me was so heavy on my eyes that after just 5 minutes I wouldn't be able to see when it was removed from the pressure. This mask is so comfortable without direct pressure on my globe. I am able to wear it for 15 minutes with ease and tears immediately form. It's been amazing." — Maya M.
Loosens Crust on the Eyelids Caused by Blepharitis
Blepharitis is when skin flakes appear on your eyelids. Kind of like dandruff. Other symptoms are swelling, itchiness and falling lashes. While there is such a thing as good bacteria, too much of it is a bad thing. And it is what causes this condition.
Manta STEAM Mask warms to soften and loosen the crust on the eyelids for easier removal.
Great For Heat Warming for Blepharitis
"I've been using the warm mask twice a day and it's helped tremendously with blepharitis. it's simple, quite relaxing!" — Gila C.
Moisturizes Dry Eyes After LASIK Surgery
The thing with LASIK surgery is it involves severing some nerves in the cornea. When this happens, you lose some eye surface sensation. As you are healing, your eyes might not recognize they need moisture and this means fewer tears. Thus, in most cases, a temporary case of dry eyes.
Manta STEAM Mask helps hydrate the eyes and unblock any clogged glands.
Helps with dry eyes related to Lasik
"I purchased this mask when I was desperately looking for relief from dry eyes that occurred after I had Lasik surgery. I was using the artificial tears 6+ times per day and was still having issues with dry eye pain, like the gritty feeling, and blurred vision due to dry eyes. After using this mask there is a noticeable difference in the moisture of my eyes. I tried one day not using it and was back to the drops 6 times that day. Also, I suffer from chronic migraines and headaches and the heat is very relaxing at the end of the day when work stress has me tense and I've been staring at a computer all day. 10/10 would buy again." — Caitlin C.
Helps With Discharge From Styes and Conjunctivitis
Styes are pretty common. It's when a painful bump forms on your eyelid from a blocked and infected oil gland. And because of the infection, there is usually pus.
Conjunctivitis, also known as pink eye, is when the whites of your eyes turn reddish pink. It can be painful and itchy with discharge that hardens into a crust.
In the case of styes, Manta STEAM Mask helps unblock the gland and allow the pus to drain. And it loosens the crust and reduces discharge associated with pink eye.
Perfect!
"I recently had a stye and needed to do warm compresses. This is the first brand I have found that has heated masks and the open area around the eye itself is perfect. The ice mask is great as well. I definitely recommend and bought a set for my sister. She loves as well! My husband wants one now too! Also, definite blackout for sleeping and very comfortable!" — Danielle B.
"My ophthalmologist suggested I should apply heat on my eyes for my dry eyes and a non-specific conjunctivitis that I had... After tried a lot of things for applying heat on my eyes (boiled water on a piece of cloth etc.) I discovered this mask and I tried it... It was the easiest and most convenient way for heat application on my eyes! Really helped me a lot!" — Ioannis K.
Dry Eye Relief for Contact Lens Users
Contact lenses aren't the most comfortable things to wear even when you're used to them. According to Optometry Times, contacts split the tear film into two and this results in dry eyes. Also, contact lens users who also have MGD have it to a greater degree(3).
Dry eyes can decrease the effectiveness of contact lenses and how often they drop out.
Manta STEAM Mask hydrates and clears blocked oil glands. It also preps the eyes for lens wear by making sure they're lubricated enough.
Perfect!
"Good for dry climate and contacts-wearers living in the dry climate of salt lake city & wearing contacts? not sure how i did it before these! they're fantastic. i put a little water in the center before microwaving to increase the steam flow & love it. also, make sure you take your contacts out before using." — Jade M.
Relieves Tension and Dryness From Eyestrain
The past few years have seen a dramatic increase in how long we stay glued to our computer screens. And whether it's for work or play, too long means our eyes are working too hard. They get dry and strained as a result.
Manta STEAM Mask helps by moisturizing dry eyes and relaxing tense eye muscles. It also provides sensory relief so your eyes can take a much-needed rest.
I'm in love
"I use it E.V.E.R.Y.D.A.Y and my sleep has never been soooo good!! As an admin girl with my eyes glued to a computer screen all day this has been a blessing!" — Kiriwai T.
Do steam eye masks work for non-eye issues?
Yes, they do. Manta STEAM Mask helps ease sinus symptoms, migraine and headache pain, too. It helps relax your facial muscles and may even lift your mood. A study in Science Direct found that wearing one helped improved the subjective depression scores of participants(4).
USER REVIEWS
Manta STEAM Mask helps
"Sinus Headache Savior. So I got home from work with a headache the day this arrived. My headaches are almost always right between my eyes, and in the upper bridge of my nose. So I tore the package open and microwaved the eye pads for about 25 seconds (the instructions say 20, no more than 30, and I wanted extra heat) and this was incredible. The only way I've ever been able to suffer through my headaches was to put a heading pad on my face, which was always kind of hard and awkward to fit around my nose. But this forms to my nose and means I don't have to try to sleep with my arms up holding a heating pad in place. It keeps its heat just long enough for me to fall asleep without pain; and sleeping it off is my go to method. I can't be happier with this. I'm so glad I bought it." — Kately S.
Sinus relief!
"I've suffered with migraines and sinus headaches since childhood. Allergies make it worse. When I fell pregnant I was unable to take my normal medications, so turned to other options. The warm eye patches are amazing! They help to unblock the sinuses and soothe the eyes. I often fall asleep with them on." — Rebecca F.
"Can't say enough good things. Love love love love! Amazing to relax, decompress. Great for puffy eyes, sinus pressure, you name it. Also crazy fast to heat and stay hot for a while." — Geoffrey S.
So cozy!
"These are wonderful! They are weighted enough to give relief and not feel overwhelming. Heat promotes circulation and this has helped when I got facial muscle weakness from Bell's Palsy. Definitely recommended!" — Melissa O.
"I've used them multiple times since receiving them. They're a late night stress reliever for me- they help me fall asleep faster and sleep better. I also get frequent eye pain and migraines- these warm eye cups help to take away my eye pain/migraines while wearing them." — Kathy S.
"It's a godsend I bought these for my wife as a gift to improve her sleeping experience. She gets migraines alot and congestion and these heated cups relax her and help her sleep as well as alleviate her symptoms while she sleeps." — Jonathon S.
So, do steam eye masks work? Well, if you go by what you've just read, they do. Understanding that they're an aid and not a cure is just one part of it. Ultimately, the real verdict is up to you. We're curious to see how your experience goes. Leave a comment below.
Sources:
(1) "Warm Compress." Science Direct, www.sciencedirect.com/topics/nursing-and-health-professions/warm-compress. Accessed 24 November 2022.
(2) "Increase in tear film lipid layer thickness following treatment with warm compresses in patients with meibomian gland dysfunction." National Library of Medicine, pubmed.ncbi.nlm.nih.gov/12695712/. Accessed 24 November 2022.
(3) "At-home therapy can alleviate contact lens discomfort" Optometry Times, www.optometrytimes.com/view/home-therapy-can-alleviate-contact-lens-discomfort. Accessed 25 November 2022.
(4) "The effects of a steam warming eye mask on the ocular surface and mental health." Science Direct, www.sciencedirect.com/science/article/abs/pii/S154201242100046X. Accessed 26 November 2022.
Disclaimer:  The information contained in this website or provided through our blog, e-mails, or programs is for informational purposes only. It is not intended to be a substitute for medical advice, diagnosis or treatment that can be provided by your healthcare professionals.