Try Manta Risk Free for 60 days
You're 100% covered — if it's not for you, send it back within 60 days for a quick, no-hassle refund.

USA Shipping
(Free)
Regardless of order size or value, all shipping within the USA is 100% free. Delivery takes 2-6 business days once shipped.

International Shipping
Starts at $4.99, and may increase depending on the weight of your order. Delivery takes 7-21 business days once shipped.

your manta. but slimmer.

SLIM Head Strap is an alternative head strap designed to fit the Manta Eye Cups you already have.

The same soft, gentle materials you love, streamlined and optimized for minimalists and side sleepers with sensitive ears.

SLIM isn't for everyone — but if you need a barely-there head strap to get your best night's sleep, SLIM is for you.
SLIM, ABOVE-THE-EAR STRAP

SLEEK, BARELY-THERE FEEL

DURABLE, ANTI-STRETCH ELASTICS

INFINITELY ADJUSTABLE

SLIM, ABOVE-THE-EAR STRAP

SLEEK, BARELY-THERE FEEL

DURABLE, ANTI-STRETCH ELASTICS

INFINITELY ADJUSTABLE

above-the-ear strap for side sleepers with sensitive ears

SLIM Head Strap is tailor-made for side sleepers with sensitive ears.
While Manta's standard head strap is designed to delicately hug your ears with its plush fabric, SLIM's streamlined strap is 33% narrower ­and designed to sit gently above, not on, your ears.
In fact, SLIM barely touches your ears at all — so you'll snooze comfortably, even if your ears are super sensitive and you always sleep on your side.
50% thinner material for a sleek, barely-there feel

This one's for the minimalists.
While Manta's standard head strap is all about pillowy, luxurious comfort, SLIM is trimmed down, streamlined and optimized for leanness — without sacrificing comfiness.
All told, SLIM is 50% thinner — so you'll barely feel your mask on your head and it'll never leave a mark, no matter what your go-to sleeping position is.
anti-stretch elastics for best-in-class durability

SLIM's strap is constructed with the same elastics used in top-quality ski masks — not cheap airline sleep masks.
To prevent SLIM's strap from stretching out over time, it's reinforced with soft polyester that preserves and protects the stretchy fibers that normally wear out — so your strap stays stretchier, longer.
infinitely adjustable strap tightness for optimal fit

SLIM will always fit like the first time you wore it — no matter how long you've had it.
Most elastic straps are only adjustable by a few inches, so they become unusable as they loosen over time — but SLIM's strap is 100% coated in soft micro fleece and micro hooks, so it's endlessly adjustable and will fit perfectly forever.
soft, snag-free materials for ultimate comfort

Like your standard head strap, SLIM is made with super-soft materials that sit comfortably against your skin and gentle micro hook fasteners that will never catch or pull your hair.
Your barely-there mask will ensure you get restorative, restful sleep any time, anywhere — so you've always got the energy you need to be fully present, from your Monday morning meeting to Sunday game night.
customer reviews
Customer Reviews
Write a Review
Ask a Question
10/22/2020
Sarah A.
United States
I'd give it 20 stars if I could!
Despite having blackout curtains, I am the lightest sleeper that I know. I also sleep on my side, so I was so excited to try this-especially after wasting a lot of money on other expensive masks that were all hype and no substance. No light comes in at all, and despite me moving around tons in my sleep, it stays on my head! I can't wait to get another one to keep in my travel bag, as well as try the heated cups for my migraines. Thanks Manta Sleep! Sincerely, A tired-but less so now-teacher
10/19/2020
Mikael R.
Finland
Only drone-service missing!
Loving it! So much that it hurts! (Not the mask) Yesterday when closing our summer cottage at the Finnish archipelago, I forgot there my just recently arrived Slim mask with Max eye cups. Because our boat is also put to winter rollers, I can't go back to get it. Oh man — How much can a man miss a mask. This mask would be just perfect if there would be optional FindMyMask-app with drone-deliveries. Please take note! Seriously, this mask really have changed my life: with the mask I can finally sleep -- and well! I have had a bad insomnia and used 3 different sleep-medicines for it, but after using this Slim mask with Max eye cups I don't need any. I actually tried Original Manta sleep mask with original eye cups but that did not work for side sleeper like me. Also the eye cups did not have enough depth so my (average/normal) sized eyelashes touched the back of cups when eyes open. Also weighed mask and cooling eye cups did not work (for deep sleeping) After giving feedback the Manta customer service gave me full refund without returning the products. Talking about proper customer service here! After that I bought Tempur sleep mask, but that was way worser experience. However, I must say that the memory foam material of upholstery would be great on Manta Masks. Anyhow the band and the height of Tempur mask is just bad design and not suitable for sleeping. No go. Happily, and after great customer care experience, I tried Manta Slim mask with Max eye cups. It is just perfect: mask is not noticeable when side sleeping and the Max eye cups blocks all the light. If only the sticker mechanism would be located at the center of the head, and not on the side. But that is a minor complaint and does not prevent deep sleep. Now, I just have to wait for freezing of the baltic sea, so I can walk over it to get my mask back! Or maybe I should swim? It's just one kilometer and water is about plus 5 degrees celsius...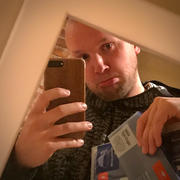 AK
10/11/2020
Andrew K.
United States
An essential upgrade for snoozing.
I bought the original version of the Manta Sleep mask and needed to switch to the SLIM due to my tendency to be a side sleeper. No questions asked, and bam, the new mask was at my place in no time. With two fresh kitties on the loose at my home, to be able to sleep in a bit longer combining this mask and a sound machine has been EXTRAORDINARY. The Manta SLIM Head Strap is comfy, blocks out ALL light, and is incredibly easy to adjust for a perfect fit: a game-changer in the land of zzzzzzzzzzzz's.
faq

What is your shipping policy?
• ORDER PROCESSING - Our fulfillment team tries to process orders as quickly as they can. On average, they process/ship orders within 1 to 2 business days.
• US SHIPPING - We offer free standard shipping to customers within the USA. For contiguous USA, once shipped, your order should arrive within 2 to 6 business days. However, for PO boxes and military addresses, delivery could take 4 to 45 business days.
• INTERNATIONAL SHIPPING - Standard international shipping starts at $4.99 and may increase depending on the weight of your order. Please be advised that for the standard shipping option, your local post would usually be in charge of the actual delivery. Delivery will take 7 to 21 business days after an order has shipped. For customers from UAE, please use your P.O. box address when choosing our standard shipping method.
• EXPRESS SHIPPING - We offer competitive Express Shipping for both domestic (contiguous states only) and international orders. Rates depend on the actual weight of the entire order. Please select "Express Shipping" at checkout to get an estimate. Please be advised that express shipping isn't available to PO box addresses.
• TAXES/CUSTOMS FEES - Manta Sleep will not be able to cover or refund any duty fees incurred by your local laws. In most cases, VAT and customs fees will not apply due to the relatively low value of the shipment. However, we still encourage checking the customs and VAT laws of your local region before making a purchase.
What is your guarantee, warranty & returns policy?
• RETURN POLICY - Every Manta comes with a 60-day money-back guarantee. If your Manta doesn't work for you for any reason, you're 100% covered — simply reach out to our customer success team via our contact page and let them know why the product didn't work for you. They will provide you with a prepaid return label and once we've received the item back in good condition and its original packaging, we'll provide you with a full refund for the item you purchased.
If you've paid for shipping, please be advised that we won't be able to refund the shipping fee as the payment goes directly to our shipping partners. Please also note that all products purchased via limited-time sales events (Black Friday, clearance, etc.) are considered final and are not eligible for returns or exchanges.
• WARRANTY POLICY - At Manta Sleep, we stand behind the quality of our products 100%. In the unlikely event that you aren't blown away by the quality of your Manta or you happen to encounter a manufacturing defect, let us know within 6 months from purchase and we'll exchange your Manta for a new one, free of charge. Please note that we can only offer replacements of the same product that you originally purchased.
• PRODUCT EXCHANGES - As a Manta Sleep customer, you have the option of requesting for a product exchange as long as the item you wish to exchange for is of the same price as your original purchase. Simply reach out to our customer success team via our contact page so they could walk you through the exchange process.